2013-02-23 By Ed Timperlake
Last summer Embraer and Boeing announced a teaming agreement to integrate GPS guided munitions on Embraer's A-29 Super Tucano.
The program would start with the JDAM and eventually include the Small Diameter Bomb (SDB).
The Super Tucano has already demonstrated it's ability to deliver laser-guided munitions in combat operations in Colombia which makes this a relatively low risk initiative for Boeing.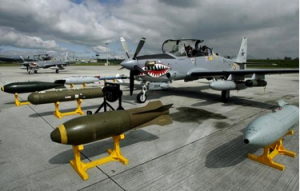 Integrating GPS guided munitions with the Super Tucano is also an "objective requirement" for the US Air Force's Light Air Support (LAS) program, the winner of which should be announced later this month.
Boeing sees the Super Tucano as a means of marketing advanced weapons to a larger set of customers, especially with INS/Laser-guided versions of the Small Diameter Bomb currently in development, which is a testimony to the maturity, lower-risk, and growth capability of the A-29 over other light attack aircraft.
Boeing announced JDAM capabilities and it should be noted also as an industry partnership.
According to the Boeing:
Known as the "Warfighter's Weapon of Choice," the Joint Direct Attack Munition (JDAM) is a low-cost guidance kit produced by Boeing that converts existing unguided free-fall bombs into accurately guided, near-precision "smart" weapons. The JDAM kit consists of a tail section that contains a Global Positioning System/Inertial Navigation System and body strakes for additional stability and lift. 

Currently, MK-84 2,000-pound and BLU-109 2,000-pound (900-kg) bombs (GBU-31); MK-83 bombs (GBU-32); and MK-82 500-pound (225-kg) bombs (GBU-38) are in production to make the cost-effective JDAM. When employed, these weapons have proven highly accurate and can be delivered in any flyable weather. JDAM can be launched from more than 15 miles from the target with updates from GPS satellites to help guide the weapon to the target. 

The JDAM production team includes Honeywell Inc. (inertial measurement unit); Rockwell Collins (global positioning system receiver); HR Textron (tail actuator subsystem); Lockheed Martin Tactical Defense Systems (mission computer); Lockely (tail fairing); Enser and Eagle-Picher (battery); and Stremel (strakes and cable cover). 
http://www.boeing.com/defense-space/missiles/jdam/
Concurrently integrating the Small Diameter Bomb into the A-29 will bring significant capability to many allied nations in addition to the Afghan Air Forces.
It is a key munition for increased accuracy in the destruction of both hard and soft targets which is built in a relatively affordable package. [ref] GBU-39/B Weapon: multi-purpose, insensitive munition, penetrating, blast-fragmentation warhead for stationary targets; equipped with deployable wings for extended standoff range: Dimensions: (L x W): 70.8″ x 7.5″ (1.8 m x 19 cm); Weapon Weight: 285 lbs. (130 kg); Warhead: 206 lb. (93 kg) penetrating blast fragmentation; Warhead penetration: 3 feet of steel reinforced concrete; Fuze: electronic safe/arm fuze (ESAF) cockpit selectable functions, including air burst and delayed burst options; Standoff maximum range: more than 60 nautical miles; Precision inertial navigation system/global positioning system (INS/GPS). [/ref]
The A-29 as SNC/Embraer is "Built for the Mission."
Their LAS competitor provided a limited airframe at it's service life  end game of capability improvements.  The Hawker Beech AT-6  derivative of the T-6 trainer is not as capable nor as survivable and consequently a much higher risk.
This was evident when the terms of a competitive fly-off between the A-29 and AT-6 were inexplicably changed because of T-6 Ordnance/ Airframe limitations.
According to an Inside the Air Force story from July 30, 2010:
Afghan Light-Attack Plane Competition To Culminate With Major Flyoff: Few changes in updated requirements 

One important change is that the "standard LAS combat mission" calls for the aircraft to strafe an enemy target with its .50-caliber machine guns while carrying two 500-pound GBU-12 bombs. 

In the previous requirements document, the standard mission called for releasing one of the two GBU-12s, then strafing. 

The change is critical because performing a strafing mission with two large bombs – which weigh more than 1,200 pounds when guidance systems are factored in – puts a great amount of stress on a small airframe, according to defense observers. 

The aircraft would need adequate power to pull up while carrying the extra bomb during a strafing run. 
And another source raised questions about the importance of the air frame to perform the kind of mission for which the Super Tucano is being combat enhanced by the Boeing team's weapons.
The Association of Old Crows (AOC) sponsored a symposium in Arlington in May 2011 on the AT-6, and the laws of physics were made in a very direct way:
No RWR (Radar Warning Receiver) installed;
Significant weight and balance (CG) and overall weight challenges associated with MWS (Missile warning System) installation;
Aircraft is tail heavy; ballast had to be installed forward to re-align CG;
Ballast detracts from overall aircraft payload.
The Boeing partnership on the evolving weapon's capabilities for the Super Tucano is a clear statement about the viability of the ST as a key light attack aircraft. 
I am sure the FARC would agree.