2013-03-21 The photo below shows two F-35Bs involved in squadron training at Yuma USMC Air Station.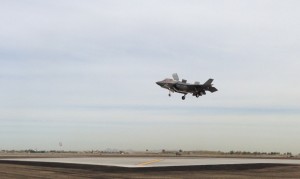 The photo of VMFA-121's aircraft 15 (BF-19) shows it in hover mode at pad 4 in Yuma.  In the background is another F-35B on the taxiway. The second aircraft is aircraft 16 (BF-20) and it flew chase.
According to a Lockheed Martin Press release:
Maj. Richard Rusnok, an F-35B Lightning II test pilot, conducted VMFA-121's first short landing and takeoff as well as the Corps' first F-35B hover and vertical landing outside of a testing environment in BF-19.  VMFA-121 is the first F-35B squadron to join Marine Aircraft Group 13 which is currently composed of four AV-8B Harrier squadrons a Marine Wing support squadron and a Marine aviation logistics squadron.  Rusnok was accompanied by VMFA-121's commanding officer, LtCol. Jeffrey Scott, flying a second F-35B as a chase aircraft.

"The first STOVL flight for an F-35B outside of the test environment was another milestone achieved by the Marine Corps and the Green Knights today here at MCAS Yuma," stated Scott.  "The F-35 program and specifically the F-35B have made significant progress to make this possible."

As the squadron expands its operations and end strength, they will continue revolutionizing expeditionary Marine air-ground combat power in all threat environments through the use of MCAS Yuma training ranges in Arizona and California.  VMFA-121 will be home to approximately 300 Marines and is expected to receive additional F-35s throughout the next 8 to 12 months, with a total of 16 aircraft scheduled to arrive by late 2013.
For our special report on the role of the Yuma incubator for aviation and MAGT change see the following:
https://www.sldinfo.com/the-ace-of-the-future-yuma-and-beyond-2/