2013-04-16 Second Line of Defense had a chance to continue our discussions with Rear Admiral Buzby, Military Sealift Command Commander, in early April 2013.
Day in and day on the oceans of the world, operating in the support of the Navy fleet in all weather, climate and sea states it is a command of truly capable mariners.
Admiral Buzby who will soon have his change-of-command on a Joint High Speed vessel, and has lead MSC in a period of extremely important new ship designs and con-op innovations.
We thank him for being gracious with his time to share with our readers his insights and vision.
It must be remembered, it was an MSC ship the USNS Impeccable that actually had physical contact with the PLAN/Coast Guard in international waters. Because of the MSC professionalism an ugly aggressive incident triggered by the PLA directed against the USNS Impeccable on the high seas did not escalate.
http://www.dodbuzz.com/2009/03/09/china-tests-obama-us-ship-threatened/
http://www.youtube.com/watch?v=hQvQjwAE4w4
During this interview, we discussed two new assets, which are being added to the fleet and how these assets might evolve over time.
The first is the planned evolution of the Mobile Landing Platform and the second is the addition of the Joint High Speed Vessel, the integration of which is being tested within the fleet during the upcoming Bold Alligator 2013 exercise.
The Evolution of the MLP
SLD: When we last met, you were part of the christening event for the newest MSC ship, the USNS Montford Point.  The ship we saw that day is a big ship, which is built for modular inputs.  Could you talk about the modular package envisaged for the third ship in the series, the aviation-enabled Mobile Landing Platform?
Admiral Buzby:  With the MLP-Afloat Forward Staging Base (MLP-AFSB) or AFSB variant of the ship, you are seeing the versatility built into the ship.  The main capability of the ship is its versatility.  The AFSB will be the latest incarnation of what one can fit into that 800 feet of empty space that fills a need, fills a requirement without having to go out and purpose build at great expense, and at great length of design, a capability to serve the war fighter.
With the AFSB, you will see a fairly robust aviation capability; a fairly robust boat capability to support a whole host of different missions. I think it's a very strong, and very positive step forward in this ship's future.
You could very easily, given the dimensions that we are currently envisioning in the design of AFSB, hanger space, deck space, we're designing it on the big side for CH-53s and that kind of asset.
But you could conceivably have an ACE aboard that ship, supporting a reinforced MEU or something like that because you could probably carry Cobras on it, UAVs, and could envisage putting some joint strike fighters on there in small numbers if you really needed to, or MV 22s.  One could be very creative in mixing the aviation assets on that ship.
SLD: Modularity can be a confusing term.
The kind of modules one is talking about with this ship are really tools for altering what the ship delivers in terms of capability.  The last time we met, you spoke of the module on the ship, which can provide the ability to carry and launch three LCACs for a landing or assault force.  Here you are talking about modules to enable air support to the force.
Admiral Buzby:  The ship is an incarnation of what the CNO discussed last year as the need to enable payloads rather than thinking of special purpose platforms.  This is a totally different payload that's going on the same baseline platform.
You'll have one baseline of this platform that's doing sea-basing support, offloading of sealift ships and supporting the insertion of forces and the flow of material ashore.
And with the AFSB, one is highlighting another payload on this same type of hull performing a much different, and much more tactical sort of mission, supporting an entirely different warfare area, and doing it very, very inexpensively, relatively speaking.
And in a way that it can be modified further should practice dictate it or a new requirement arrives that can then be used to fill that 800-foot platform with a new capability.
Originally, we were designing a special purpose ship, but we ended up with a modular enabled ship. The original design would not be quite as eloquent in its application as we are able to do with the current design because we've unconstrained ourselves by just having it as the empty space; the original variant of this ship much more expensive, much more intricate, if you will.
The JHSV and Bold Alligator 2013
SLD: Let us talk now about another modular ship, the Joint High Speed Vessel, which Col. Weisz, Deputy Commander of 2nd ESG, tells us is going to be included in the latest Bold Alligator exercise.
Admiral Buzby: It's great to see the Bold Alligator series being reinvigorated and polishing up the great capability that the Navy/Marine Corps team has had for a very, very long time.  But maybe we haven't through world events been able to exercise and keep honed as sharply as we may have wanted to in the past, so it's great to see us getting back to that.
And at a time when we're seeing new technology infused into our operations, so I think it's really important that we exercise that, either virtually or actually.  And there probably needs to be the correct mix of both in successive years.
But command-and-controlling, all of that technology and that size of force is not an easy challenge and it absolutely needs to be exercised and worked on.
Just because you are deploying a large force doesn't mean that you know how to really use it.  And with the insertion of new capabilities we need to understand how it all comes together.
There's the tactical level of actually using the gear itself, the user of it and how far it can steam and everything else.  But the bigger challenge is to command and control it well so that you get the most utility out of it, so you get the effect that you're looking for.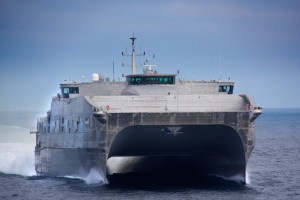 If you don't employ them correctly, they're not worth a damn, and you end up losing them, you end up underutilizing them, and leaving yourself open to damage.
The Bold Alligator series also highlights the role of the MSC. MSC forces are the enablers.
We're the ones these ships keep the force able to go off and do its mission; to stay forward, to keep the sea base operating, to sustain the forward location where they're operating.
It's the elegant application of that logistics train, it has to flow and keep flowing material to make it all happen.
And we understand our role in the process and we're very pleased to be recognized and even in an exercise role to play in it.
In many people's minds, the logistics force and the support forces are relegated to the rear area.  And that's not really the case anymore.  We're very much the key enabler and in a forward area.
SLD: Could you speak to the role of the JHSV in your view?
Admiral Buzby: When a MEU goes forward, deploys, it has an ACE attached to it.  And part of that ACE is a KC-130 that obviously doesn't float with the ARG-MEU, but it's attached and it's there to do that intra-theater lift into the supporting an area.
I think in many ways, Joint High-Speed Vessel is a maritime version of a C-130. 
It's there in support of the ARG.  It's going to be available potentially to run missions, to pull stuff forward, and it's like a Humvee, supporting the heavier maneuver units.
It's very reconfigurable; you can assemble it in many different ways.
It's a utility vehicle potentially for the MEU or for a carrier strike group depending on when they get into an area and they're operating.  You have to be mindful of its capabilities and its limitations.  It's not a heavy armored vessel; it's not meant to go in harm's way, particularly.
But it uses its speed for survivability, its ability to move very quickly.  And it could carry 600 tons over 1200 miles at 35 knots using its 20,000 square feet of mission bay – whatever you want, plus about 300 marines to wherever you need to go in a hurry.
Once you kind of establish yourself in an area, it's that maritime C-130 that can move a good chunk of material pretty quickly and pretty flexibly.  In this sense, I think it's got a great future to deploy in that sort of scenario in support of a ARG-MEU or carrier strike group in the future.
One of the reasons why I'm having my change of command aboard the ship is I want to show it off to people. I want people to come see the ship.  I want people to crawl around and touch it, feel the ship; we're going to hold the ceremony in the mission bay.
People are going to walk up the vehicle ramp and go into the mission bay and behold what 20,000 square feet looks like.  And my way of thinking is it's yet one more mission that it could be reconfigured to do.  It could host a large gathering of personnel.
I'm expecting people to come aboard and say "hey, we could do this," or "oh, this could be used for that."  I want leadership and young thinkers to say that and see that because you can't help but think about it when you walk aboard.  You can't help but think about it when you walk up on that flight deck.  You can't help but think about it when you walk into the troop area.  It just jumps out at you.
For some of our earlier discussions with Admiral Buzby see the following:
https://sldinfo.com/the-seabase-in-evolution-the-navys-new-mobile-landing-platform/
https://sldinfo.com/the-seabasing-revolution-rear-admiral-buzby-discusses-the-latest-addition-to-the-msc-fleet/
https://sldinfo.com/anticipating-the-usns-montford-point-an-interview-with-admiral-buzby/
https://sldinfo.com/commanders-perspectives-on-the-pacific-challenges-shaping-an-effective-21st-century-force/
https://sldinfo.com/sustaining-a-forward-presence-the-military-sealift-command/
https://sldinfo.com/admiral-%E2%80%9Cbuz%E2%80%9D-buzby-on-the-military-sealift-command-providing-global-support-for-forward-deployment/