2013-05-22 A key element of shaping a 21st century approach to military operations is the reconfiguration of the force to incorporate expeditionary logistics.
Rather than putting a WALMART in place, designing a Kracken defense force for the WALMART, and then moving against the objective area, there is a key trend afoot to insert force rapidly with decisive effect and incorporate the logistics within the drive forward.  The classic distinction between the front and the rear is being redefined.
We have seen that in the ongoing  French operation in Mali, and we have seen it in the past decade of USMC evolution of their approach to logistics.
This trend is at the center of the Bold Alligator 2013 exercise and is a core competence, which the Blue-Green team wishes to evolve, improve and enhance over time.
In a discussion with Col. Marc Riccio, II Marine Expeditionary Force Assistance Chief of Staff, G-3 2d Marine Expeditionary Brigade Chief of Staff the centrality of the impact of expeditionary logistics was highlighted.
Col. Riccio: We specifically wanted to exercise the sea base concept, both command-and-control from the sea base and logistics from the sea base.  And we focused on how best to minimize the footprint ashore as much as possible.  And I think we've done that in the exercise.
SLD: In effect you are shaping a combat bubble from the seabase to the insertion force and back again.  The key is to have the proper C2 to ensure the flow of forces, which means support as well.
Col. Riccio: I think that's an accurate statement.  We specifically didn't want to put a large footprint ashore.  We have a 15-16,000 man MEB involved.  Of that force, we have about 7,300 Marines ashore.  And most of that is the ground combat element. The trigger pullers are the majority of the force ashore.
We've done a seabase version of just in time logistics, if you will, with our beach support area where we're pushing in logistics from the amphibs, from the sea, and directly supporting the ground combat element.
We're not building that steel mountain, if you will, ashore and that's really a big change. 
SLD: You are shaping a core competence here with regard to logs and ops which requires close coordination of the Blue-Green team.  I would imagine this is a competence that has to be re-fashioned?
Col. Riccio: It's been a long time since the Marine Corps and the Navy have done detailed load plans and how best to plan to do this as a normal combat activity.
And now with the new information technology systems we can do loading differently. 
We now know much better than before what is on the seabase and where it can be found.  This then allows us to move the specific needed items ashore rather than comprehensively offloading.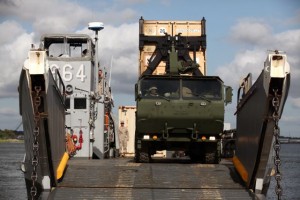 We now can know more effectively: What's the first thing that's come off?  What's the last thing that's got to come off? I think we've made a lot of progress in this area of inventory knowledge and capacity to move selectively support ashore.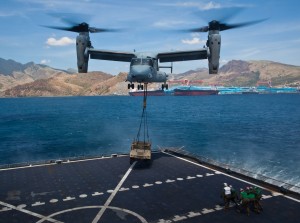 SLD: The other part of this is that you're not just going ashore to set up a Wal-Mart for an indefinite stay.
Col. Riccio: Exactly. I think another great thing about maintaining a small footprint ashore is our focus is on the Ground Combat Element (GCE), that's down fighting the fight.  We don't have a huge, large rear area ashore that we've got protect and secure and put a lot of forces to secure the rear area.
SLD: There is a obviously a risk management aspect of the decision making process as well as you sort out what needs to go ashore and what stays on the seabase.
Col. Riccio: That is true.  There's always risk involved. What is the commander willing to accept with regards to logistics support?
For example, we had an issue the other day about fuel.  Did we think we had enough fuel ashore for the Regimental Loading Team (RLT), and that was a conversation between the MEB commander and the RLT commander and the logistics commander.  Do you have enough fuel to kick this off tomorrow?  And if you don't, then you need to roll another day to get that fuel in place.  Those conversations happen and are a key part of the support process for a force.
SLD: Let us shift to another subject.  The exercise emphasized a force to operate in a broad spectrum of ops.  Could you discuss the approach to dealing with anti-access and area denial threats?
Col. Riccio:  The scenario emphasized a range of threats for a force that is somewhere between what and ARG-MEU would doo and a full MEB-ESG would do. And we tested our approach to dealing with A2AD as well. We did some amphibious raids on a couple of islands off the "Treasure Coast" where we knew the enemy had some missile sites.
We put Marines forward, on the ground to take those missile sites out, and to help rollback the A2AD threat. And I think that's something we want to work more in the future, too, because now we have capability with the MV22s to reach deep and fast with a strike force.
From our perspective, the littoral domain is not really different from fighting a force in the desert on the ground. If we're going to move a ground force into the assault, we're going to do deep shaping fires, take out the IADs, it is pretty much the same in both domains in terms of the equipment and approach we are going to use.
SLD: In other words, from the Blue-Green team perspective A2AD is another target set.
Col. Riccio: That is a good way to put it.  It is an obstacle to be dealt with.  That is what Marines do.