2013-05-04 by Richard Weitz 
During the past decade, the United States has made considerable progress in addressing these missile threats through augmenting U.S. and allied missile defenses.
In Europe, Asia, and the Middle East, the United States has been working to establish the foundation for a regional missile defense system made up of U.S. forward deployed BMD systems combined with those of U.S. friends and allies.
Almost one half of all U.S. Patriot systems are forward deployed in various regions of the world, while U.S. Navy Aegis ships regularly patrol Asian, European, and Middle Eastern waters. Among other contributions, these forward-based BMD assets help deter regional rogues and reinforce U.S. alliances with a much smaller footprint than conventional military forces.
The United States has been pursuing BMD cooperation (joint research and development programs as well as selling BMD systems) with various countries in Europe (bilaterally and through NATO), the Asia-Pacific (Japan, Australia, and South Korea), and the Middle East (Israel and Gulf Cooperation Council members). 
These allies and friends can host forward-based BMD sensors and missile interceptors, share the costs of building and maintaining the BMD architecture, and network their sensor data with other actors to provide a superior operational picture. For example, the AN/SPY-1 and the MK99 are on the Japanese Kongo-class destroyers, Spanish F-100-class frigates, and South Korean KDX-111 King Sejong the Great-class destroyers as well as many U.S. destroyers and cruisers. Other U.S. friends and allies can have PAC-3s and THAADs that can provide lower tier defense of key points.
Even allies that do not have BMD assets can assist collective missile defense efforts by using their forces to protect the U.S. BMD systems.
For example, European allies are considering how they can provide anti-air and anti-submarine defense to U.S. Aegis ships that, by focusing on missile defense tasks, will be less able to perform these other missions.
Partnering with allies and partners extends to include training exercises and war games such as Nimble Titan, which has about a dozen participating countries and another dozen observer countries experiment with missile defense scenarios every two years under STRATCOM's auspices. They collectively examine issues such as command and control, multinational offense-defense integration, and rules of engagement.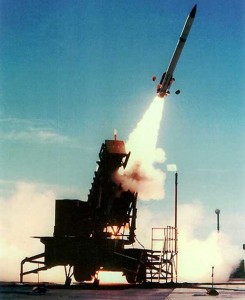 In Europe, the George W. Bush administration signed agreements with Poland and the Czech Republic in mid-2008 regarding the deployment of Ground-Based Mid-Course Defense (GBM) elements in Europe.  The Obama administration has worked more closely with NATO as a collective alliance as well as individual NATO countries such as Romania and Turkey to develop its European Phased Adaptive Approach (PAA).  The EPAA has redirected U.S. BMD efforts closer toward Iran to address that country's limited-range missiles. As Iran's missile capabilities improve, the EPAA will deploy increasingly more advanced SM-3 interceptors that can protect more NATO territory.
Under the EPAA, the United States is deploying Aegis BMD and Aegis Ashore capabilities throughout Europe to protect countries against Iran's short-, medium-, and intermediate-range ballistic missiles. 
The first phase of the PAA has already been deployed with the guided missile cruiser USS Monterey (carrying SM-3 interceptors) deployed in the Mediterranean Sea, while Turkey hosts a BMD radar system. The U.S. Air Operations Center's BMD command and control capabilities at Ramstein Air Base in Germany have become operational, which will support the upcoming phase two development of land-based SM-3s in Deveslu Air Base near Caracal in Romania. The Romanian system is scheduled to become operational in 2015, just after U.S. Aegis destroyers arrive at their new homeports in Spain. In Phase 3, a land SM-3 site will be established in Poland, though the planned Phase 4 deployments of even more advanced interceptors for Poland are being reworked given the March 2013 cancellation of the SM-3 IIB.
Japan is one of the closest U.S. BMD partners.
The country has acquired its own layered missile defense system that includes Aegis BMD ships with SM-3 interceptors, Patriot Advanced Capability 3 (PAC-3) fire units, early warning radars,m a command and control system, as well as a forward-based X-band radar.  The Japan Maritime Self-Defense Force deploys two classes of Aegis configured destroyers: the Kongo Class and the Atago Class. In 2003, the Kongo class was upgraded with BMD capabilities.
Japan is the only other country besides the United States that has the capacity to intercept ballistic missiles well above the upper atmosphere, confirmed by several sea-based intercept tests (the Japan Flight Test Mission, or JFTM, series).
The two countries engage in regular joint BMD exercises.
Together with the U.S. Missile Defense Agency, Japan is helping develop the next-generation SM Block IIA system that will enable defense of larger areas and against more sophisticated threats. The Japanese government also took measures to exempt BMD systems from its export ban to make it easier for the United States to export to Europe the next-generation missile defense system, SM3 Block 2A, co-developed by Japan and the United States.
But even here the constitutional prohibition against collective defense presents problems since it impedes Japanese participation in a joint BMD system that can defend U.S. forces under missile attack in East Asia. The current interpretation might also exclude using Japanese BMD assets to intercept a theoretical launch of an intercontinental ballistic missile from North Korea or China towards the United States. The United States and Japan recently agreed to construct a new early warning radar in southern Japan to augment the already functioning X-band radar in northern Japan, at the Shariki base.
The two countries are particularly concerned about North Korea's potential development of a long-range missile and China's development of anti-ship missiles.
The Republic of Korea (ROK) is a global ally of the United States.  The United States has helped the ROK develop its BMD capabilities.  The ROK has acquired Aegis ships and PATRIOT batteries and has expressed interest in missile defense capabilities that includes land- and sea-based systems, early warning radars, and a command and control system.  Historical and other tensions between Japan and South Korea have kept them from cooperating effectively on missile defense or many other security issues.
The ROK has also declined to share its BMD assets with other countries through a networked regional BMD architecture for fear of antagonizing China, which fears that the United States is using missile defense as a means to encircle China with revitalized U.S. bilateral alliances in Asia. Like the South Korean forces, the U.S. BMD assets in South Korea are limited to defending themselves and their host country from a DPRK missile attack.
Australia has one of the United States' first BMD partners since the July 2004 signing of a BMD framework memorandum of understanding. The United States and Australia share BMD data and participate in multilateral missile defense war games. Australia's Air Warfare Destroyer presently deploys the Aegis Combat System, which could be upgraded to provide missile defense capabilities.
U.S. officials are reviewing the possibility of establishing a third X-Band radar in the Philippines, where it could help track ballistic missiles launched from North Korea or parts of China.   The Philippines' territorial disputes with China over the South China Sea have encouraged the Philippines to seek to strengthen their security ties with the United States.
In the Middle East, the United States have attempted to counter the ballistic missile threats in the region through regional alliances, for example the GCC, bilateral arrangements with individual Middle Eastern governments, and through unilateral measures to protect its armed forces and interests. The United Arab Emirates (UAE) is purchasing both Patriot and THAAD BMD missiles from the United States, while other GCC-states have already deployed Patriot batteries and are considering buying other anti-ballistic missile systems.  Israel also continues to work closely with the United States on BMD matters; it has Patriot missiles systems, hosts advanced U.S. BMD radars, and is working jointly with the United States to develop its own advanced BMD interceptors.
In each region, the Obama administration has been pursuing a phased, adaptive approach that adjusts U.S. BDM policies in a flexible manner as the missile threats evolve.
Unlike the European missile defense architecture being constructed through NATO, though, U.S. BMD elements in the Persian Gulf and East Asia are being constructed on the basis of bilateral security agreements and arms deals between the United States and its foreign partners. The Persian Gulf and East Asia lack a NATO-like framework to coordinate and pool national BMD programs in collective directions, making establishing an integrated and comprehensive missile defense architecture in the Middle East and the Asia Pacific regions a challenge.
The administration has made some progress in working through the Gulf Cooperation Council and Central Command to promote BMD collaboration and interoperability among those countries. Asia has proven harder given the reluctance of South Korea or India to alarm China by cooperating closely with the United States and Japan, which have developed a tight bilateral BMD partnership.