2013-06-21 Third Denel A400M work package re-negotiated after acquisition cancellation
The loss of a multi-million Rand contract as a result of South Africa's withdrawal from the A400M program has been successfully re-negotiated thanks to the ability of a Denel Group company to deliver on time and within budget in the high-tech composite manufacturing sector.
Denel Aerostructures (DAe) was this week given its third work package on the new generation Airbus airlifter after completing initial design of tail plane detail parts.
"Manufacturing was placed on hold following South Africa's decision to cancel its acquisition of the A400M. Airbus Military last year gave the green light for manufacturing, which was followed by signing of a re-negotiated agreement for the ribs, spars and sword of the tail plane. This will mirror DAe's ramped up production of wing to fuselage fairing and top shells," chief executive Ismail Dockrat said following the official announcement of the contract at the Paris Airshow.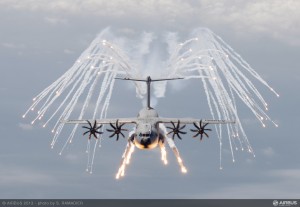 He said the third work package on the A400M placed DAe at "the core of the global aerospace manufacturing industry".
The new package will see the ribs, spars and sword of the A400M vertical tail plane produced in virtual sterile conditions adjacent to OR Tambo International Airport in Kempton Park.
The 7x2m structure consists of two vertical beams (the spars), 16 horizontal composite machinings (the ribs) and a bottom connecting plate (the sword). All are made from carbon fiber composites, covered by a metallic skin which is added to the internal structure prior to assembly.
"This component is a flight critical part of an aircraft the size of the A400M and contributes to its ability to carry payloads in excess of 35 tons," Dockrat said.
With relocation of all its operations completed and now under a single roof DAe is confident of even more improved efficiencies and further cost cutting.
"It also positions the company well for future manufacturing work for Airbus and other original equipment manufacturers," Dockrat said.
DAe has also made what he called "significant investment" in a composite facility. Products ranging from basic aircraft parts through to complex main rotor blades for helicopters can now be manufactured on site. Raw carbon fibre material is bonded, moulded, heated and polished until the required properties are achieved.
DAe's investment in high-tech composite manufacturing is in line with the international aerospace sector where the move away from metallic structures to advanced materials with superior properties is well underway. Durability, hardness, elasticity and high strength-to-weight ratios are hallmarks of the new composite technology.
Dockrat sees DAe's move in this area as complimentary to government's aerospace sector development plan.
From our partner, Defence Web and published on 6/20/13
http://www.defenceweb.co.za/index.php?option=com_content&view=article&id=30901:third-denel-a400m-work-package-re-negotiated-after-acquisition-cancellation&catid=35:Aerospace&Itemid=107