2013-08-03 By Gulshan Luthra
In the naval traditions, names of ships are passed to successor vessels.
Vice Admiral Dhowan, a highly distinguished officer with varied experience including of commanding missile ships, said that the new INS Vikrant is 260 meters in length, 60 meters in breadth and able to accommodate a mix of 25 aircraft and helicopters as well as a crew of about 1,450.
It will generate 24 MW of power, enough to light a small township and have sufficient fresh water and air conditioning facilities sourced indigenously.
The carrier has two runways, one of 206 meters and the other of 145 meters.
It has 2,500 km of cables, 70 km of pipes, 2,300 compartments, and two takeoff runways and a landing strip with three arrester wires as part of the STOBAR (Short Takeoff But Arrested Recovery) capability.
Once operational, it will have a crew of about 1,450.
One laudable achievement of the design team and engineers is the construction of the massive gearbox, which will transmit the power from the four engines to the carrier's shafts and screws.
With the launch of INS Vikrant, India is the fifth country in the world to build aircraft carriers of around 40,000 tons, the others being the US, Russia, France and Britain.
China has done a remarkable refit job on Liaoning, the nearly 55,000 ton Soviet Varyag it acquired from Ukraine through a Hong Kong based travel company for a hotel and casino project for a small amount of $20 million in 1998. The PLAN (People's Liberation Army – Navy) is now operating shipboard combat aircraft from it.
But China is yet to formally announce its indigenous aircraft building projects, although there should be no doubt that work should have already commenced.
Italy commissioned the 30,000-ton Cavour in 2008, but it is supposed to carry only vertical takeoff aircraft like the Harrier and helicopters. As the Harrier is being phased out, Italy has ordered the Lockheed Martin F-35B Lightning II aircraft, which are yet to be delivered.
Notably, in vertical takeoff, aircraft have to spend a lot of power thereby reducing their weapon load.
But then, in future, the bombs will weigh less and carry more destructive power. Boeing is already working on small diameter weapons.
The availability of such systems and the choice of aircraft, manned and unmanned, in the coming years will determine how big a future Indian carrier would be.
The role defined though will stay the same: Protect India's Maritime Interests and ensures safety from terrorists.
© India Strategic

Published with permission of India Strategic, our new Strategic Partner
Published as Indian Navy to launch indigenous aircraft carrier Aug 12: Three Carriers envisioned with two Carrier Battle Groups
http://www.indiastrategic.in/topstories2078_Indian_Navy_to_launch_indigenous_aircraft_carrier_Aug_12.htm
This story is the cover story in this month's India Strategic: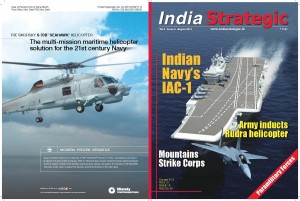 Editor's Note: According to Gulshan Luthra, the next carriers will be in the 60,000 ton class and could also be powered by nuclear propulsion. 
He also notes that General Atomics has offerred EMALS to the Indian navy as well as offering the Indian forces an export version of the Predator.