2013-08-21 New USMC aviation assets are not just aviation upgrades.  They interact with the force to shape new capabilities.
In this piece, we have an opportunity to discuss the Huey and Cobra upgrades and their impact of fleet operation with Major Nathan Hill, Executive Officer, Marine Light Attack Helicopter Squadron 269 (HMLA 269), which is based in New River Air Station.
A key change associated with the upgraded Hueys and Cobras is their more than 80% commonality of parts and use of the same engine.
This evolution has a major impact on support at sea or in expeditionary locations.  The systems on the aircraft are upgraded as well and provide major improvements to enhance capabilities, notably in pilot functions, lift and assault support.
We also discussed the often-ignored key impact of USMC aviation upgrades and new systems, namely on the ability of the MEU commander to deliver combat capability off of an amphibious deck.
The most often used metric is sortie generation rates; but this is a fairly limited metric.
A more realistic one is the ability to deliver combat capability from the deck, which is a function of reliability of assets, maintainability of assets, capability of the basic assets and their ability to deliver effects in the battle space.
SLD: Could we start by talking about the shift from the November to Yankee class of Huey helicopters?
Major Hill:  I have about 1,500 hours in the November, and probably around 200 hours in the Yankee. I would say the first 300 to 400 hours I was flying in the November every flight was extremely stressful – some due to being a junior aviator and much of it due to the aircraft's limitations.
And by that, I mean physically stressful where I would – regardless of the temperature – be sweating and really working hard to make the airplane perform.
We're looking at a max gross weight in that aircraft of 10,500 pounds and we were generally – whether it was training or operational – taking off with no less than 10,000 pounds every flight.
We largely performed two missions, ISR support with our sensor, and weapons support.  We grew up as an assault support platform but really never exercised this function during my time flying the legacy UH-1.
We had an extremely high workload in the cockpit. The systems were not integrated. If you lose an engine or you start to have an underperforming engine, you could potentially over-temp the other engine because it's working harder now and you're already operating at that limit. Regardless of what you are left with, you are in a descent and must land due to physics.
SLD: How would you describe the change with the Yankee class version of the Huey?
Major Hill:  From my first flight of the Yankee, I realized that a massive expansion of our capability to do our mission, as well as to do the missions we were already doing more effectively.
So what do I mean by that?
We now do assault support regularly.
We used to put a max of two people on at the cost of some ordnance. Now we put six people on without taking any ordnance off the aircraft.
Our new gross weight is 18,500 pounds. We generally run the helicopter with about 16 to 17,000 pounds so we regularly operate (at sea level) without even coming close to the aircraft's performance limits.
And the new engines provide significant safety margins compared to the older aircraft. One of those first a-ha moments in this aircraft was I was doing a pinnacle approach – so a very precise approach – simulating that I had a six-man team on the back that was going to fast-rope out.
I pulled into a Hover in of Ground Effect (HIGE). Then I had something like 20 percent power margin. So I had plenty of power remaining to get myself out of trouble, to make an adjustment whatever the case may be.
I had never seen that during 1,500 hours of flight time in the UH-1N.
SLD: When we visited the hangar you should me the marked difference between the N and Y in terms of systems. The new one is clearly 21st century in the way the older one is not.  It just leaps out at you.
Major Hill:  That is true. In the old helicopter, I had to consistently look to see if something was wrong. Now it's all tied together and the aircraft tells me when something is wrong.
I have four multi-function displays (MFDs) in front of me: two on my side and two on my co-pilot's side. And they can be linked to show me the information that they're seeing.
But that really is a reflection of two mission computers that run the helicopter. And when they're on that helicopter, it's going to tell me the moment something goes wrong, or what I need to be worried about continuing to fly.
I probably didn't realize this until maybe 50 to 100 flying hours ago, but it takes so much of your brainpower out of worrying about a specific scan, to make sure you're not missing something.
Now I can devote that to the mission.
SLD: What is the impact of this shift in capability for your ability to support the ground forces?
Major Hill: The customer, whether that be someone receiving close-air support from a Huey, or a HMLA section of aircraft, or whether it's a team of Marines getting ready to go into a zone; they are getting a better service because the pilots are focused on supporting their requirements, as opposed to just landing the airplane where they can.
SLD: The Yankee and the upgraded Cobra share much commonality, including the engine.  How does this effect performance in support of the MEU?
Major Hill:  The first consideration for anything you do on a MEU is space.
How can I get limited number of things onto a limited amount of space? With the old legacy construct, you would take around ten of each engine with you; so that you needed about total of 20 engines. You may not use all of those, but those 20 engines are going to take up space.
You're not taking 20 anymore; you're taking 10 or 12.
And with a reduction in space requirements, there's also reduction in logistics personnel requirements.
And the Marine that's maintaining that engine doesn't have to learn a different engine and be qualified on it.  One person can fill potentially a billet that would have been filled by two people previously.
It also reduces the support equipment it takes to pull that engine out of the aircraft. There is no need to change the hooks or the lines or the strength of the cables because you're pulling the same engine from the same aircraft.
SLD: Obviously, this provides for significant improvements in supply chain support as well.
Major Hill: It seems logical. It's not necessarily a Cobra or a Huey tail boom coming off the assembly line. It's an H1 upgrade, and then the operational planner can push that whenever it's needed in the supply line.
Previously, we had two different factories making two different sets of widgets, then whatever they can make is what you got. Eventually, both of these factories can be making the same widget.
SLD: Can you discuss the impact on ship operations?
Major Hill: Under the legacy profile, any parts that go with that small deck, the MEU commander, the operational commander of that Marine unit is restrained because he has to focus on deploying that maintenance capability.
The people are the issue. There's the question of qualifications.
Once complete with the H-1 upgrade the CO will have maintainers throughout the fleet who can maintain either helicopter expanding his operational flexibility significantly.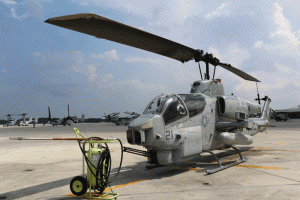 In this case, because it's the same engine – he can move one TMS to a specific ship without losing the capability to maintain the other TMS on a separate ship. He can call over the Cobras or the Yankees. He's got that flexibility.
With the kind of commonality we are talking about between the Huey and the Cobra, the commander has much greater deployment flexibility and an ability to deploy his ships in a disaggregated manner, a capability delivered by the Osprey as a connector.
SLD: Let us talk about the battle rhythm on the amphibious deck.  There is a good deal of literature on the large deck carrier and its battle rhythm, much less on the amphibious fleet.
Major Hill: There are three key factors to consider.  First there is the ship's crew, second, there are the squadron flight crews, and the third piece is the rules and regulations that govern operations off of the deck.
How does enhanced sustainability affect all of this?
The flight deck crew can work 12 hours. And we only have so many of these flight deck folks that they can only serve the 24-hour operations for a specific period of time.
Let us assume that they have the flexibility to do that as long as they want. The flying squadron themselves only have the capability to fly about 18 hours at a time with H1 upgrades. They just don't have enough bodies to fill continual 24-hour operations.
And once somebody's crew day starts, once their 12-hour clock starts, they have a limited amount of time before they run out of flight slots and they can no longer fly the aircraft.
And if you're coming back across the Pacific, or you're heading out to do a MED float and you run into bad weather, you may have a period of five, six, seven days where you don't get to fly just because of weather.
And then you put on top of that, you have a day where you have problems with deck spotting and maintenance issues that had occurred because you couldn't get the airplanes on the flight deck for six to seven days prior to that.
At the end of those eight days, the commanders aren't focused on sortie generation. They have to worry about currency so the airplanes can even do what they're advertised to do.
When you do an extended HA/DR mission, your Harriers will need time to do their qualifications after that period in order to be combat ready.  With a new asset like the F-35B which will not need the same time to do qualifications at sea, the operational capability of the force overall goes up.
I will give you an example. We supported the Indonesia tsunami relief efforts in 2005. We spent about 25 days doing that. The MEU that entered that area of responsibility and started doing operations on day one had much wider and greater combat capability than they did 25 days later when not one Harrier could launch off that ship because they hadn't done the requirements that are there for them to maintain currency.
We then have to spend time — probably two to three days of sustained flight operations — to get the Harriers back as part of the combat capability of the MEU.
In short, between the spotting, the maintenance, setting the deck for daytime/nighttime operations, doing daytime flight ops before we do night time flight ops, all of this can have a dramatic effect on combat capability.
And again, the MEU that walks into humanitarian assistance requirement, 15 to 21 days later, has a totally different and degraded combat capability on the backside of that deployment.
Maj. Nathan J. Hill enlisted in the Marine Corps in December 1998 as an Infantry Assault man.  In April 1999, Maj Hill was commissioned as a Second Lieutenant. After completing The Basic School he reported for primary flight training at NAS Pensacola, FL.  He was winged a Naval Aviator in October 2001 and reported to Camp Pendleton, CA for instruction as a UH-1N pilot at HMT-303.


Maj Hill was assigned to HMLA-267 in February 2002.  In December 2002, he deployed with the 15th Marine Expeditionary Unit (MEU), conducting operations in Umm Qasr, Ah Zubayr, and Ah Nasariyah during Operation IRAQI FREEDOM.  In August 2003, he rejoined HMLA-267 in Okinawa and completed the squadron's UDP.  In January 2005, Maj Hill again deployed with 15th MEU and participated in Humanitarian Relief operations following the Indonesian Tsunami and Operation IRAQI FREEDOM II.  Maj Hill rejoined HMLA-267 and attended Weapons and Tactics Instructor (WTI) Course 2-06.  

During 2007, Maj Hill conducted back-to-back deployments with the 31st MEU in Okinawa, Japan conducting multiple exercises in Korea, Australia, and the Philippines and was hand-picked to serve as the Air Officer for III Marine Expeditionary Brigade's assistance to Bangladesh during Operation SEA ANGEL II. During his first tour in the fleet Maj Hill served as a schedule writer, flight officer, primary training officer, tactics officer, UH NATOPS officer, squadron WTI, and Assistant Operations Officer.


Maj Hill reported to Marine Weapons and Tactics Squadron One (MAWTS-1) in February 2008.  While at MAWTS-1 Maj Hill completed the UH-1Y series conversion and served as the UH Division S-3, MAWTS-1 range and schedules officer, and UH-1 Division Head.  During his assignment at MAWTS-1, Major Hill earned a Masters of Arts in Diplomacy, Cum Laude, from Norwich University. In November 2010, Maj Hill reported to USCENTCOM in Tampa, FL as an Individual Augment in the CCJ7. Maj Hill coordinated Corps-level exercises for NATO and US units deploying to Operation ENDURING FREEDOM.   In August 2011, Maj Hill attended the Marine Corps Command and Staff College where he completed his Masters of Military Studies with Distinction.


Maj Hill reported to MAG-29 in June 2012 where he served as the Operations Officer and is now assigned as the Executive Officer.  Maj Hill has accumulated more than 2000 military flight hours.  His personal decorations include the Strike/Flight Air Medal 4th award, Navy and Marine Corps Commendation Medal 3rd Award, the Joint Service Achievement Medal, and the Navy and Marine Corps Achievement Medal.
http://www.mag29.marines.mil/Leaders/tabid/635/Article/144664/majorbrnathan-j-hill.aspx