2013-08-07 During a visit to New River Air Station in July 2013, we had a chance to talk with Lt. Col. Schoofield, the newly appointed ACE commander of the 22nd MEU.
His MEU is replacing the MEU currently deployed to the Mediterranean and where Lt. Col. "Spinner" Boniface is the ACE Commander.
https://sldinfo.com/moving-forward-with-the-osprey-the-next-challenges-to-be-met/
https://sldinfo.com/the-impact-of-the-osprey-on-the-expeditionary-strike-group-there-is-a-tsunami-of-change-coming/
Lt. Col. Schoofield is a rarity; he has piloted both Harriers and Ospreys in combat, which makes him the Marine's Marine aviator. 
He discussed with us the similarities and differences in flying the aircraft and their missions, as well as preparing for the upcoming MEU deployment.
SLD: You are both an experienced Osprey and Harrier pilot.  Could you comment on the two aircraft and how they are similar and different?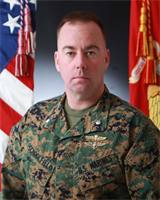 Lt. Col. Schoofield:  I have more than 1000 hours of total time in the AV-8, and have flown in Iraqi (OIF 1 and OIF 2) and Afghani missions.
I later transitioned to the MV-22 Osprey and flew the Osprey in Afghanistan for almost a year.
As far as flying the airplanes they're strikingly similar. They have more in common than you might think. They're two of the three" powered-lift" aircraft ever built, the Osprey and the V-22.
Their ability to take off and land within the lateral confines of their own dimensions then cruise on wing-borne flight is their most unique feature.
In the case of both of those aircraft, you have to carefully manage your gross weight which you can only do by jettisoning fuel so that you maximize your performance at your landing point.
In the Harrier that comes in the form of having your maximum "bring back", so coming back and landing with an X amount of fuel and ordnance onboard if you can. In the Osprey, it comes in the form of landing on the objective with the maximum number of troops and cargo to conduct the mission which has been assigned and with maximum fuel to do follow-up operations.
The two are very similar philosophically in how you think through the mission sets.
SLD:  How do differences in mission sets affect the approach to operating the planes?
Lt. Col. Schoofield:  The big distinction is the difference between offensive air support, and the assault support mission.
There is the excitement of flying a single-seat fighter jet in combat, and I can remember flying over Baghdad in 2003 like it was yesterday, and how I was challenged in those scenarios.
But those missions, even the most complex close air support missions that I flew similar to others in my generation did and dropped the ordnance dozens of times in combat, again, not special. Everyone from my generation did.
Those missions are all pretty scripted, even in the most complex missions.  They were rigidly scripted as far as what time you took off, what time you landed, what ordnance you had, and what procedures you used.
The assault-support mission is virtually the polar opposite of that. It involves an extreme amount of flexibility. It's a very dynamic mission. And when you conduct assault-support, they're very long missions.
A really long day of flying the Harrier might be five or six hours. A long day of flying the Osprey is 12 or 14 hours actually strapped in into the aircraft. And while you're flying the Osprey, or any assault-support mission, it is a long day.
In a Harrier, you have just one other captain or major that you have to communicate your plan with and again it is in a much scripted way.
With the assault support mission you are dealing with 4 other people in your plane and 4 others in the second ship, so there are 7 people you are communicating your plans with all the way to completion.
I would say, more often than not, you show up to pick up your supported unit, your customers, or the ground force that you're inserting, there's always some subtle changes in play.
You're expecting 12 people and you have 18. Or you're expecting 18, and you got 12 and they forgot to include the dogs or the interpreters or the extra pallet of ammo or fuel or whatever it is.
Things are always different. And anyone who's been flying assault-support for decades could explain that in painstaking detail.
But with that, comes a lot of challenge, which I enjoyed.
Sorting through the mathematics of updating the plan on the fly and communicating that plan to the crew in order to get the maximum number of troops on time at the right place, and coordinating with fires and doing it safely is a core challenge. It's a wonderful challenge and a privilege to experience.
SLD: Given your duality of flight experience, you must be looking forward to your assignment as an ACE Commander?
Lt. Col. Schoofield:  I feel very well prepared and we'll have an opportunity to really achieve some great results. The only thing I would like to change, if I could, would be to be current in the Harrier so I could fly the AV-8 and the V-22 and supervise, mentor and lead both my offensive air support and my assault-support pilots at the same time like a carrier air group command would.
SLD: What does the Osprey bring with its speed and range that the helicopter does not for your role as an ACE commander?
Lt. Col. Schoofield: As you know, there were many critics of the Osprey.  This was from people who refused to accept the emerging technology of the Osprey. These were the grandchildren of the critics of the jet engine or of the original helicopters – it cannot work because it did not exist before, or from people with vested interests in maintaining helicopter technology as the core baseline for the force.
The difference in speed is dramatic. 
I remember flying up the Potomac River on a V-22, literally passing a Black Hawk like it was standing still. They were flying the helo route from Quantico up to D.C. as were we, but they were going 130 or 140 and we were going closer to 300 knots.
It's a good-looking little helicopter but as I passed that Black Hawk, I asked myself why are we moving people in Black Hawks still?  The United States Army is moving people with these helicopters. Each one has a crew of three or four and carries 12 soldiers slowly to the battle.
Meanwhile, we are moving with much greater speed and safety and with significant operational flexibly and carrying 24 Marines with our 3-4 man crew and going at 300 knots ground speed.
It is the difference between walking and driving.
This is a big difference because combat operations about an ability to put force on target before the enemy moves or is more effective. 
The Osprey is part of building that advantage.
Editor's Note: There was an earlier discussion with then Major Schoofield which focused on working on various combat innovations by USMC aviation to support the ground forces. 
This discussion can be read below:
Marines concluded a small-scale, rapid-response aerial delivery test July 1, 2010 validating a new way to get mission-critical supplies to Afghan National Security and NATO Forces on the ground here.

Third Marine Aircraft Wing (Forward) and 1st Marine Logistics Group (Forward) spent two weeks planning and evaluating the most effective way to get the supplies to the ground safely when landing the aircraft is not practical. They hope to employ the solution within the next week.

"We are exploiting a niche in aerial delivery tactics in order to resupply Marines under all conditions," said Maj. Sam Schoolfield, the action officer for the project with 3rd MAW(FWD).

"I went to [1st] MLG with this idea because we recognized a need for it to support our war fighters. The unique thing about being part of a Marine Air Ground Task Force is that we always work together to make sure our guys on the ground never walk alone. We are not going to let any situation stand in the way of supporting them."

The Marines pushed more than 1,300 bottles of water bundled in various weights at different altitudes from the back of an MV-22B Osprey, CH-53D Sea Stallion and CH-53E Super Stallion over three separate days.

"Some have more in the load and some are at a bare minimum so we can see which loads are better," said Lance Cpl. Jordan Shemanski, an aerial delivery specialist with 1st MLG (FWD). "I'm here to watch them come out of the birds and watch how the whole extraction process works with the new parachute."

The new parachute is called the Single Cross parachute and is part of a fairly new air drop method called the low-cost, low-altitude aerial delivery service, or LCLA. The Army introduced the concept a couple of years ago to create an inexpensive, "disposable" system to deliver supplies into those hard-to-get-to areas.

The Marines are adopting the Single Cross parachute because it's designed to support 80-125 pounds of cargo and meets the specific needs they have for delivering the loads they want to get to the battlefield here. It's a small black chute made of a material similar to sandbags. It's cheap, it's easy and it's effective.

"Usually we drop anywhere from 800-1,000 feet," Shemanski explained referring to the Corps' high-velocity and low-velocity chutes designed for bigger drops. "This one is ranging from 150-2,000 feet. It's for smaller loads so they can come in really quick, and without having to touch the bird on the deck, they can just fly right over and drop what they need to and it will safely hit the ground."

"What it's really doing for us is allowing us to provide continued resupply support on short notice to any area no matter what the situation," Schoolfield said. "We can drop supplies right on top of them. We don't want them to have to fight their way out of a tough situation just to get to supplies."

The tests were so effective, the United Kingdom's Joint Aviation Group is taking a look at using it to resupply its troops as well. The JAG leadership plans on testing the concept from the back of a CH-47 Chinook in the near future.

The Marines have made up their minds.

"Our ground guys will never walk alone," said Schoolfield. "We will be on target, on time, every time. Wherever the Marines go, Marine Corps aviation will be there."

It sounds like something you would hear in a commercial, but the conviction is real. By this time next week, ground forces in southern Afghanistan could quite likely be looking to the sky for critical support when they need it most.
By Gunnery Sgt. Steven Williams and published as "Marines Find New Option for Critical Resupply Missions," July 1, 2010.
Lieutenant Colonel Sam Schoolfield enlisted in the Marine Corps Reserve in 1990 where he initially served as a maintenance Marine on the F-4 and OV-10. As those aircraft were retired, LCpl Schoolfield was transferred to 3rd Force Reconnaissance Company in Mobile, AL where he served as a recon scout.  He was promoted to Cpl in 1993 and accepted into the PLC program. Cpl Schoolfield graduated from the University of South Alabama in 1995 and was commissioned a 2ndLt in 1996.

After TBS, 1stLt Schoolfield carrier qualified in the T-45C aboard the USS Truman and was designated a Naval Aviator in 1999. From flight training he was ordered to fly the AV-8B Harrier and completed two tours at VMA-542 from 2000-2007. During that time period he deployed three times as a Harrier pilot participating in OSW, OIF I, OIF II, and OEF. As a member of VMA-542 he served as an AV-8 flight leader, aviation safety officer, assistant operations officer and landing signal officer.  Between flying tours to OIF I and OIF II Capt Schoolfield deployed aboard the USS Essex as a forward air controller with 3/3 and the 31st MEU.

Major Schoolfield served as a capabilities integration officer at Marine Corps Combat Development Command where he worked on the Joint Strike Fighter and other programs. In 2008 and was ordered to VMMT-204 for transition training to the MV-22 Osprey. Major Schoolfield's fifth deployment was to Afghanistan with VMM-261 in the fall of 2009 to serve nearly one year at Camp Leatherneck.  While in Afghanistan flying the MV-22 and conducting deliberate planning at 3MAW(FWD), he served as the squadron DSS and airframes division officer.

LtCol Schoolfield has served as an operational test pilot, operations officer and maintenance officer at VMX-22.  In January 2013, he became the VMM-263 Executive Officer, and assumed his current duty as Commanding Officer in June 2013.

LtCol Schoolfield holds a Master's of Business Administration in Negotiations.  He is a graduate of both the Air Command and Staff College and the Marine Corps Command and Staff College.  Personal awards include the Meritorious Service Medal, Air Medal with numeral seven, Navy Commendation with V and star, and the Navy Achievement medal.
http://www.mag26.marines.mil/Leaders/tabid/230/Article/137283/lieutenant-colonelbr-sam-schoolfield.aspx