2013-11-18 Clearly, a key element of the evolution of 21st century maritime surveillance systems is an ability to combine space with manned and unmanned capabilities.
The key is not just to know but to go to where the enforcement needs to take place.
As the senior USCG Admiral in charge of C4ISR for the USCG has put the impact of the emergence of new capabilities:
SLD: Could you provide us with an overview of C4ISR works in the USCG?


Admiral Day: Let's talk about how C4ISR is used in support of Coast Guard missions.  And what changes have occurred—drastic changes—in the last 10 years and the drastic changes that are going to be needed even in the next five. These changes may or may not occur, because they may or may not make the funding threshold.  In most cases right now, they are not going to make the funding threshold.


SLD: C4ISR is essential for a modern Coast Guard to function.  Although ethereal to many, the glue, which holds the platforms together, is clearly C4ISR.  Could you provide a sense of the shift in performance enabled by the new C4ISR systems?


Admiral Day: Let's talk about just the Eastern Pacific drug mission.  Let's just use that as an example. In the old days, we literally went down there and bored holes in the water, and if we came across a drug vessel, it was by sheer luck.  It might be on a lookout list, and we might happen to see it.  Let's fast-forward now to the 2000s and what we've started being able to do.  By being able to fuse actionable intelligence, and not only that, but intelligence communicated at light speed.  So now, we're to the point where we're telling a Cutter to go point A, pick up smuggler B with load C.  And we're doing that in real time with delivery of a common operational picture, which has been fused with intelligence.  That was unheard of 10 years ago.
Now Airbus Military and its partners is shaping a way ahead to do this with integration of manned and unmanned systems.  The USCG as a core user of the CN-235 featured in this development should find this of interest.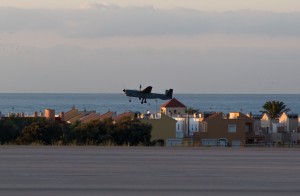 According to an Airbus Military press released dated November 18, 2013:
Systems developed by EADS sister companies Airbus Military and Cassidian have played key roles in the first large-scale demonstration of technologies to address the growing crisis of economic migration and smuggling on Europe's maritime borders.

The two companies, which will soon join forces with Astrium in the restructured Airbus Defence & Space, demonstrated an Airbus Military CN235 aircraft equipped with the FITS Fully Integrated Tactical System, and a Cassidian Atlante Unmanned Aerial System (UAS).

Flying over the Mediterranean Sea, the CN235 of Spain's Guardia Civil detected and tracked simulated and real suspicious boats and passed the resulting imagery and data in realtime to onshore mission controllers to decide on action.

And operating from Almeria airport in South East Spain – the first time that a UAS has been flown from a civil airport in Europe – the Atlante showed how unmanned aerial systems can be integrated into a combined surveillance operation by passing simulated data and imagery to ground controllers.

Atlante's unique capability to operate in civil airspace and its operational flexibility, make it the first tactical UAS that is capable of performing both military and civil missions also during night-time conditions.

Integrated with information gathered by other assets and shared by multiple nations, the results of the operation help pave the way for a multi-national system to address the human misery and social costs of illegal migration and criminal maritime activity.

The four-year Perseus program is Europe's flagship maritime border control program, with a EUR 43.7 million budget under the European Commission's 7th Framework Programme.

In addition to providing Atlante, Cassidian is responsible for the technical coordination of the entire Perseus project, ensuring delivery of an integrated and verified, interoperable system-of-systems for the Perseus exercises and demonstrations.

For the demonstrations in late September, Airbus Military upgraded the FITS equipment on a Guardia Civil CN235 with an enhanced satellite communication system compatible with Inmarsat's Swift Broadband; a new Airbus Military high-speed datalink; and a secure version of the maritime Automatic Identification System (AIS). Those functionalities complemented the aircraft's standard detection and analysis equipment.

Acting on intelligence gathered by the Guardia Civil, and alerted by the Perseus Mission Support Centre, the aircraft and its crew were able to intercept a small vessel simulating a suspicious boat heading towards the Spanish coast from Morocco, as was planned in the exercise.

For a look at the challenges and approaches to dealing with maritime security see the following publication:
https://sldinfo.com/flipbooks/TheChallengeofMaritimeSecurity/