2013-12-20 A potential gain from buying the Gripen could be hosting a Gripen fighter weapons school available to the broader Gripen community. 
In a phone interview today with Guy Martin, editor of defenceWeb, this opportunity was highlighted.
"South Africa has been offered the opportunity, but has been slow to move.  From a South African military and industrial point of view, establishing such a fighter weapons school would make sense.  Denel has test ranges that would be used as part of the process as well as providing South Africa with a great opportunity to host foreign pilots as well.  This could become the Top Gun for the Gripen community."
Martin remains concerned that the slowness with which South Africa has embraced the opportunity, might well provide Brazil with the chance to do so instead,  "Whomever hosts such a fighter weapons school, clearly can provide a global air combat service.  And as such, can augment its national role within the global military aviation community."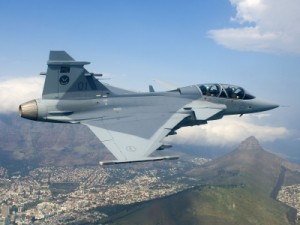 Martin has been an advocate for such a solution for South Africa.  SAAB announced in 2012 that they were going to set up such a school, "but announcing the decision in advance of the South African government led in part to the project not going forward."
The SAAB 2012 announcement was as follows:
Saab is to invest in an advanced training centre for experienced fighter pilots initially from Gripen countries and its user air forces, at Air Force Base Overberg in South Africa. 

The Gripen Fighter Weapon School is an initiative from Saab in co-operation with the Gripen Air Forces user group. The Gripen Fighter Weapon School will hone the fighting skills of experienced Gripen pilots from all over the world. The custom built facilities on the southern tip of Africa will provide exceptional training with extensive airspace over mountain ranges, desserts and the Indian andAtlantic Ocean. The course will be run during the South African summer which offers favourable metrological conditions. The training will focus on different multirole aspects every year and the advanced airborne exercises will be mixed with academia and survival training in an African context.

"Gripen is now operative and in service in five countries world wide, and the system is continually under development. Saab now believes there is a need to establish an advanced training centre for experienced Gripen pilots with the aim to increase their operational capabilities, provide an opportunity to operate in an environment different from their own and a chance to train in a region that mirrors a realistic future potential deployment scenario," says Magnus Lewis-Olsson, President Saab in South Africa, and adds:

"The Gripen Fighter Weapon School will increase our understanding between different Gripen operators and our own efforts to create a common software baseline as the pilots will cross reference their experience of Gripen."

Supporting Gripen customers in Sweden,South Africa, Hungarian, the Czech Republic and Thailand, the first course is scheduled to take place late 2013.

New threat scenarios and new requirements will drive the course syllabus at the school and the need for more in depth training on the Gripen aircraft and its systems. It will also increase the students' operational capabilities by providing a possibility to experience a tactical behaviour that differs from their national SOP's (Standard Operating Procedures) and thereby broaden their skill.
Nonetheless, this July 2012 initiative had been axed by the next year.
According to Gareth Jennings of Jane's:
Saab has opted against locating its Gripen Fighter Weapon School in South Africa, having "not received any positive response" from the South African National Defence Forces (SANDF), the company confirmed to IHS Jane's on 18 July. 

Having hoped to begin instruction at the planned facility at Overberg Air Force Base (AFB) in 2014, Saab is now instead looking at alternative basing options for its new training school. As the only other export customer with the large tracts of unrestricted airspace necessary, Thailand is being touted as a probable location. 

In late 2012 Saab officials told IHS Jane's that the company had already written the first syllabus, which was geared at air-to-ground and reconnaissance training.
Clearly, the entry of Brazil into the Gripen club makes them a candidate for hosting a Gripen fighter weapons school. 
And as operators of the AEW system as well, working the integrated con-ops of the fighter with integrated air defense assets is a logical option as well.
But Martin has not given up hope for South Africa recapturing the initiative.
In a recent article Martin noted that:
Saab has not given up on the idea of established a Gripen Fighter Weapon School and continues to offer the concept to the South African National Defence Force (SANDF), in spite of its earlier refusal.

Anne Lewis-Olsson, Saab's Head of Communication Sub- Saharan Africa, told defenceWeb that the company has not given up on the idea and still wishes to establish such a facility, which would train fighter pilots initially from Gripen countries.

In July last year Saab announced at the Farnborough Air Show that it would establish the School in South Africa, but shortly afterwards the SANDF denied the whole affair.

Saab had planned to run the first course with at least six students in late 2013 using between four and six South African Air Force (SAAF) Gripen C/D fighters.

A 1 000 square meters building at AFB Overberg would have been dedicated to the school and would have included briefing and debriefing rooms, a lecture hall, lunchroom, locker rooms, a gym and sauna, offices and IT infrastructure. South African and Swedish Air Force instructors would have conducted the course, Saab said.