2014-01-03 By Gulshan Luthra
Naval Chief Admiral DK Joshi has observed that as a carrier-centric force, the Navy was looking forward to the arrival of INS Vikramaditya and to integrate her "into our operational architecture."
"Given our vast maritime domain, far-flung island territories, national interests, and the extremely dynamic geo-strategic environment, INS Vikramaditya's recent commissioning has further bolstered our carrier centric 'blue-water' capability," he had said in his annual Navy Day (December 4) press interaction.
Notably, the Navy had planned for induction of three aircraft carriers right from the late 1990s, with the aim that at least two carrier task forces would always be available while a third one would be under maintenance and replenishment.
In addition to the Vikramaditya (aka Adniral Gorshkov) acquired from Russia, India's indigenous aircraft carrier Vikrant is being build at Kochi shipyard and should be ready for induction in 2017.
Plans are there to begin construction of a second indigenous carrier, of about 60,000 tons plus.
The Directorate of Naval Design (DND) is already considering what equipment should be on board, and according to Vice Chief of the Navy Vice Admiral Robin Dhowan, all options from nuclear to steam propulsion, the type of aircraft and escort vessels and so on are on the table for both INS Vikrant and the possible second indigenous carrier.
Conventionally, aircraft are launched by steam-propelled catapults.
The US Navy, which maintains a fleet of 11 large aircraft carriers around the world, has decided to go in for Electro-Magnetic Aircraft Launch Systems (EMALS) and its developer, General Atomics has offered the technology to India in 2013.
This is also being considered although decisions on various aspects of technology are a bit far looking for core design capabilities, and evolving sophistication of technologies, DND has set up specialist groups in hydrodynamics, hull design, structures, propulsion, automation and stealth. Leading companies from around the world have made offers and they are being evaluated.
Admiral Joshi made it clear that while there is due emphasis on aircraft carriers, the submarine program is given equal importance.
The existing Scorpene project, initially delayed, is now on its revised schedule and the Government has approved the budget for six more, newer, submarines with Air Independent Propulsion (AIP). It wouldn't be long before the process is formally put to the global shipping industry for tenders.
As for the Navy getting ready for INS Vikramaditya, he said that her complement of MiG-29K fighters, already at Goa, are undertaking intensive training, to commence deck flying as soon as the carrier comes in the Indian waters.
At INS Hansa, the training station in Goa where the MiG-29s are located, batches of pilots are doing the intensive routine on both simulators and flights. This writer, recently in Goa, was told by Rear Admiral Balwinder Singh Parhar, Flag Officer Naval Aviation and Commanding Goa Naval Area, that the pilots were keenly awaiting with their aircraft to board their mother ship and begin operations. "It would be a big day for all of us when Vikramaditya arrives."
The Navy has set up a 14 degree ski to replicate takeoffs from the carrier and an arrested wire recovery has also just been completed at Goa. INS Vikramaditya though would be berthed at the new and nearby Karwar port, built specifically to accommodate large vessels.
Admiral Joshi observed out that "Vikramaditya bridges the time gap between Indian Navy's existing capability and our indigenous aircraft carrier project."
While the Navy's diesel-electric submarines and helicopter modernization programs have been slow, or stuck, its Naval Aviation has literally been on the flying colors path.
The Indian Navy marked 60 years of naval aviation this year, INS Vikramaditya is on way home from Russia, several aviation infrastructure projects have been completed, and three Boeing P8-I long-range maritime reconnaissance aircraft have arrived as scheduled. Five more should arrive in 2014 and there could be a repeat order for eight to 12 aircraft.
Admiral Joshi made a special mention of the P8-Is, observing: "Recent induction of P81 Boeings has ushered in a new era for Navy's air surveillance and standoff attack capabilities."
He also mentioned the recent induction of Hawk AJTs (Advanced Jet Trainers), 17 of which are being acquired by the Navy from HAL. Overall, he said, "naval aviation is undergoing a qualitative transformation."
Admiral Joshi echoed the other two Services, Army and Indian Air Force (IAF) in saying that indigenous capability is the key to defense. That's why, "Our theme for this year's Navy Week, is "Indian Navy – Maritime Security Through Self Reliance."
He was proud, he said, that all the 45 ships and submarines, which are currently on order for Indian Navy, are being constructed in India in both public as well as private shipyards.
This fact indicates the Navy's commitment to indigenization towards strategic autonomy for the nation. The Admiral also disclosed that India's first indigenous nuclear submarine, Arihant, was doing well in the trials and its nuclear power was steadily being increased towards full power, but step-by-step.
It is a question of pure physics. The safety factor is paramount and gradually the vessel would be loaded and powered with nuclear fuel to 200 percent. There would be rehearsals for emergencies, experiments in applied physics and so on.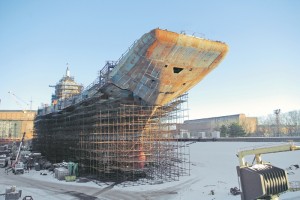 Arihant would begin sea trials shortly, he said, adding that in a year or so, it should be operational with required missiles and weapons on board. Her reactor was started – or made critical in scientific terms – on August 10.Arihant is SSBN class, that is nuclear propelled and nuclear armed. The Navy's INS Chakra, acquired from Russia, is only nuclear propelled, designated SSN.
He praised the Navy, DRDO and Industry for the synergy between them that has enhanced the pace, quantum and quality of indigenization. Globally very few select countries construct their own ships, aircraft carriers and submarines, including nuclear ones, and' this achievement is a matter of national pride.
Admiral Joshi said that Navy's own satellite under Project Rukmani, GSAT-7, was doing well and that it was a landmark achievement "in enhancement of our blue-water networked operations." The navy was also supporting the Indian Space Research Organisation (ISR) in its current Mars mission by monitoring its signals from various ships, including in South Pacific.
"We are also supporting ISRO in the Mars Mission through Naval Teams embarked on ships currently in South Pacific."
Reprinted with permission of our partner India Strategic.
http://www.indiastrategic.in/topstories3123_Indian_Navy_aims_three_aircraft_carriers.htm
For our look at the P-8, the USN and the Indian Navy see the following:
https://sldinfo.com/indian-and-american-naval-cooperation-the-potential-role-of-the-p-8/
https://sldinfo.com/tthe-us-navy-in-transition-the-case-of-the-p-8-as-part-of-the-attack-and-defense-enterprise/