In preparation for the Second Line of Defense Team's visit to 2nd MAW, we are publishing this story on a recent USMC force insertion exercise in North Carolina.
2014-02-05 by Lance Cpl. Joshua Heins
MARINE CORPS AIR STATION CHERRY POINT, N.C.
Marines and Sailors from Marine Corps Air Station Cherry Point and Marine Corps Air Station New River coordinated with Marines from 3rd Battalion, 6th Marine Regiment for an aerial insertion exercise at Marine Corps Outlying Field Atlantic, Jan. 13.
During the training, Marine helicopter crews with Marine Heavy Helicopter Training Squadron 302, Marine Heavy Helicopter Squadron 366, HMH-461 and HMH-464, maneuvered to and landed at OLF Atlantic, carrying infantry Marines with 3rd Bn., 6th Marines for assault training.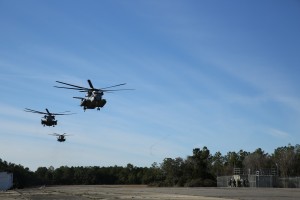 The aircrews gained valuable insight into the capabilities of their aircraft and the partnership between Marine air and ground assets, according to Capt. Thomas E. Reese, a division lead pilot during the exercise with HMH-366.
Seven CH-53E Super Stallions carried 115 infantrymen, two waves of troops.
In a closely timed aerial maneuver, the flight crews landed at OLF Atlantic, delivering their teams of infantry.
"Due to the amount of aircraft involved in this mission, two pilots completed a division leader syllabus training flight," said Reese. The syllabus training gives division lead pilots the knowledge to manage several aircraft while in flight.
The exercise required several weeks of planning and coordination between the aircraft squadrons and the leadership of 6th Marines. The squadrons' attention to detail helped facilitate a smooth flow of information and execution during the exercise, according to Reese.
The exercise gave the aircrews, especially the less experienced ones, a chance to collaborate with ground forces. Interoperability between air and ground Marines is critical for both helicopter crews and the Marines they carry for possible future operations, according to Reese.
For the Marines and Sailors conducting the assault from the Super Stallions, the training reinforces a capability most infantry Marines practice routinely. Continuous practice gives the infantry multiple opportunities to refine each of their capabilities as a ground force.
"We are waiting on our next orders," said Petty Officer 2nd Class Peter Smith, a corpsman with the battalion. "Our only job right now is holding security while the rest of our ground forces arrive."
The Marines flew in and exited the aircraft as if they were entering a hostile environment.
"Once we landed most of our company began patrols in the direction we were told the enemy was," said Smith. "The rest of us stayed back for security and as a quick reaction force in case help was needed."
http://www.dvidshub.net/news/119564/2nd-maw-squadrons-support-3-6-exercise#.UvIXjfbS4nU