2014-02-08 The Osprey is being featured at the Singapore Air Show.
This certainly makes sense after the performance in the Philippines and its engagement in the Pacific has become a new norm.
According to a piece by Capt. Caleb Eames written on February 2, 2014:
Three MV-22B Ospreys with Marine Medium Helicopter Squadron 262 conducted mid-air refueling while on the way to Singapore from Okinawa, Japan, for the Singapore Air Show, Feb. 6, 2014.
The Ospreys followed two KC-130J Super Hercules planes of Marine Aerial Refueler Transport Squadron 152 from Okinawa approximately 2,500 miles, landing once in the Philippines to refuel, and then on to Singapore.
"Mid-air tanking with the Osprey is a real enabler for us, it allows us to extend our already long reach even further," said Capt. Andrew Serpa, an MV-22 Osprey pilot with VMM-262.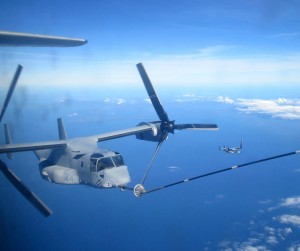 According to the pilots, although the Ospreys could have flown the distances involved without mid-air refueling, it gave them an opportunity to practice an important skill set.
Refueling mid-air also provided an opportunity to exercise the capability of the Marine aviation units to self-deploy over even longer distances when necessary.
Because of this capability, Ospreys and Super Hercules aircraft were able to respond quickly in Operation Damayan after Super Typhoon Haiyan hit the Philippines just a few months ago.
"We were able to respond to the Philippines in their time of need at a moment's notice, and were able to do that because of our self-deploying capabilities, with Ospreys and the C-130s working as a team," said Serpa.
The Marine aircraft are in Singapore to participate in the Singapore Air Show 2014, displaying their unique capabilities at the diverse international defense technology forum.
The Singapore Air Show 2014 is focuses on building stronger relations between the U.S. and Singapore, as well as among the international community…..
VMGR-152 and VMM-265 are part of the 1st Marine Air Wing, III Marine Expeditionary Force, based out of Okinawa, Japan.
III Marine Expeditionary Force