2014-02-05 Second Line of Defense's Murielle Delaporte had the opportunity to visit the Special Purpose Crisis Response MAGTF at their temporary operating facility in Spain in mid December.  Shortly after she observed their training efforts, the force went on its second mission, this one to South Sudan.
The SP-MAGTF CR provides a very rapid insertion capability to support missions in the AFRICOM and EUCOM area of operations.
In this interview by Murielle Delaporte she discussed with Captain Owen Sisbarro, the Ground Combat Element Officer for the  SP-MAGTF CR.
Captain Owen Sisbarro has been serving in the Corps for eighteen years and a half. He started as a Reconnaissance Marine and was trained as a CH-53 pilot and was deployed as such in both Iraq and Afghanistan.
He has held so far 8 MOSs (Military Occupation specialties) and is now serving as a Forward Air Controller. 
This interview was done a few days before Christmas, and knowing that Captain Sisbarro is among the numerous single parents within the USMC was another reminder of the sacrifices made by servicemen on a daily basis.
Question: What is different about working as a FAC within the SP-MAGTF CR?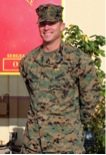 Captain Sisbarro: As a FAC, I have basically three functions:
My primary job is to assist – as an advisory role – in air assault planning, i.e. helping the ground commander achieve the best solution for when he is working with the air.
The other thing I bring to the table is the ability to trigger close air support: not just anybody can call aircraft to drop ordnance if needed.
If it is an extreme case of emergency, someone not qualified can call for it in extremis, but there is a different procedure for that.
As a FAC I also bring the ability to train our JTACs [Joint Tactical Air Controllers].
Question: How long does it take to train JTACs?  Do you use a simulation tool here at AFB Moron de la Frontera as well?
Captain Sisbarro: The school itself is about a month long. It varies from service to service.
We use a computer simulation tool in the school and afterwards as well indeed, as jet fuel is expensive as well as live bombs and live bullets. It is a very effective tool to be able to conduct good training using realistic procedures.
We use different kinds of events, scenarios, weapon systems, aircrafts, different sets of enemies doing different things. It is good that we have this capability that is relatively new, only a few years old.
Question: Can you do airborne FAC?
Captain Sisbarro: As a pilot I cannot do airborne FAC – what we call FAC A -, because I do not have a target marker.
Everything else I could do from the air if I had to, but my helicopter platform – the CH53 – is a very big target, not ideal as I do not carry ordinance, so it is very difficult.
If I had a marked target I would need something handheld, since there are no capabilities organic to the aircraft to mark targets.
The V22 is not a FAC – A platform either.
We usually use for that purpose a fighter jet or an attack helicopter (Apache, Cobra, F16, F18, Huey…).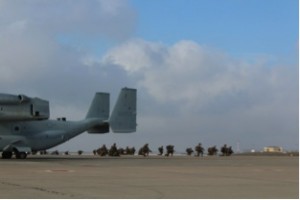 Question: The V22 being an assault helicopter, and not an attack helicopter precisely, as a FAC would you be send first or with everybody?
Captain Sisbarro: I would go with the whole force. For example, I was there today for the drill
I operate in accordance with the Ground Commander's intent:  whatever Captain Wallin wants, I am the one who works with the aircraft to make that specific demand happen.
Question: You must have room of maneuver in case the situation evolves?
Captain Sisbarro: Indeed, I adapt to the situation. I am usually in close proximity to the Ground Commander or in radio contact with him, so that if something changes or his intent changes,  I can still operate within his intent.
I work pretty much alone, but can use somebody else as an observer if I cannot see something on the ground, but needs the attention of the aircraft.
He can relate back and forth to me through the radio, but in the end I am the one who has to clear the aircraft on to a target.
Question: What is the procedure if you were to need CAS within the SP_MAGTF CR?
Captain Sisbarro: We would have to request it and it would be pushed to us via whatever channel, as we do not have an organic capability for it in the CR. To request it in the planning process would be mission dependent.
Question: Do you find different procedures working with allies?
Captain Sisbarro: When we work as a coalition, we use the same procedures.
Every now and then there is a small language barrier that needs to be overcome, but the procedures are generally the same across the board. The Spanish Army and Marines have JFACs, while the Spanish Air Force has CAS capabilities with their F18s and works along the same procedures.
The Spanish Army works very similarly to the US Army, the same with the Spanish Navy Marines and all are following the same procedures. It is very similar with the French as well.
Afghanistan was in actual fact the place where everyone was able to get on board with the same procedures, since most of the NATO countries have participated.
If they had JFACs there they worked under Afghanistan procedures which were developed under US doctrine in the first place. The main reason was the US air power presence at first, then other NATO nations contributed flying squadrons.
Question: As a 53 pilot, how would you compare that aircraft with the V22?
Captain Sisbarro: They both do similar missions, as far as assault support is concerned, but the CH53 is a heavy lift helicopter.
We are the ones carrying the very heavy cargo that no other aircraft can carry.
The 53 can carry the most (up to 55 Marines), but the V22 can cover more distance: that is the tradeoff.
Both helicopters do not have the same capabilities, and therefore nor the same requirements, and that is the reason why the V22 does not replace the CH53.