2014-03-11 By defenceWeb
28 Squadron is widely recognized as one of the hardest working units in the SA Air Force (SAAF) with its more than 50-year-old C-130BZs routinely providing logistic support across the country and the continent.
One of its other missions is search and rescue and training in this aspect of operations with the National Sea Rescue Institute (NSRI) recently took place a long way from the squadron's home base at AFB Waterkloof.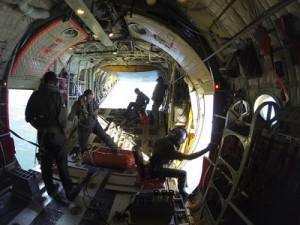 A pair of BZs made AFB Ysterplaat their temporary base for maritime flight operations training. NSRI crew members Robert Fine and Mahboob Ebrahim were invited to join the crew aboard one of the BZs.
The mission the NSRI crew joined started early at Ysterplaat and after a flight briefing the aircraft departed for a location just off Saldanha Bay/Langebaan lagoon.
Two specially deployed SANDF "casualty" vessels were on the sea in the area for the aircrew to spot and then deploy life rafts as near as possible.
"On arrival in the area, the C-130 started a search pattern and once the 'casualties' were located, the flight pattern was changed so that multiple smoke markers could be dropped in close proximity. The markers would assist with wind direction and enable the pilot to line up the aircraft on final approach. Once in position a life raft is pushed out of the back of the aircraft with a small parachute deploying to break its fall. It automatically inflates on hitting the water," said Fine.
The C-130BZ has a range of about 2 700 nautical miles and an eight hour endurance.
The four-engine aircraft can run search operations up to 1 300 nautical miles offshore with an hour on station depending on weather conditions and other variables. Different size life rafts can be dropped depending on the number of people needing rescue. Additional life rafts are carried aboard in case the initial drop is unsuccessful.
28 Squadron, under the command of Colonel Jurgens Prinsloo, has nine C-130BZs on its inventory to fulfill tasks ranging from logistic support for SANDF continental peacekeeping and peace support operations, humanitarian operations, search and rescue, support to the SA Army and general airlift.
The squadron is the SAAF's main medium heavy airlift squadron and last June it marked its 70th anniversary at the same time as the 50th in-service anniversary of the C-130BZ.
Picture Credit: Robert Fine, NSRI
Republished with permission of our partner defenceWeb:
http://www.defenceweb.co.za/index.php?option=com_content&view=article&id=33916:28-squadron-takes-nsri-crew-aboard-for-maritime-flight-training&catid=111:SA%20Defence&Itemid=242