2014-03-31  By Robbin Laird
While visiting Australia, and visiting various Australian defense facilities and participating in a future of airpower conference hosted by the Williams Foundation, I had a chance to talk with Thales as well as four suppliers for the F-35 program in Australia.
This provided a good sense of different approaches, which a variety of defense companies were taking to both Australia and the global market.
Chemring is a UK-owned defense company with factories in the UK, Europe, the US and Australia.  The group as a whole makes specialized equipment for the defense sector including countermeasures such as chaff and flares, equipment to detect and destroy improvised explosive devices (IEDs), as well as grenades and ammunition.
My interview with Mark Hender, Managing Director of Chemring, Australia, provided a good sense of their preparation for the deployment of an F-35 fleet, and their ability to provide flares to that fleet.  The company is part of the Chemring global group, with the plant in the United States being the first source for F-35 MJU-68/B and MJU-69/B flares and the plant in Australia in process to become the second source for F-35 MJU-68/B flares.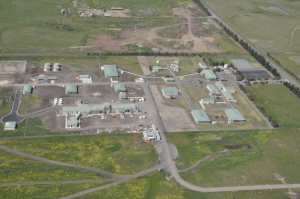 Hender noted that their primary business has been to supply Australian forces, so that their output has been consumed within Australia, rather than being exported.  They produce flares for the RAAF for various air platforms.
They have built a new modern, automated plant in Australia to both provide for their traditional business, and to be ready for the surge in production which will come with the needs of a deployed F-35 fleet.
The new plant is designed to enhance reliability and safety in the production of flares and is located near Melbourne, Australia.
The facility has the capability to manufacture all of the Australian Defence Force's requirements for countermeasure flares. The site has been designed to have the capability to manufacture countermeasures in support of all future air platforms.
The advantage of having a second source based in Australia for a key consumable, namely flares, is its ability to provide for the region's F-35s, USMC, USAF, USN, Japan, South Korea, Singapore and Australia.  This provides an alternative transportation hub as well from which to deliver flares to the global warehousing system to be used by the F-35 fleet. 
This will allow Chemring Australia to become an exporter FROM Australia to other countries in support the overall global F-35 fleet.
According to Hender, the flares for the F-35s will be different from legacy flares Chemring Australia currently manufactures but will draw upon their core competencies in design and manufacturing and make this a low risk effort to produce flares for the F-35 fleet.  And it should be noted the Group is already producing flares for the initial fifth generation aircraft, the F-22.
In short, Chemring as a Group worldwide, and as a Company in Australia represents the kind of supplier in the F-35 program with a long history of work in the defense sector which is bringing their core competencies to provide low risk, high value solutions for the operations of the aircraft.
According to the company's description on their website:
Chemring Australia is a leading developer, manufacturer and supplier of high quality energetic materials and products for the Defence and Marine safety markets.

With more than 100 years' experience in our field we have built a reputation for supplying high quality products – on time and to our customer's precise specifications.

Our products include munitions, pyrotechnics, countermeasures, explosive ordnance disposal and counter IED solutions for military, law enforcement, industry and safety customers.

We maintain design, development, manufacture, testing and evaluation and support capabilities at our facility at Lara, Victoria.

Our long term relationship with the Commonwealth of Australia for the supply of countermeasures, pyrotechnics and munitions, is underpinned by our recent $30 million investment in establishing a state-of-the art countermeasure and pyrotechnic manufacturing facility.

This demonstrates how effective partnerships between government, defence and industry can promote innovation and holistic solutions, providing long term value for money whilst increasing Australian industry capability and global competitiveness.
A 2011 article by Katherine Ziesing in Australian Defence Magazine provided a good overview on the new Chemring Australian plant:
ADM_Magazine_Article_February_2011