2014-03-06 by Richard Bray
Excerpts Reprinted with Permission from our Partner Front Line Defence:
http://www.frontline-defence.com/Defence/index_archives.php?page=2147
At first glance, the Canadian and Italian navies may not appear to have a great deal in common, typically operating in vastly different areas of the world's oceans.
In recent years, however, operations in the Arabian Gulf and Mediterranean Sea have brought both forces into closer operational contact, and strengthened the links already forged within NATO.
Today, the similarities may be heightened by the requirement for both the Marina Militare and the Royal Canadian Navy to rebuild their fleets in a time of constrained resources and strategic uncertainty.
FrontLine's Richard Bray had the opportunity to discuss these and other questions with the commander of Italy's navy, Admiral Giuseppe De Giorgi, in an email dialogue.
Admiral De Giorgi was the first Maritime Task Force Commander within the UN Mandate to control Lebanese territorial waters. For his achievements, in 2007 he was awarded the "Military Order of Italy" (Officer) by the President of the Italian Republic; the "Medal for Meritorious Service" from the Lebanese Republic; and the "Military of the Year" award at the Smithsonian National Air and Space Museum in Washington D.C.
From February 2012 to January 2013 he was Commander in Chief of the Italian Navy fleet, and has been Chief of the Italian Navy since January 2013.
 The Changing Geopolitical Context
Q: Can you describe for FrontLine's informed readership, the impact that today's evolving geopolitical context is having on navies in general, and Italy's in particular?
The prosperity of the world owes much to the maritime spaces having been, by and large, secure and safe for commerce. The maritime domain provides life sustainment and opportunities to the majority of the world's population.
The global maritime commons have been (with a few exceptions of time and place) a "peaceful environment" and a highway to prosperity for all mankind for over six decades. Seaborne trade has more than quadrupled in volume over the last half-century and now stands at over 90% of world economic traffic.
Freedom of navigation is a principle embraced by the great majority of nations. This is an important legacy of the 20th century, which is too often taken for granted by the media, together with a large part of the public opinion. Some observers  describe such a lack of perception of the vital importance of the maritime domain as "sea blindness".
Today, transit and transport on the global oceans face a growing number of trans-national threats, calling for a multi-national cooperative effort.
In this fast changing world there are few certainties, but the following three facts that are solid enough to drive our future developments:
The geopolitical situation will continue to be characterized by regional crises unfolding unexpectedly and suddenly;
The sea brings us a unique opportunity to access and influence a crisis area in an agile and unobstructed fashion; and
The maritime domain will be increasingly critical to economic development and world prosperity.
This is particularly true for Italy, which is traditionally dependent on the sea, due to its geography and economy. Thus, it is in our direct interest to contribute to Maritime Security with a well-balanced and efficient Navy.
One of my goals is to increase among the Italian public opinion an awareness of what the Navy represents for the country.
It is crucial that people understand that Maritime Security is a vital interest for Italy and that the Italian Navy is instrumental to secure such interest.
The Italian Navy and NATO
Q: How do you see the Italian Navy's role in NATO today, including in command of NATO operations?
Italy participates in international organizations such as the UN, NATO, and the EU, which continue to play a key role in keeping peace and stability around the world. Among these, since 1949, NATO has been a military reference for most, thanks to its effectiveness, credibility and expertise on the full spectrum of military operations. NATO commitments have a high priority for Italy, and the Italian Navy is actively contributing to NATO's structures and activities.
Italy has participated in all recent operations conducted and led by NATO, from Operation Active Endeavour (2001), to the counter piracy operations, Allied Provider (2008), Allied Protector (2009), and the current Ocean Shield (from 2009), through to the Operation Unified Protector (the Libyan crisis of 2011). We permanently provide naval assets to the NATO Standing Maritime Groups, of which we often take Command.
The Italian Navy provides one of the high readiness Force Headquarters at Maritime Component Commander level.
The Italian Command, named COMITMARFOR, is on the rotation list among the other Command structures offered to NATO and, in 2014, will take charge as Command of the NRF Maritime Component.
Q: We live in a resource-constrained world. What are your thoughts on how navies can leverage opportunities such as in fleet mix or as a result of alliances?
In this economically sensitive time, budget constraints are driving Navies' future. Thus, it is imperative to optimize resources, seek new cooperation agreements and strengthen existing ones. This is particularly true for Europe. Indeed, European Navies shall keep pursuing the significant process of modernization and review, to respond effectively to the current challenges while maintaining the high operational output that only a truly balanced tool can provide.
Some initiatives have been already launched and are now in progress, like the NATO Smart Defence or the EU Pooling & Sharing. Others are already consolidated like EUROMARFOR, SIAF-SILF, European Amphibious Initiative (EAI), STOVL Carrier Training Initiative (SCTI) and European Carrier Group Interoperability Initiative (ECGII), where we work together to find a common ground.
Apart from that, Navies should also focus on achieving robust cooperation on critical operational enablers, such as surveillance (in all its dimensions), Intel gathering, C4ISTAR, etc..
Building a 21t Century Fleet
Q: What crewing challenges and opportunities does a more automated fleet present? In your opinion, does a smaller navy reduce readiness or flexibility for surge capacity, such as sudden humanitarian missions? How does the Italian Navy handle such unexpected manpower requirements when crew sizes are pared down to low levels?
There is no doubt that today, thanks to the improvement of technology and automation, all new ships will have a downsized crew. If necessary, the crew can be complemented by Specialist Augmentees to deal with the specific missions and adapt to operational situations, such as anti-piracy, Non-combatant Evacuation Operations (NEO), command and control of military operations, and humanitarian interventions.
With such an approach there is the strong need for more accommodations than crew members.
The new Italian Navy (ITN) vessels will have a reduced crew but a large availability of extra beds, along with the extensive implementation of many different operational payloads/capabilities.
I am talking about the multi-role ship that the Navy is presently studying, which will be highly sea worthy, roomy, less expensive and dual usable, with a deck capable to recover containers for humanitarian assistance purposes or to deploy large speed boats.
This new generation of vessels will also provide a floating hospital to be used in disaster zones by the Civil Protection Department, exploiting the extra accommodation availability.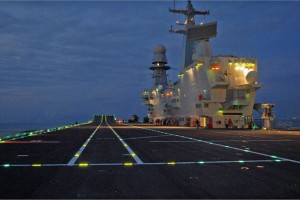 She will be also able to provide electrical power and potable water for a small community ashore. The high speed will allow the ship to respond quickly to emergencies while maintaining a significant operational range.
We are continuously improving coordinated procedures between the Navy and the Civil Protection Department, to enhance interoperability. To this end, we regularly plan and conduct dedicated exercises, simulating disaster relief scenarios, where a command center of the civil protection is established on board a ship as, for example, the aircraft carrier Cavour.
Question: Canada's navy appears to be looking for a 'one for one' ship replacement program, but Italy seems to be pursuing a different strategy, with fewer hulls. Can you explain that for us? What are the challenges of rebuilding a destroyer/frigate force and what opportunities does it present?
The on-going restructuring process within the ITN is of course involving the fleet, which is our main "raison d'être".
The replacement of old ships is a "must" if we want to achieve a capable, efficient and interoperable Navy, avoiding capability gaps with other Navies.
We have recently completed the entering into service of the new aircraft carrier Cavour as well as the two Horizon units (Doria and Duilio). Currently we have undergone the replacement of older frigates by introducing the new FREMMs, conceived from an Italian-French joint venture. However, this will not be sufficient to compensate for the decline in the numbers of our ships.
So we need to invest more in our Navy while the economic crisis forces western countries to adopt spending review policies; building of new sophisticated ships has come at the cost of rapidly shrinking fleet sizes. The future scenario, however, requires a compromise between high technology ships and affordable but reliable platforms. Hence, for the next generation units, we will confer a lower priority to high-expensive requisites, such as noise, radar-signature extreme reduction and miniaturization, in favour of simplicity, resilience and sea-worthy qualities.
Future fleets need to be able to operate both in military operations and in support of civilian people during disaster relief missions.
This implies an evolution of the assigned tasks beyond their purely traditional military nature. Thus, the investment necessary to build new ships will generate positive outputs for the whole country. Therefore ITN is seeking to develop a new generation of low-cost vessels with dual-use capabilities that will be more multirole and affordable to sustain than the older vessels. This class of ships will be particularly suitable to accomplish Maritime Security tasks, providing presence and surveillance along sea lanes of communication: a role of relevance and exclusive responsibility of the Navies worldwide.
Similar considerations will be implemented also developing new amphibious, logistics, hydrographic and underwater research support ships.
Those classes of units will be innovative, realized to fulfill dual use tasks and to respect and protect the environment. We are actively participating in the development of bio-fuel. By the end of the year we will conduct a full scale test on board of an OPV, in view of the certification of the whole fleet. Simplicity will be the key element in terms of construction and maintenance solutions, also aimed at creating a product of interest for the foreign markets…..
Franco-Italian Cooperation
Q: FrontLine has featured many articles on the Franco-Italian cooperative initiative for FREMM (Frégate Multi-mission or Fregata multi-missione) and the companion fleet of Horizon Class air defense frigates, noting that each country has its own customizations. From your own perspective, how has the FREMM experience with France worked out? Will there be similar joint shipbuilding projects in future?
The interest in the development of a Common Security and Defence Policy (CSDP) is strongly felt throughout the European Union and is intended primarily to strengthen the EU's ability to act in the external sphere through the development of its civilian capabilities and military instruments in the prevention of international conflicts and crisis management.
The cooperation between Italy and France in the armaments sector is quite ­relevant and spans almost the entire spectrum, involving the naval, missile and space industries. It must be noted that the Italian Navy is, by nature, open to cooperation in the shipbuilding industry…..
Final Thoughts About the Future
Q: Do you have any other thoughts or lessons to share with other navies facing similar challenges as the Italian Navy?
The words "flexibility," "modularity," "multi-purpose," along with the concept "comprehensive," must be at the foundation of our strategies and visions.
Navies should continue their innovative path, in terms of organization, structure, doctrines and assets, in order to accommodate new requirements and needs. In doing so, they should not forget that the real "smart" approach must set aside personal and ­demagogic attitudes aimed at sponsoring the interests of few.
In practical terms, the lessons learned that we have identified, lead us to focus on:
Sea worthiness and dimensions, ­tailored to allow the Navy to operate and interact in long lasting missions and particularly in severe weather conditions;
Speed, as a fundamental tactical factor to reduce time of intervention;
Simplicity and resilience versus extreme high-tech solutions, to reduce project and life-cycle costs: dimensions will compensate for minor recourse to miniaturization;
Modularity, to customize the ship's features – tailored for the specific ­mission and easily reconfigurable – to reduce the overall costs (project, ­personnel, training, maintenance).
We shall never forget, however, that conventional warfare proficiencies remain fundamental capabilities that must not be lost.
The symmetric threat has not vanished.
====
This Q&A with Admiral De Giorgi was conducted by email.
All photos courtesy of the Italian Navy, Ufficio Stampa – Marina Militare.
© FrontLine 2014
For our look at Cameri, Italy and the F-35 in our special report published in both Italian and English see the following:
https://sldinfo.com/cameri-italy-and-the-f-35-special-report/
The video above comes from Brilliant Mariner 13, where some 5,000 representatives from 14 nations trained together.
The video is one five on our website which feature  rare aerial shots of a fleet of 23 NATO warships and Harrier jets taking off from the Italian aircraft carrier ITS Cavour which functioned as the flagship for the exercise.