2014-06-06 by Dean Wingrin
The South African Air Force (SAAF) is playing host to the Gripen User Group taking place at AFB Makhado this month.
The Gripen User Group (GuG) is an inter-governmental initiative between air forces around the world that currently fly the Gripen fighter jet.
Representatives of countries that fly the Gripen fighter hold a bi-annual conference in one of the member countries to share their experiences of operational use of the supersonic fighter.
These talks revolve around operational, maintenance, logistics, engineering and safety matters.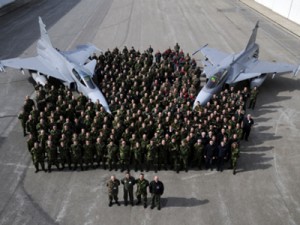 Attendees at this year's week-long event include South Africa as host, the Czech Republic, Hungary, Sweden and Thailand. The SAAF has previously hosted the GuG before, in December 2011, but have on occasion had to decline attending events hosted overseas due to, presumably, financial reasons.
Czech Gripen pilot Maj. Petr Michenka attended a previous conference held in the Czech Republic and summed up the event. "Individual users accumulate different experiences in operating these aircraft, for example, due to different climatic conditions. We share different experiences and information during the conference and found that some of them are very similar. After the evaluation, we can be better prepared for the challenges ahead."
The South African Air Force acquired nine two seat Gripen Ds and 17 single seat Gripen Cs, which were delivered between 2008 and 2012. The final four single-seat aircraft were retained in Sweden to take part in the multinational Gripen exercise Lion Effort in March and April 2012, alongside 30 Gripens from other GuG nations.
Reprinted with permission of our strategic partner, defenceWeb.
http://www.defenceweb.co.za/index.php?option=com_content&view=article&id=35010:south-africa-hosts-gripen-user-group&catid=35:Aerospace&Itemid=107