2014-07-28 In a piece published in Stars and Stripes on July 27, 2014, Brigadier General "Stick" Rudder provides his perspective on the MV-22 in the Pacific.
The MV-22B Osprey, a tilt-rotor aircraft that takes off and lands like a helicopter, has operated in the Asia-Pacific theater for nearly two years, and with it has come amazing benefits for the Japan-U.S. alliance and for partner nations where the Osprey operates…..
Ospreys have served across the world, in combat and humanitarian situations including service in Iraq, Afghanistan, Libya, Haiti and many other places. Finally, beginning the replacement in October 2012 and completing it last year, the very newest and best Ospreys — with highly trained and experienced pilots, crews and maintenance teams — came to Okinawa, putting the best and most modern equipment we have to offer in Japan where they can best serve the people of Japan and the region as a whole.The reason for the leap in capability is seen when you look at what the Osprey can do compared with the older Sea Knight it replaced. The Osprey can travel twice as fast, carry three times as much, and go four times farther than the Sea Knight. In addition, it can refuel in midair, extending its range indefinitely.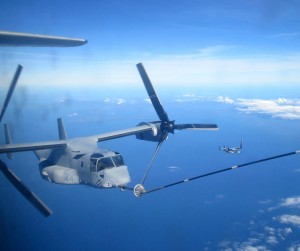 This is not just a strategic benefit for the Japan-U.S. alliance; it is also a considerable benefit for Okinawa, where some of the Ospreys in the Asia-Pacific theater operate. One benefit to having such a long flight range is the ability to regularly go outside Okinawa prefecture for exercises and training events, increasing our ability to partner with regional allies and friends while giving the pilots valuable training experience.
That reduces the amount of time the Ospreys spend on Okinawa. For well over a year, Ospreys have been used during training in mainland Japan, South Korea, the Philippines, Singapore, Thailand, Australia, Guam and across the seas as they deployed aboard the 31st Marine Expeditionary Unit. Local residents on Okinawa have told us that they do not see nearly as many Ospreys around as they used to see Sea Knights! It is not because they are not being utilized, but because they are being used so much more and farther away from Okinawa. With the Sea Knight, that could not be done because of their limited range.
As an example of the capability benefits brought by the Osprey, during Operation Tomodachi our Sea Knights responded to northeastern Japan. They took approximately three days to reach the region, having to refuel and island-hop the entire way. Had Ospreys been stationed on Okinawa at the time, the response time would have been much faster.
In fact, during Operation Damayan, Ospreys flew about the same distance — 1,118 miles — to the Philippines in three hours. The Ospreys evacuated 1,200 people and delivered more than 20 tons of supplies to remote areas where neither traditional airplanes nor helicopters could reach. That gives you an idea of the tremendous capability the Osprey brings.
Simply put, the Osprey can respond faster and farther to any situation where we might be called, including our most frequent mission — humanitarian assistance and disaster response. The Osprey is the ideal aircraft to respond to a disaster or any remote area because it can go so far and fast, carry a great deal of supplies or personnel, and it does not need a runway to land.
 For the remainder of the article please visit the Stars and Stripes website:
http://www.stripes.com/opinion/ospreys-help-marines-protect-assist-our-allies-on-okinawa-and-beyond-1.293922?utm_source=feedburner&utm_medium=feed&utm_campaign=Feed%3A+starsandstripes%2Fgeneral+%28Stars+and+Stripes%29
And with regard to the video above:
12/06/2013: U.S. Marine Corps Brig. Gen. Steven R. Rudder, 1st Marine Aircraft Wing (1st MAW) Commanding General, takes off from Andersen AFB, Guam, in an EA-6B Prowler, assigned to Marine Tactical Electronic Warfare Squadron (VMAQ)-2, on 4 December 2013.
VMAQ-2is currently assigned to Marine Aircraft Group 12, 1st MAW, under the unit deployment program.Training in Guam and within the Maraina Island Range Complex improves aviation combat readiness and simulates operations in a deployed environment.