2014-07-14 By James Marconi, Military Sealift Command
As RIMPAC heads into its underway phase off the coast of Hawaii, USNS Montford Point (MLP 1) tested its state-of-the-art sea basing capabilities 2,500 miles away in San Diego, as part of RIMPAC's Southern California element.
From July 8-10, Montford Point participated in testing exercises with Marine Amphibious Assault Vehicles (AAV) and the Landing Craft Air Cushion (LCAC) from Assault Craft Unit Five based at Camp Pendleton.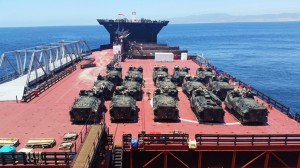 Working off the coast of Camp Pendleton, just north of San Diego, the ship conducted timed docking and launching exercises with the Marine crafts.
During the exercise, Montford Point tested its ability to submerse its midsection to take on and deploy different sized vehicles such as the 87-foot LCAC and the 26-foot AAV.
The exercise is part of a series of tests being conducted with the MLP until the ship becomes fully operational.
"Being included in RIMPAC 2014 is a great opportunity for Military Sealift Command and the realitivly new capabilities of the Mobile Landing Platform," said Cmdr. Ray Franklin, operations officer for Military Sealift Command Pacific.
"Exercises like RIMPAC give us the opportunity to demonstrate our support to the fleet and the Navy's missions that are on the horizon."
The exercise also gave members of ACU-5 the opportunity to familiarize themselves with the MLP for use during future real world mission scenarios.
Montford Point is the first of the Navy's mobile landing platforms, built to support the seabasing concept.
The main mission of the ship is to facilitate the transfer of military personnel, equipment, and cargo when port access is limited or unavailable.
Utilizing its submersible midsection, the ship can adjust its relationship to the sea to allow for float-on/float-off operations.
RIMPAC 2014 is a multinational maritime exercise that takes place in and around the Hawaiian Islands. Hosted by U.S. Pacific Fleet, this year marks the 24th RIMPAC exercise that began in 1971. Twenty-three nations, 49 surface ships, 6 submarines, more than 200 aircraft and 25,000 personnel will participate including units from Australia, Brunei, Canada, Chile, Colombia, France, India, Indonesia, Japan, Malaysia, Mexico, Netherlands, New Zealand, Norway, the People's Republic of China, Peru, the Republic of Korea, the Republic of the Philippines, Singapore, Thailand, Tonga, the United Kingdom and the United States.
Republished from the Military Sealift Command website.
Credit Photos: US Navy

The first item is a graphic depicting the evolving amphibious task force which is emerging beyond the classic amphibious ready group.

The first photo 

shows an Amphibious Assault Vehicle being launched from the USNS Montford Point.

The second photo

shows an LCAC launched from the USNS Montford Point.

The final two photos show the USNS Montford Point alongside the USNS Bob Hope for the exercise.