2014-08-20 Earlier this year we published a Special Report on the modernization of Australian Air Power.
The RAAF started by adding C-17s and then KC-30As, as there concern is range and sustainability both for the region their in and for global engagements.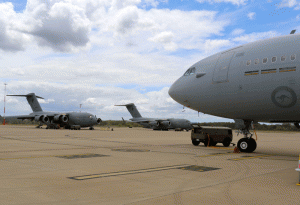 And according to Australian sources, the Australian MOD is interested in adding two more C-17s and two more KC-30As.
According to Australian Aviation:
Defence Minister Senator David Johnston has flagged the acquisition of further Airbus KC-30 tanker-transports and Boeing C-17 airlifters for the RAAF.

Speaking to News Limited's Ian McPhederan last week, Minister Johnston suggested the next Defence White Paper, due for release next year, will propose the acquisition of two extra KC-30As and one or two additional C-17s. One of the KC-30s would also feature a VIP interior for international travel by the prime minister.

"When you get good service from a platform it prompts you to say, 'why don't you get some more?' " the Minister was reported as saying during an interview aboard a KC-30 bound for Darwin.

"It [the KC-30] allows us to go anywhere in our region and far and away beyond that."

The report also quotes the Minister as saying acquiring addional C-17s is a "no-brainer".

The RAAF currently operates five KC-30A tanker-transports with 33SQN and six C-17s with 36SQN, with both units based at Amberley.

Acquiring additional KC-30As "makes sense", Australian Aviation contributor Andrew McLaughlin writes in the September issue of the magazine, out late next week. "The KC-30 program is coming good, the boom and pod hardware and software remediation development is wrapping up, a new software load is expected to fix many of the minor idiosyncrasies and work-arounds of the original design, and the aircraft has proved its strategic reach in recent ALS (air logistics support) taskings to the US and Europe, and on long-endurance tanking missions in Australia," he writes…..

As well as Australia, the KC-30 (known outside Australia as the A330 MRTT) has been ordered by Qatar, Saudi Arabia, Singapore, the United Arab Emirates, and the United Kingdom.

Australia has a unique, but limited, opportunity to secure additional C-17s, meanwhile. Boeing has commenced assembly of its 269th and last C-17 at its Long Beach, California plant, with production due to wind up next year. However, the company is building 15 "white tail" aircraft without a customer to date. India (which already has 10 on order) is reportedly interested in six of these, and Boeing remains in ongoing discussions with existing C-17 operators and potential new customers regarding the remaining aircraft.
And see the following:
Australian Defense Modernization: Shaping Capabilities for 21st Century Operations
In our special report, Second Line of Defense looks at Australian defense modernization, notably in the air systems areas.  The report is informed by a number of interviews conducted in Australia in March 2014.  It is informed as well by interviews with USN, USMC, and USAF staff and commanders.
The report highlights the importance of cross cutting modernizations among allies in the region, which can be crafted into a multi-faceted and multi-dimensional deterrence in depth strategy for the US, and its allies.
After taking an overview on Australian developments (with a look at Japan as well), the report examines the following four topics: the key building blocks of Australian defense modernization; the impact of the coming of the F-35 on that modernization; the evolution of Australian defense industry associated with the modernization process; and finally the perspectives of MARFORPAC and PACAF on those modernizations and the challenge and opportunities inherent in cross-cutting modernization.
We conclude by highlighting the central significance of joint and coalition training for shaping an effective Pacific defense capability and strategy.
Covering a territory which covers so much of the earth's surface and with thousands of islands present a tapestry of operational complexity. This is no place for amateurs. 
As Admiral Nimitz confronted the last century's challenges he concluded a core lesson for this century's Pacific warriors: "Having confronted the Imperial Japanese Navy's skill, energy, persistence, and courage, Nimitz identified the key to victory: 'training, TRAINING and M-O-R-E  T-R-A-I-N-I-N-G."
The US and its core allies are shaping new capabilities to deal with the various threats and challenges in the Pacific in the time of the Asian century.  Flexibility in operations and agility in inserting force with a proper calibration of effect will be enhanced as new systems come on line in the years ahead but joint and coalition training become more essential as new approaches and capabilities are forged.
https://sldinfo.com/australian-defense-modernization-shaping-capabilities-for-21st-century-operations/