2014-08-04  By Ed Timperlake and Robbin Laird
During our recent visit to Yuma Marine Corps Air Station, we talked with officers from both the VFMA-121 Squadron and MAWTS-1.
VFM-121 brought us up to speed on the rollout of the F-35B to IOC next year; MAWTS-1 provided us a perspective on the evolving tactics and training for that aircraft, as well as discussing with us the various roles, which MAWTS-1 performs for the Marine Corps air/ground team, both for Marine Corps Aviation and the MAGTF.
(The history of MAWTS-1 can be seen in the USMC official historical statement at the end of the article).
We had a chance to talk with the Operations Officer of MAWTS 1, Major Douglas Seich. 
Among other discussion points was an overview on MAWTS-1, its mission sets, its activities, its working approaches and the way ahead.
The role of the squadron is to provide "standardized advanced tactical training and certification of unit instructor qualifications that support Marine Aviation Training and Readiness.  MAWTS-1 also provides assistance in the development and employment of aviation weapons and tactics."
The squadron works with new and older aviation assets, and trains the trainers.  It shapes ways to work the new in with the old and in supporting the infantry units in the MAGTF globally.  It works with other services, in shaping tactics and training approaches, and given its location works closely with the USAF in Nellis, and with the F-35 will work closely with Luke and Nellis in shaping new tactics and training approaches as that aircraft enters the fleet.
The squadron runs two WTI courses a year which stands for Weapons and Tactics Instruction and various activities and exercises with Marines and others to shape the evolving future concepts of operations as well.
The core tasks identified in the briefing by Major Seich were as follows:
The size of MAWTS is around 200 total personnel with about half of those being officers.
MAWTS obviously grows during the time the WTIs are conducted.
For example, with regard to the first WTI this year there were 236 students involved, but then with an additional 92 aircraft and more than 4000 maintenance personnel with 2350 sorties generated.
The basic WTI course design focuses upon "training the trainer."
And covers a number of key element: Offensive air support, control of aircraft and missiles, assault support, aerial reconnaissance, anti air warfare, electronic warfare and aviation ground support.
In a separate interview, we discussed the role of F-35 integration with Major Greenwood, one of the two MAWTS F-35 pilots currently at MAWTS.
Major Seich provided a look at the creation of new units and capabilities within MAWTS over the past 10 years. 
In 2004 saw the establishment of an Air Officer Department working the role of the ground-to air integration efforts.
He highlighted that the availability of joint training money was crucial to the functioning of MAWTS and that in 2005 they established a Joint National Training Capability and a Tactical Risk Management capability as well.
The services have recognized the need to work more effectively together. 

The service chiefs have created the Joint Training Capability Fund (JTCF) to support such efforts. 

The Fund provides money and assets to work together. 

For example, the Marine Corps does not have enough fourth generation aircraft adversaries for our exercises.

We bring down USN and USAF platforms to play that role.  To pay for that funding comes from the JTCF.
In 2011, the squadron created a Re-Black program which is designed to bing back MAWTS graduates for a three day event to provide them updates with new tactics and training approaches since they have gone through MAWTS.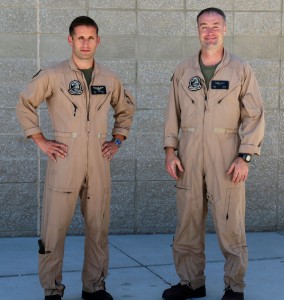 And in 2012 MAWTS started focusing on training and tactics for long-range tiltorotar assault capabilities with the Infantry Battalion Training or TALONEX.
And last year set up two new divisions, the F-35B division and the Spectrum Warfare Division.
The Spectrum Warfare Division is a Division within C3 which focuses on: cyber domain operations, EW operations and MAGTF integration.  And an area of interest is clearly working on the Anti-Access/Area Denial challenge. And obviously standing up the F-35B and Spectrum Warfare Division provides the opportunity for them to be mutually supportive and interactive.
Clearly, MAWTS is a living organism, which builds interactively upon real world combat experience.
Question: How does MAWTS integrated lessons learned from combat?
Major Seich:
We do that in a number of ways. 

The students coming through the course have just come from recent combat experience.

And we send MAWTS instructors to combat theaters for about a month at various points and they bring back lessons learned.

We are able to look at what we do not know and what we need to know based on evolving combat situations.

What is changing that we do not know about?"
By and large, MAWTS uses the ranges in the Southwest of the United States to perform its exercises and training.
And the interactivity with the USAF, USN and US Army is important.
With regard to the US Army working with the Patriot has been significant, and the USAF has operated various assets including F-22s, F-15s, and F-16s and the Navy with F-18s are all important for the WTIs.
Interestingly, the F-22s from Nellis have participated and have functioned as part of an assault force. 
According to Major Seich:  "We have operated with F-22s to augment the Blue Forces working with us to perform certain functions."
Question: Have you focused on F-22 and 4th generation aircraft integration by working with F-22s?
Major Seich:
We have for a number of years worked on this with the USAF. 

For example, the F-18 and the C3 shops put on an air tactics course twice a year. 

This focuses largely on air- to air. It is a four-week course and in 2010 we did an integration approach with the F-22, which was quite successful.
Question: With the work you have done, could an F-22 package work with an ARG-MEU in supporting a USN-USMC assault package?
Major Seich: Absolutely.
Foreign participation can occur as well in the WTI courses, and the United Kingdom, Australia, Canada and Israel have all send participants in various WTI events.
Notably, with Beaufort Marine Corps Air Station emerging as the key training facility for US and allied F-35Bs, the road from Beaufort and MAWTS will undoubtedly become well travelled.
Editor's Note: We have argued earlier that an F-22 Raptor package (e.g. Rapid Raptor) might function in interesting ways with the carrier strike or amphibious assault group.
The following official USMC statement about the squadron provides the history of MAWTS-1:
The origin of MAWTS-1 may be traced to the aftermath of World War II when Marine pilots were first assigned to Navy Composite Squadrons (VCs). These squadrons, operating from shore bases and carriers, were assigned the special weapons delivery mission. In 1952, with the introduction of improved weapons and aircraft, the Marines were reassigned to Marine Special Weapons Delivery Units (SWDUs) on each coast.
These units were short lived because their mission was given to attack squadrons in 1953. Special Weapons Training Units (SWTUs) were then formed to provide necessary training to the attack squadrons. During the 1960's, conventional weapons delivery was added to the curriculum of the SWTUs, but the emphasis on special weapons delivery remained.
In response to their growing mission, the size of the SWTUs was increased, and they were redesignated as Marine Air Weapons Training Units, MAWTULant at Cherry Point, North Carolina, and MAWTUPac at El Toro, California. These units continued to expand throughout the 1960's in types of aircraft assigned and in the development of new curriculum. In 1975, a study group was formed at Headquarters Marine Corps to determine requirements for the enhancement and standardization of aviation training.
A series of recommendations, labeled as numbered projects, were made to the head of Marine Aviation and to CMC in early 1976. Project 19 recommended establishment of the Weapons and Tactics Training Program (WTTP) for all of Marine Aviation.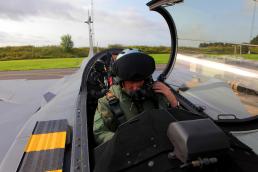 The cornerstone of the WTTP was the development of a graduate level Weapons and Tactics Instructor (WTI) Course and the placement of WTI graduates in training billets in every tactical unit in Marine Corps aviation. In late 1976 and early 1977, separate WTI Courses were conducted by MAWTUPac and MAWTULant. Consolidated WTI Courses were subsequently conducted at Marine Corps Air Station, Yuma, Arizona, by a combined MAWTU staff in May 1977 and February 1978.
Due to the overwhelming success of the consolidated WTI Courses, the Commandant of the Marine Corps commissioned Marine Aviation Weapons and Tactics Squadron One at Marine Corps Air Station, Yuma, Arizona, on 1 June 1978.
The WTI Course is a fully integrated course of instruction for highly experienced and fully qualified officers from all aviation communities. Officers from ground combat, combat support, and combat service support also attend the course to ensure appropriate air-ground interface. The WTI course academic syllabus allows the WTI candidate to put classroom lessons to work in the air.
Briefing and debriefing techniques and airborne instructional skills are reviewed and tactics and weapons systems employment are evaluated. The course culminates in a fully integrated combined arms exercise encompassing all functions of Marine Corps aviation in support of a national Marine Air Ground Task Force.
Since its commissioning in 1978, MAWTS-1 has conducted two WTI Courses per year, now producing over 300 WTI graduates each year. A separate Aviation Development, Tactics and Evaluation Department (ADT&E) was established in June 1983 to coordinate the MAWTS effort of developing and evaluating tactics and hardware in all functional areas of Marine Corps aviation. In 1988, a Ground Combat Department was established at MAWTS-1 to encourage increased participation during the WTI course by infantry, artillery and armor officers.
MAWTS-1 conducts several other embedded courses during WTI to include the Intelligence Officers Course, Aviation Ground Support and Logistic Officers Course, the Rotary Wing Crew Chief and KC-130 Navigator, Loadmaster, Flight Engineer Weapons and Tactics Instructor Course, and the MACCS Enlisted Weapons and Tactics Courses.
The advanced curriculum includes the Tactical Air Commanders Course, MEU/SPMAGTF ACE Commanders Course, and the MAWTS-1 Commanders Course. MAWTS-1 personnel conduct a Mobile Training curriculum consisting of the MEU ACE Training Course, the MAGTF Aviation Integration Course, and the Marine Division Tactics Course. MAWTS-1 also maintains close, mutually beneficial liaison with the aviation and tactics schools of the U.S. Navy, Army, Air Force, and several allied nations.
Since its establishment, MAWTS-1 has been staffed by individuals of superior aeronautical and tactical expertise, instructional abilities, and professionalism. From Northern Europe to the Caribbean, the Western Pacific to the Persian Gulf, Somalia and Bosnia, MAWTS-1 has responded to the needs of the Fleet Marine Force.
Each MAWTS-1 instructor averages over 90 days every year providing support to FMF units at their home bases or while deployed, including certification, standardization, and supplementary ground and airborne instruction for every aviation squadron in the Corps.
The WTI Course is recognized as the most comprehensive graduate level aviation course of instruction in the world today. It is through the dedication and untiring efforts of its personnel that MAWTS-1 has earned its reputation as the vanguard of Marine aviation.
MAWTS-1 was awarded the Navy Unit Citation for the period 1982-85. In 1986 and 1995, MAWTS-1 was named Marine Corps Aviation Association Special Category Squadron of the Year and it also received the Meritorious Unit Citation in 1988, 1990, and 1995.
https://www.trngcmd.usmc.mil/mawts1/Web%20Pages/Squadron-History.aspx
In the video above the initial component to Final Exercise One for Marine Aviation Weapons and Tactics Squadron One Weapons and Tactics Instructors Course is shown which began on April 23, 2013, at the Laguna Army Air Field in Yuma, Ariz.
The culminating event tested the skills taught to student pilots and ground operators throughout their training at MCAS Yuma. FINX-1 consisted of approximately 600 Marines from 1st Battalion, 6th Marine Regiment based out of Camp Lejeune, N.C.
4/3/13