2014-08-07 By Robbin Laird
An insertion force is characterized by strike, defense, lift, tanking and air battle management that can be effectively integrated to get to an objective area, and then to operate over and within until mission success.
Sustainable reach is a fundamental operational objective.
This means that lift and tanking assets are much more than "support" assets, they are part of the overall sustainable assault force.
For 21st century airpower, several changes are underway with regard to capabilities, and few can be more important than the arrival of new tankers, especially when adding multi-mission capabilities to its core function.
A virtual global fleet of Airbus tankers is emerging based on this need.
Already four air forces are operating the new aircraft: Australia, the UK, Saudi Arabia and the UAE (19 in service), with several on the way, either under contract (Singapore) or in final negotiations (Qatar, France and India), and several in competitions.
As a global tanker, the A330 MRTT has been designed from the ground up to provide the tanking for virtually every fighter, bomber or support aircraft flying today.
And as remotely piloted aircraft get added to the mix, the MRTT will be ready to refuel these as well.
In other words, the tanker is designed with growth-ability to deal with the next 50 years of the evolution of military aviation in mind.
Far more than  a simple upgrade, it can grow with combat and support fleets as they are upgraded.
Based on the proven airframe of its globally successful A330 commercial aircraft, Airbus Military designed the MRTT using new computer tools to create a robust tanking and transport platform.
Rather than having to be fitted for either fueling or lift requirements, the multi-mission character (tanking diverse air platforms with the fuel carried in its wings, plus significant cargo or passenger capacity) and its size makes the MRTT unusual.
Plus, the capacity to be refueled itself – notably enhanced in some variants – can reinforce an important 'air base in the sky' capacity.Much depends on how these assets become configured. With fuel in the wings, the large deck can be used for a variety of air support capabilities: routers, sensors, communication nodes, transport, and more.
Such a combination makes this a flying air operational support asset.
With space available inside the aircraft – again because refueling fuel is carried in the wings – a crew rest area can be provided.
This means that the air tankers can stay aloft for a significant period of time as the refuelers are themselves refueled. This in turn means that, as a fleet, the refueling aircraft can have a strategic impact tanking a variety of national or coalition partners.
For example, the Saudis and UAE, both operators of the A330 MRTT and members of the Gulf Cooperation Council (GCC), can support one another's air assets plus have the capability to operate off of airfields which are not their own.
This provides a significant enhancement of strategic depth required to deter aggressive states.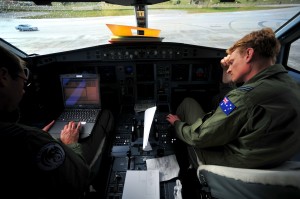 This can also be the case in other areas.
With Australia already owning five Airbus tankers, Singape buying six, and if South Korea down­selects the MRTT, a powerful coalition of airborne support assets could work interchangeably to support a joint force airborne.
Last year, in combination with Australian C-17s, the KC-30A squadron supported several F/A-18 deployments to Guam as well as Darwin and Tindal in Australia's Northern Territory. This activity demonstrated the ability of the RAAF to move an air wing and support it at extended range with a tanker, while also providing airlift support.
This year, the squadron has supported movement of Aussie F/A-18s from the U.S. across the Pacific back to Australia. Such operations underscore capabilities that are part of shaping a 21st century Air Force.
Australia has the world's first operational MRTT squadron.
As the launch customer, the RAAF is working through foundational capabilities of the tanker, taking it through its paces, and preparing for the next phase of expanding its interoperability as the refueling boom system comes on-line later this year.
Shaping interoperability with a clear role as both a national and regional asset is a strategic goal of the RAAF. This will require establishing common procedures with regional and global partners, but this is clearly a core effort in the works for the period ahead. Obviously, this is the beginning of the story, for a key aspect of shaping such a fleet will be the key role of user groups in shaping further development of the aircraft over time as it deploys with global customers, who in turn will work together on a wide diversity of operations.
The MRTT user group includes A310 MRTT users, such as Canada, as well as those flying the newest A330 tanker.
An ongoing cycle of operators, builders, modernizers of a new aircraft makes for very powerful force building out a 21st century global fleet capability.
(For a comment on user groups see the following:
http://www.frontline-global.com/Defence/index_archives.php?page=2063)
and also see the two newsletters below which discuss the experience to date of A330MRTT user groups:)
ARSAG_Newsletter_November_2012
ARSAG_Newsletter_November_2011
As published in Front Line Defence, August 2014
http://www.frontline-defence.com/Defence/index_archives.php?page=2198
Extending the Reach of Airpower
For related stories see the following:
https://sldinfo.com/the-raaf-adds-new-tanking-capability-a-key-step-in-building-out-its-reach-range-and-sustainability/
https://sldinfo.com/leveraging-a-users-group-to-shape-the-future-evolution-of-mission-systems-aircraft/
https://sldinfo.com/shaping-a-global-fleet-rolling-out-the-a330mrtt/
https://sldinfo.com/shaping-a-defense-quadrangle-for-pacific-defense-allies-shape-a-flying-air-tanker-infrastructure/
https://sldinfo.com/the-indian-government-to-join-the-a330mrtt-global-tanker-family/
https://sldinfo.com/the-air-tanker-contribution-to-gulf-security/