2014-09-01 By Commodore (Retd) Ranjit B Rai
Mumbai. A nation's economic and military strength is critical for its peoples' well being and security.
President Roosevelt articulated, "A Strong Navy is the Best Insurance for Peace".
A Navy is also an extension of the nation's diplomatic corps, as it enjoys the freedom of movement over 60 per cent of the earth's surface which is water, and can roam the world as long as it does not trespass in to another nation's territorial waters.
Navies are protected by 'Mare Laberum', the freedom of the seas enshrined in the UNCLOS 1982, and endows a great advantage over other Armed Forces in peace, to operate endlessly for deterrence.
A Navy of a large maritime nation, as India is, has to be three dimensional, balanced with aircraft carriers, warships, submarines and aircraft.
The combination of power and mobility is vital to avoid war, while diplomacy and negotiations are the better options to solve differences in this age of proliferating nuclear weapons, especially in the region around India which is challenged with poverty, terrorism and border resolutions left over from the British, and emotional break downs of states even in the Middle East as most were one nation in the last century.
India has a role to play.
India's Navy is the smallest of the three services with a strength of 63,000 which includes 6,000 officers and is still short of over 1,700 officers and 13,000 sailors as it has expanded fast.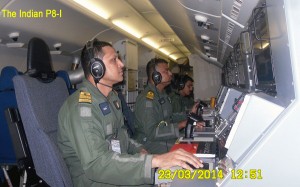 Forty three ships are on order calling for standby crews and supervision as the ships are commissioned, and is under pressure to deliver world-wide.
The Navy discharges this responsibility through a broad spectrum of cooperative and inclusive endeavors with the other services, and encompasses coordinated operations, bilateral and international multi-lateral exercises, security assistance, goodwill visits to show the Flag and Navy to Navy dialogues.
The Navy and Coast Guard are mandated to preserve good order at sea and ensure security of International Shipping Lanes in the IOR and choke points in the interest of the global commons.
As soon as the new government with majority assumed office on May 26, 2014, there was hectic activity in Naval Headquarters. CNS Admiral DK Dhowan had assumed office on April 17, 2014 after a turbulent period in the Navy, when fourteen accidents some minor, and some major with loss of lives had tarnished the image of the fine service. Admiral DK Joshi had earlier resigned citing 'Moral Responsibility' of command, though this writer feels the accidents were a failure of 'Collective Responsibility'. Vice Admiral Sunil Lanba filled the vacant chair of the Vice Chief, and a shuffle of the three Commanders-in-Chief took place in early June.
The Navy was operationally on a high with the commissioning of its Naval satellite GSAT 7 which put it in the higher league in net-centric warfare, and with the addition of the P-8i maritime state-of-the-art Boeings 737 and MiG-29Ks arriving in numbers.
A bugle call to get down to regain ground of professionalism, training and keeping safety in mind was trumpeted from NHQ.
The spanking powerful 43,500-tonne aircraft carrier INS Vikramaditya escorted from Russia in a nonstop journey was received in Indian waters by aircraft carrier INS Viraat and home berthed at INS Kadamba's jetty at Karwar where all facilities and accommodation were being progressed, and the ship was still to work up and embark the powerful MiG-29Ks of the Panther squadron which were based at INS Hansa at Goa. Creditably seven pilots qualified in deck landings when the delayed monsoon broke in the Arabian Sea.
Defence Minister Jaitley visited INS Viraat at Mumbai on 7th June and commissioned two Fast Patrol Boats built by Cochin Shipyard Ltd (CSL) and MOD suddenly planned for Prime Minister Modi to dedicate INS Vikramaditya to the nation on June 14. Modi's first military visit was to the Navy and so soon after taking over, and this was a signal that Modi and his government attach importance to the Navy, which has seen neglect in the past.
This visit came as a morale booster for the Navy and Western Navy fleet ships which worked up for the occasion. Modi's visit when he was flown in to Vikramaditya on a rough monsoon day in Mid June from Goa, was a success and the pilots displayed MiG-29Ks high speed 'touch and go' landing operations and other activities of the powerful platform and a fire power demonstration, which was covered in the last issue of India Strategic issue.
International Engagements
For the first time, the Indian Navy's INS Sayhadri, a Type 17 Shivalik from the Eastern Fleet, sailed from Vishakaptnam and actively took part in the Rim of the Pacific (RIMPAC-14) exercises; the world's largest maritime exercise involving ships and representatives and military units from twenty three nations which included forty seven ships, six submarines, more than 200 aircraft and 25,000 personnel.
The long biennial RIMPAC exercise was held from June 26 to August 1, in and around the Hawaiian Islands, the home of USA's powerful Pacific Command that is handling USA's 'Pivot'. The varied nations' ships, submarines and aircraft operated together for a swath of different training and liaison activities in harbour to plan interoperability, and co-ordination and 'Bon Homme'. While the vast majority of RIMPAC exercises at sea involving all aspects of very advanced naval drills and multi-lateral exercises are also executed in the Malabar series, however, RIMPAC's impact is obviously much larger because of participation by mych greater number of countries. The highlight this year was the inclusion of amphibious operations.
A large contingent of three PLAN (PLA Navy) ships and personnel also took part. The exposure for Indian Navy was significant.
Concurrently Eastern fleet ships under Rear Admiral Atul Kumar Jain comprising Indian designed Mazagon Docks Ltd (MDL) built INS Shivalik (Captain Puruvir Das) with Klub missiles ( which had earlier taken part in multilateral exercises off Quindao with the PLAN in April end, and even hosted its Chief, Admiral Wu Sheng Li), the Kashin Ranvijay (Capt MG Raju) with BrahMos missile capability, and tanker Shakti sailed for an operational deployment to the South China Sea and North West Pacific.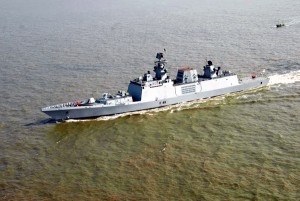 The ships were to participate in the Indo-Russian bilateral naval exercise Indra-14, and, later, the trilateral naval exercise Malabar-14 with US Navy and the Japanese Maritime Self Defence Force (JMSDF) in the Sea of Japan.
After a port call at Vladivostok the, Russia-India Indira-14 exercise in the 'Peter the Great Bay' in the Sea of Japan from July 17 to July 19 was a success and the exercise strengthened the already strong friendly bonds between the navies of the two countries.
The Russian Navy was represented by guided-missile cruiser 'Varyag', destroyer 'Bystry', large landing craft 'Peresvet' along with supply vessels and air assets of Russia with tactical manoeuvring, defence against un-alerted raids, cross deck helicopter operations, rendering assistance to a ship in distress, replenishment at sea, joint management of anti-submarine, anti-air and anti-surface warfare and firings on surface and air targets. Taking departure the three ships bade farewell and proceeded to Sasebo in Japan for multilateral Malbar-14.
Malabar from July 24 to July 30 was a complex, high-end war fighting exercise that has grown in scope and complexity over the years and included professional exchanges with a US carrier strike group under Vice Admiral Robert Thomas, Commander, US 7th Fleet. P-3C Orion maritime patrol and reconnaissance and US-2 Shimaywa seaplane sorties, anti-piracy operations and visit, board, search and seizure (VBSS) operations were executed in the Sea of Japan.
In the Indian and Pacific Oceans, the US 7th Fleet and its allies, Japan and partner India, maintain a consistent presence.
"It's absolutely critical that we train together and build our maritime partnership and understanding," said Captain Shan M. Byrne Commodore 15 Destroyer Squadron, adding, "Exercises like Malabar continue to help maintain and strengthen stability and security in the Asian Pacific and Indian Ocean region."
On their return passage, INS Ranvijay with Rear Admiral Atul Kumat Jain entered the Sepanggar port, where the Royal Malaysian Navy has its Scorpene naval base and submarine training simulators on a three-day goodwill visit aimed at strengthening bilateral defence ties.
"This is the first-ever visit by an Indian naval warship to the port and it is aimed at strengthening bilateral ties and enhancing inter-operability between the navies of the two friendly nations," said a Navy release. During its time at Sepanggar, various activities involving the warship were conducted including official calls and professional interaction between personnel of both navies.
Admiral RK Dhowan, Chief of the Naval Staff visited Canada August 5-8. The visit was on the invitation of the Commander of Royal Canadian Navy (RCN) Vice Admiral MAG Norman and reciprocates a visit by RCN Chief to India in January 2013.
Former CNS Admiral Nirmal Verma is the High Commissioner in Ottawa. Dhowan visited Esquimalt Naval Base at Victoria which is the Headquarters of the Maritime Forces Pacific of the Canadian Navy. At Ottawa, Dhowan had bilateral meetings with senior hierarchy of the Canadian Forces including Lt General GR Thibault, the officiating Chief of Defence Staff (CDS) and Lt General SA Beare, Commander Canadian Joint Operations Command.
New Inductions
Admiral RK Dhowan inaugurated a new state-of-the-art 'Very Low Frequency (VLF)' transmitting station's high tower at INS Kattaboman, Tirunelvelli, Tamil upgrading a 24 year old facility, that had wide spread ground antennae. Larsen and Toubro Ltd (L&T) Ltd and Continental Electronic Corp of USA contributed.
This new facility would provide a boost to the Navy's ability to communicate with deployed ships and submarines on an uninterrupted basis of broadcast throughout the year. India has now joined a handful of nations in the world that has this capability to pass orders by extra low frequency with bit rate in code to submerged submarines including nuclear submarines that will be deployed to provide the sea-borne leg of India's nuclear deterrence triad.
A Navy release states It will protect Indian national interests, and adds the Service has an elaborate communication infrastructure, including modern satellite communication facilities, to link and network its deployed units with their home bases and command and control centres.
The new VLF station will strengthen this infrastructure and provide the Navy additional operational advantages. Interestingly, the facility boasts of the highest masts structures in India, as well as several other unique engineering feats.
Coming Events
In a red letter day one day after India's 68th Independence Day PM Narendra Modi will commission Navy's first of three 7,400-tonne Type 17A Brahmos-capable destroyer INS Kolkata at the Naval Dockyard, Mumbai on August 16.
On August 23 in succession, Defence Minister Jaitley will commission the INS Kamorta another 3, 000-tonne Indian designed, first of three Project 28 Anti Submarine Warfare (ASW) specialist ships built by Garden Reach Shipbuilders and Engineers Ltd (GRSE Kolkata).
Conclusion
To sum up, the last three months have been exciting, educative and very satisfying for the Indian Navy and should as it harnesses itself on a path of expansion, to enable it to fully meet India's maritime aspirations.
*Commodore (Retd) Ranjit B Rai is former Director of Naval Operations and Intelligence at NHQ and an author.
Republished with permission of our partner India Strategic.
http://www.indiastrategic.in/topstories3472_Indian_Navy_Quite_Busy_with_New_Ships_VIP_Visits_International_Exercises.htm