2014-11-14 The big innovations which the USAF has done over time which have had an historical impact in combat operations often have books written about them,
But smaller innovations, often generated by small groups of innovators, get less recognition.
A case in point was the development and deployment of the Rover system which transformed ground-air and air-ground operations in the past decade.
In an interview in early 2012, one of the key officers involved in the Rover program looked back.
The program is not a program of record. 

It started as a result of a demand from a Special Forces officer who saw an opportunity. 

The officer saw the ability to feed video to the C-130 gunship and wondered why that capability could not inform ground operations, and to empower JTACs.

Menza: Almost 10 years ago Chief Warrant Officer Manuel saw the ability of push full-motion video initially to a AC-130 gunship which was taking a lot of fire when it was going over a target area because it had no Situational Awareness (SA).

We then sent the Predator to provide that SA and then sent full motion video of the target area back to the AC-130 gunship. 

He asked: Why can we not do this directly to the ground?

Then he meets the Major and now Lt Col Greg Harbins and he thinks it's a great idea. 

Then Harbs builds a connection whereby he can talk to the Predator. 

Coming from a Panasonic hard book and a collection of gear from Radio Shack, Haves took the system to the field pinned all over him to try to make this connection work. 

And it works.

Harvs then goes with this idea to the Big Safari office to get the idea operational. 

Big Safari is a prototype and innovation shop. 

And over time, the Rover sets sold way beyond Big Safari's wildest imaginations.

We have provided 7,000 sets so far with an additional 5,000 radios ordered by the Army recently. T

he initial Rover was a single downlink from the Predator to a single box.
In a similar vein, the 33rd Fighter Wing is working innovations to enhance survivability of F-35 pilots.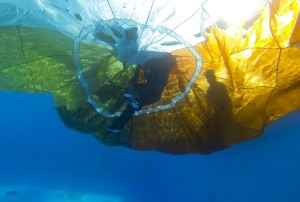 In a story published by the Wing on 11/13/14, this process was detailed:
Within the 33rd Fighter Wing, innovation doesn't end at the flight line, but finds its way into a 12-foot swimming pool where new F-35 pilots are now able to seamlessly complete their F-35 water survival training.

During the F-35 aircrew flight equipment shop water survival training here, pilots are required to swim under the parachute and follow the seams to find their way out – this worked with the C-9 parachute since it would stay afloat.

With the new IRVIN-GQ 6000 parachute, a different design and thicker material at the center of the canopy would cause the parachute to quickly sink to the bottom of a 12-foot pool, creating a difficult scenario for the rest of the students who didn't go first.

"Previously, we would spread the lines of the parachute to the sides of the pool," said Staff Sgt. Edwin Portan, 33rd Operations Support Squadron F-35 AFE continuation training instructor. "The canopy would then sink all the way down to the bottom of the pool, making it impossible for the second student to complete their evaluation because they would be pulling about 100 lbs. of parachute canopy from underneath the water."

This proved to be detrimental to the program since students were unable to successfully complete that portion of the training.

"This was not a good simulation of the situation that would be experienced after a fully inflated parachute landed on top of the pilot," said Col. Christopher Niemi, 33rd Operations Group commander. "The pilot would typically end up doing a 180 degree turn and then exit from under the parachute exactly where they entered."

Recognizing the issue, Portan, with some ingenuity and innovation, took a trip to a hardware store and came back with a solution.

"The concept started with thinking of something that floats," said Portan. "We got some PVC pipe, created the design, tested it and it worked out very well."

Portan's new device has since been implemented into the training and pilots are now able to complete their required tasks.

"With the parachute being spread out with this octagon-shaped PVC pipe floatation device, it sinks to a more realistic depth," said Portan. "It's just enough to get that heavy parachute canopy on them for the training, but not enough to where it becomes a safety hazard and ultimately makes the training more effective."