2014-11-03 by Robbin Laird and Ed Timperlake
During our visit to The Naval Strike and Air Warfare Center, we had a chance to discuss with the new CO of TOPGUN his approach coming into the job.
CDR Edward "Stevie" Smith is the current TOPGUN CO, and a previous TOPGUN Instructor is a key leader in the NSAWC enterprise.
Question: You have just taken over as the CO of TOPGUN.
How do you see your basic challenge?
CDR Smith: I think that all of us that have attended one of the WTI courses at NSAWC or had the opportunity to work here in a previous tour wish to come back in some capacity to be a part of the organization again.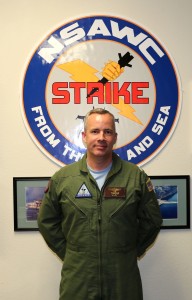 If we do get that opportunity to come back, we understand our primary job is to support the Admiral's vision and execute the mission of NSAWC, as a whole, keeping this the center of excellence.
We also realize that it's important to protect the integrity of the organizations that we're charged with helping lead.
And maintain all those core missions and core value, and allowing evolution to change, to occur, but making sure they keep it in line with maintaining the fundamentals of those organizations.
Question: We were discussing earlier with regard to rotorcraft training the important role of the ranges for testing integrated EW and other types of training.
How do the instrumented ranges work for today's Navy?
CDR Smith: In the past we were geographically confined to the instrumented ranges that relied upon ground based receivers to track and record aircraft data.
Now everything is GPS based combined with more modern tracking technology which great expands our ability to train.
Question: We have discussed with others at NSAWC the growing role of virtual training in preparing to fight in an extended battlespace. 
How do you look at this development?
CDR Smith: It is an important one.
As we fight in an extended battlespace, we need to tap into various USN or joint assets for the fight. 
We clearly cannot bring Aegis ships, or Patriot or THAAD batteries, but in the fight we need to tap into those assets.
We can do that as we build out our capabilities for virtual training.
Question: In your professional judgment, the type of simulation or the threat presentation is pretty good?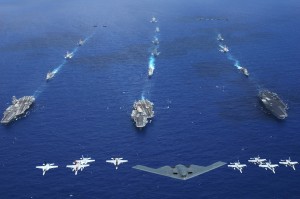 CDR Smith: It has the potential for getting better.
Replicating rapidly changing threat capabilities is expensive and in this day of constrained budgets we have to prioritize where we spend our limited resources.
Question: The Carrier and its support assets provide for significant organic punch, but clearly going forward to ability to either support or to lead joint airpower and other assets will be of increasing importance. 
How do you look at this evolution?
CDR Smith:  I think of it as concentric circles.
Like the USMC we are an expeditionary force when it comes to the carrier.
We bring the fight to our adversary's coast all over the world. 
And we cannot always count on our Air Force and Army brother being there for a particular operation.
That forms the first concentric operational circle.
But clearly the ability to work with joint partners, the USMC and the US Air Force, in an expeditionary operation forms the second concentric circle, and where extended land operations are entailed, the US Army as well.
The third concentric circle, which can overlap the second, is the ability to support or to draw upon allied capabilities and assets.
The ability to train to operate in all three environments will be increasingly important over the next twenty years as we deal with the evolving threat environment.
CDR Smith Biography
CDR Edward Smith, a native of Houston, Texas, graduated from Texas A&M University, earning a Bachelor of Science in Industrial Distribution.  Upon commissioning he attended flight school in Pensacola, Florida, Meridian, Mississippi, and Kingsville, Texas, where he earned his Wings of Gold in 1997.
Upon being selected to fly the F/A-18C, Commander Smith reported to the "Gladiators" of VFA 106 in Jacksonville, Florida, where he qualified as a fleet replacement pilot prior to his assignment to the "Knighthawks" of VFA 136.
During his first sea tour he deployed aboard USS JOHN C. STENNIS (CVN 74) on her maiden deployment in 1998 and again aboard USS DWIGHT D. EISENHOWER (CVN 69) for her 2000 cruise.  In June of 2001, Commander Smith was selected to attend the Navy Fighter Weapons School, TOPGUN, where he remained as an instructor upon graduation.
While at TOPGUN he served as both instructor, Standardization Officer and the Navy's Subject Matter Expert for Global Positioning System (GPS) Weapons during both Operation ENDURING and IRAQI FREEDOM.
In June of 2004, Commander Smith reported to the "Bulls" of VFA 37 as the Training Officer and deployed aboard USS HARRY S. TRUMAN (CVN 75) for her 2004-2005 combat deployment.  Upon completion of this tour, he then reported to the "Valions" of VFA 15 as a department head serving as both the Maintenance and Operations Officer for the squadron as they prepared for their 2008 to 2009 deployment aboard USS THEODORE ROOSEVELT (CVN 71).
In August of 2008, Commander Smith reported to the Joint Chiefs of Staff to serve in the J-34 Deputy Directorate for Antiterrorism/Homeland Defense.  During his tour on the Joint Staff, he was responsible for all aspects of DOD Antiterrorism Training and led the Chairman of the Joint Chiefs Level IV Antiterrorism Executive Seminar.
In October of 2009, Commander Smith volunteered as an Individual Augmentee, where he served in Kabul, Afghanistan, from December 2009 to May 2010, as the Liaison for a Joint Special Operations Task Force to the Commander of the International Security Assistance Forces (ISAF).
While assigned to the Joint Staff, Commander Smith earned his Masters in Business Administration from The Pennsylvania State University and also attended the Joint Forces Staff College for Level II Joint Professional Military Education.
After refresher training in the F/A18C at VFA 106, Commander Smith reported as the Executive Officer of VFA 34 just months before their eight month combat deployment aboard USS ABRAHAM LINCOLN (CVN 72) in support of Commander, Fifth Fleet and Operation ENDURING FREEDOM.
Upon return to Virginia Beach, Commander Smith assumed command of VFA 34 in December of 2012 and has led his squadron as they have achieved the Commander Naval Air Forces Battle Efficiency Award, CNO Safety Award and Captain Michael J. Estocin Award for operational excellence.
CDR Smith has been awarded the Defense Meritorious Service Medal, Joint Commendation Medal, Strike Flight Air Medal (three awards), Navy Commendation Medal (two awards), Navy and Marine Corps Achievement Medal (two awards), and numerous campaign and unit citations.
He has accumulated 600 arrested landings and over 3400 flight hours.