2014-12-03 By Gulshan Luthra
The Government is fast-tracking modernization of equipment with the armed forces, and it was "comforting" for the Navy to know that long-pending requirements were now being procedurally cleared.
Stating this, Chief of Naval Staff Admiral Robin Dhowan told India Strategic in an interview that notwithstanding the delay in the past, various projects, particularly that of the submarines, were on the move now. The construction of six Scorpene submarines at the Mazagon Dock Ltd. (MDL) for that matter "has picked up speed" and the Navy hopes to get the first one in 2016 and the last by 2020.
He said that the construction was now being monitored at the highest level – at the Chief's level, that is – and that "all major impediments to progress construction of the submarines have been overcome and the pace of construction has been stepped up.
"There is good news on this front, with the construction of six P-75 submarines at Mazagon Docks Ltd, Mumbai, picking up speed" and "I expect the first Scorpene submarine to be delivered by Sep 2016, and the entire Scorpene fleet by 2020."
The six submarines under Project 75 are being built under a technology transfer agreement from the French company DCNS under a contract signed nine years ago in 2005.
MDL has set up modern facilities and hi-end computers to make all the six submarines, and DCNS has also helped the state-run Indian company in identifying Indian suppliers for progressively increasing the local content.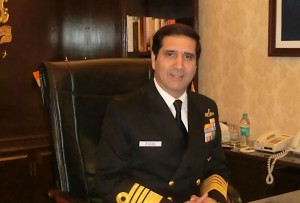 The last two of these submarines could be fitted with an Air Independent Propulsion (AIP) system being developed by Defence Research & Development Organisation (DRDO), if found suitable. The system is under development at a DRDO facility in western India.
Submarines are required to periodically come up to the surface for air intake to recharge their batteries but an AIP unit can reduce this necessity and enable a boat to stay hidden underwater for longer durations. Timelines though depend upon capability and efficiency of these units.
Admiral Dhowan observed that the Navy has "a longer term, comprehensive and ambitious submarine building program, with a significant indigenous orientation." The submarine arm, he stressed, is central to the Indian Navy's capability development plan.
Notably, the Government had given clearance in 2012 for a second line of six submarines with AIP capability by issuing the procedural okay, technically called Acceptance of Necessity (AON). That is the first vital step in acquiring any platform or system for any of the three Services.
But it is only now, in November 2014, that the Government finally gave the go-ahead for their construction in Indian yards. This is being done under a program designated as Project 75 (I).
Initially, the plan was to import two submarines from the selected vendor. Now, it has been decided to make all the six boats in India as part of the Government's efforts towards creating a defense industrial infrastructure within the country.
It may be noted that over the last couple of decades, most of India's defense modernization plans have suffered for one reason or another, and every time the Government is nearing a decision, mostly motivated allegations spring up, triggering political and bureaucratic hesitation.
However, Admiral Dhowan said that the Government had realized the problem and that due attention was now being paid to update naval equipment. "The government is well seized of this issue, and the Indian Navy's modernisation plans are being progressed on priority."
Fast Tracking
"Several projects are now being fast-tracked to help make up for the lost time," he told India Strategic.
As for the AIP-equipped submarines, he said that they will be constructed at a suitable Indian Yard in collaboration with an identified foreign collaborator under Transfer of Technology. Now that the Government has cleared the proposal, required steps to progress the case are being taken.
Said Admiral Dhowan: "This will be a substantial boost to indigenization in this critical sector. P-75(I) envisages acquisition of six state-of-the art conventional submarines with high stealth features, Air Independent Propulsion (AIP), and advanced weapons and sensors."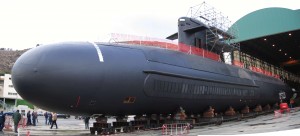 Tendering for this fleet should be done soon. Nonetheless, it could be years before the AIP-fitted boats are actually available to the Navy.
But he pointed out: "Considering the enormity of the project, in both technological and financial terms, it will be handled expeditiously in accordance with comprehensive guidelines."
As for the current fleet of old Soviet and German origin submarines with the Indian Navy, Admiral Dhowan said that measures were being taken to meet the interim operational needs "by progressing a proposal for Medium Refit-cum-Life Certification program for a few of the older submarines, which will take us through till the newer submarines are inducted."
Asked about India's nuclear submarine program, Admiral Dhowan said that harbor trials of various equipment on board Arihant, India's first indigenous nuclear-propelled- nuclear-armed submarine –designated SSBN in naval parlance – are over and "the submarine is being planned for sea trials."
"I am not saying soon but very soon," the Admiral said optimistically.
Significantly, DRDO Chief Dr Avinash Chander had told India Strategic recently that the missiles and weapon systems for Arihant were ready after due testing.
But every system on board the black vessel was being checked and rechecked by a team of nuclear scientists from the Department of Atomic Energy and DRDO that also includes well-trained officers and sailors from the Navy, who will eventually operate her far away from the shores.
Arihant was launched on July 26, 2009, and its reactor achieved criticality in August 2013.
The Indian Navy has one nuclear propelled but not nuclear armed (SSN) submarine, INS Chakra, on lease from Russia.
Republished by permission of our partner India Strategic.
http://www.indiastrategic.in/topstories3611_Government_fast_tracking_Navys_submarine_programmes.htm