2014-12-18  By  Gulshan Luthra
New Delhi. The Indian Navy is working towards a new fleet of aircraft and helicopters for maritime surveillance, electronic warfare and anti-submarine and anti-ship warfare.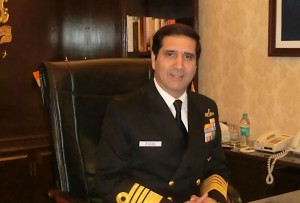 Naval Chief Admiral RK Dhowan told India Strategic in an interview that it was imperative to expand the Indian Navy's "maritime surveillance footprint to meet operational requirements" with 12 Boeing P-8I Long Range Maritime Reconnaissance (LRMR), nine MRMR (Medium Range Maritime Reconnaissance) and 12 Dornier 228 Short Range Maritime Reconnaissance (SRMR) aircraft.
"The induction of these aircraft will provide the Indian Navy with the required surveillance capability in support of our operational roles."
At present, Boeing has a contract to supply eight P-8Is, six of which have been delivered on schedule beginning May 2013 and the last two should be in India by mid-2015.
There is an option clause for another four aircraft in the existing contract, and the Navy Chief's remarks indicate that this is going to be exercised.
Sources said that this could be done in the first half of 2015.
Aircraft Specifications
Admiral Dhowan said that the Naval Air Arm, which marked its 61st anniversary in 2014, is poise for significant growth as part of the Navy's capability development plan.
"The naval aviation acquisition is aimed at supporting fighter and integral helicopter operations from the two Carrier Task Forces…This includes 12 P-8I Maritime Patrol Aircraft. We have also initiated the process to acquire 12 Dornier SRMR and nine MRMR aircraft."
Qualitative Requirements (QRs) for the MRMR aircraft are being finalized but they would have capabilities similar to the LRMRs except that their range would be shorter.
The Dorniers would be used for Electronic Warfare (EW) to secure one's own communications and disrupt those of an enemy.
UAVs and UCAVs
Pointing out that there is due emphasis on UAVs also, the Admiral said: "The aviation arm of the Navy is an integral, active component of the naval force. It provides the Navy with essential air power at sea, in the entire range of operational activities."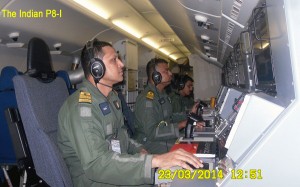 About the UAVs, he said that the vast expanse of our primary areas of interest posed a challenge in terms of surveillance and reconnaissance, and UAVs are important to maintain vigil. The Navy has been utilizing Heron and Searcher UAVs (Israel-origin) and their squadrons have been commissioned at three places in Kochi, Porbandar and Ramnad.
With an aim of achieving enhanced surveillance ranges, augmentation of existing UAV control stations onboard ships is in progress. Additionally their footprint is being expanded through satellite control.
"Additional UAVs are planned to be inducted" including the indigenous Rustom being developed by Defence Research & Development Organisation (DRDO)'s Aeronautical Development Establishment (ADE) "on successful completion of its development trials."
As for carrier-borne UCAVs, they are still in conceptual stages. The Navy, he said, would continue to engage DRDO and its Aeronautical Development Agency (ADA) "for progressing the naval UCAV variant."
Notably, the Indian Navy lacks a modern submarine fleet while the number of possibly hostile submarines in the Indian Ocean has multiplied manifold in the recent years. There is an urgency accordingly to strengthen at least the aviation arm by aircraft and helicopters.
Multi Role Helicopters
On this Navy Day December 4th, the Navy selected Sikorsky's Multi Role Helicopter (MRH), a weaponized platform, for shipboard operations. Twenty four of these helicopters are to be acquired, inclusive of an option for eight.
There are plans for a larger number of similar multi role helicopters as well as Naval Utility Helicopters (NUH), and their total numbers could eventually touch or exceed 200.
The Formidable Boeing P-8I
Based on Boeing's workhorse civil 737 aircraft, the P8-I is a variant of US Navy's latest P-8A Poseidon. It was described by Adm Dhowan as a very potent platform with long range capability to neutralize hostile ships and submarines with its Harpoon Block II missiles, depth bombs and torpedoes. The aircraft has formidable onboard electronic warfare (EW) systems and a highly sophisticated radar from US war technology giant Raytheon.
There are also Magnetic Anomaly Detectors (MAD) systems onboard to locate submarines. A MAD system works out variations in the earth's magnetic fields by underwater movement of submarines.
The P-8I has radar coverage 360 degrees, thanks to a second radar installed in the rear as per Indian Navy's requirements.
The LRMR and MRMR are being sourced from foreign vendors while the SRMR – Dornier 228 – would be acquired from HAL which has been producing them under licence for more than a couple of decades. Sanction for these aircraft has already been accorded by the new Government.
As for the old fleet of existing Sea King and Kamov helicopters, the Naval Chief said that they were being upgraded with "a sophisticated sensor suite" to "enhance (their) surveillance and attack capabilities of ships at sea."
Three Aircraft Carriers
He observed that the Indian Navy was looking at two operational aircraft carriers 24 x 7, one each on the eastern and western seaboards of the country. A third would be needed because of the periodic maintenance by any one of them.
For the Russian-origin INS Vikramaditya, which is already operational, and for INS Vikrant, which is under construction indigenously at Kochi, the Navy is buying 45 Mig 29K aircraft from Russia, about half of whom have already been delivered and are operational.
They are a generation ahead in capability than the old Mig 29s that are with the Indian Air Force (IAF) acquired from the late 1980s onwards.
INS Vikrant, earlier called Indigenous Aircraft Carrier (IAC-1), would be available in 2018.
For the IAC-2's aircraft, a fresh tender would be floated in due course and the best possible technologies relevant for induction around 10 to 15 years from now would be considered. IAC-2, he expressed the hope, would be available 10 years after its specifications are frozen and the work begins.
The Navy also has plans to induct naval variant of the HAL-made indigenous Light Combat Aircraft (LCA), development work on which is going on.
EMALS and Aircraft Recovery
Admiral Dhowan said that the Navy is also working on specifications for a third aircraft carrier – IAC 2 – which would be much larger – say 60,000 tons-plus – and every possibility, including nuclear propulsion and the latest Electromagnetic Launch System (EMALS) which the US Navy has selected for its future aircraft carriers is under consideration.
"We are monitoring the latest developments and will factor the same into the force development plan…We would look for infusion of newer technologies with regard to propulsion and launch/ recovery arrangements for the aircraft."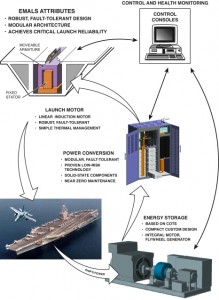 The current aircraft launch technology from carriers is based on steam catapults.
Asked about collateral benefits emanating from newer technologies, he observed that technological spinoff from defense technologies has been a recurrent theme over the ages, and that always happens. Nonetheless, "we would look for infusion of newer technologies with regard to propulsion and launch/ recovery arrangements for the aircraft."
Significantly, the EMALS, developed by US General Atomics, is based on the massive power of Direct Current (DC) electricity, and the technology is stated to be useful even in launching satellites or firing projectiles into space.
Concluded Admiral Dhowan:
"The Naval Air Arm is poised for significant growth as part of the Navy's capability development plan… In the coming years, I envisage a deployable force-level of two Carrier Task Forces, one each on our Western and Eastern seaboards. The naval aviation acquisition program is aimed at supporting fighter and integral helicopter operations from the two Carrier Task Forces and associated support ships."
Republished with permission of our partner India Strategic:
http://www.indiastrategic.in/topstories3623_Indian_Navy_strengthening_air_warfare_capability_says_Admiral_Dhowan.htm
For earlier pieces discussing the P-8 see the following:
https://sldinfo.com/the-indian-p-8-participates-in-the-search-for-malaysian-airlines-flight-370/
https://sldinfo.com/indian-and-american-naval-cooperation-the-potential-role-of-the-p-8/
https://sldinfo.com/tthe-us-navy-in-transition-the-case-of-the-p-8-as-part-of-the-attack-and-defense-enterprise/
A note on the name of the Indian carrier:
INS Vikramaditya (R 33) (Sanskrit, Vikramāditya (Hindi : भा नौ पो विक्रमादित्य) meaning "Brave as the is a modified Kiev-class aircraft carrier which entered into service with the Indian Navy in 2013. She has been renamed in honor of Vikramaditya, a legendary 1st century BC emperor of Ujjain, India. Credit: Wikipedia.