2015-03-21 One thing which long range lift airplanes allow a country to do is to operate globally.
This point was driven home once again by the RAF flying to Vanuatu in support of the international aid effort to the cyclone-hit Pacific islands.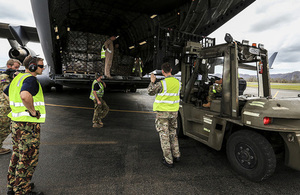 According to an article on the UK MoD website published on March 19, 2015:
The C-17 Globemaster arrived at 2pm local time today (Thursday), carrying 1,640 shelter kits which can house families of five people and more than 1,900 solar lanterns with inbuilt mobile phone chargers.

The Department for International Development (DfID) supplies will help protect some of the most vulnerable people affected by the cyclone, especially women and children.

An RAF spokesperson said:

All of the RAF crew and support personnel out here are delighted to be able help the people of the region alongside our international partners.

Similar to our recent humanitarian mission to the Philippines, the RAF has been able to respond rapidly to support DfID in helping people in need.

In just a few days we have deployed from the UK to the other side of the world and delivered vital aid to the Red Cross for distribution. We are now fully integrated within the international effort and look forward to assisting as much as we can over the coming days.

RAF C-17 fleet aircraft previously provided humanitarian assistance during the aftermath of the Indian Ocean Tsunami, as well as the Pakistan and Chilean earthquakes and the Philippines disaster zone.

The aircraft are capable of rapid delivery of troops and all types of cargo around the world.

It can carry out steep approaches at relatively slow speeds, meaning it can operate into small, austere airfields as short as 3,500 feet long and only 90 feet wide.
https://www.gov.uk/government/news/raf-flies-uk-relief-supplies-into-vanuatu
And an additional story on the Royal Air Force website added this as well:
International Development Secretary Justine Greening said: "Britain's ability to rapidly respond to humanitarian disasters on the other side of the world is something to be incredibly proud of.

"Cyclone Pam's trail of destruction has left thousands of people without their home and access to power. Our emergency shelter kits and solar lanterns, which have arrived thanks to the swift and invaluable support of the Royal Air Force, will help meet people's basic needs.

"Britain stands ready to assist further to ensure supplies get to those in need and will continue to support the Government of Vanuatu as part of the wider Commonwealth effort."

Air Commodore David Lee, Air Officer for Air Mobility, said:

"The RAF is pleased to offer its support and help to the people of the region, alongside our international partners.

"Similar to our humanitarian mission to the Philippines following Typhoon Haiyan in 2013, the RAF has responded rapidly to support DFiD in helping people in need. In just a few days, we have mobilised and deployed from the UK to the other side of the world, delivering crucial aid to the Red Cross for distribution.

"We are now fully integrated with the international effort and look forward to assisting as much as we can over the coming days."
http://www.raf.mod.uk/news/archive/raf-flies-uk-relief-supplies-into-vanuatu-for-cyclone-victims-19032015