2015-04-25 Colonel Anders Rex, Chief of the Expeditionary Air Staff of the Royal Danish Air Force (RDAF) provided an overview to the RDAF approach to coalition operations at the Copenhagen Airpower Symposium held on April 17, 2015 in Copenhagen.
The Royal Danish Air Force consists of five wings: three air bases, a number of colleges, the Skagen and Bornholm radar stations, and Expeditionary Air Staff. The five wings undertake both international and national roles.
According to Col. Rex, coalitions are about solidarity and burden-sharing in dealing with shared tasks and missions.
Being a good coalition partner takes practice.

We have a core group in the Danish Air Force, which has done several coalition operations, and when we are not doing that we participate in multinational exercises.

This is a core competence that the Danish Air Force has developed, and as we do so we work to find the gold in each coalition operation.
Clearly, for the 30 operational Danish F-16s in the Danish fleet to have impact they need to work effectively with those of other Air Forces, especially the countries in the region who also fly F-16s.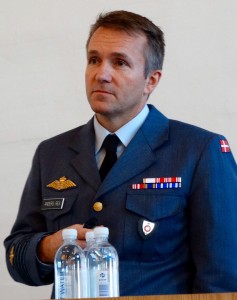 Of course, the USAF is a much larger force than that of Denmark's.
But Col. Rex underscored that "it's so big that if you look at the rate of coalition training opportunities per airman I'm sure it's a lot lower than an air force like the Danish one."
For the operations which we undertake "It's really important to know and understand how to make the most out of a coalition, how to dig out the gold."
Airpower is the essential element to any kind of rapid response coalition operation.
Look at the Libyan operation as an example.

The Libyan mission was decided and less than 12 hours after the political decision, six Danish F16s took off from Denmark and flew down to Sigonella (in Italy); and less than 30 hours after we landed down there we flew our first combat mission in the operation.

That is fast.
Col. Rex highlighted that the Danes are able to do that because of their rapid decision making cycle.
The Danes have clear responsibilities and a tightly knit force.
One of the good things about being small is that you know everyone, especially when you get to the colonel level, for instance, there's very few of us.

I think there's about a hundred, so it's easy to know a hundred people.
He also argued that coalitions are about diversity and being able to combine different forces that provide different capabilities into an integrated whole.
But of course, to do that you have to train, train, and train together.
A clear challenge for effective coalition operations is releasability of information in a timely manner.
"All the information and all the intelligence is not worth a thing if you don't have a system for disseminating it.
Yet there's an upside to it as well because of coalition diversity where you bring into the operation different people with different experiences and expand the knowledge base.
So the knowledge pool should be a lot bigger as a result of operating in a coalition."
And to highlight the challenge of pace of change, Rex inserted: "We are moving at the same pace that the Brits are going metric, inch by inch."
A key focus of effort among the Allied air forces is clearly upon how to make the most of a coalition and to work more effectively together.
He coined the term "coalitionability" and set a goal for allied and partner Air Forces ways to shape higher levels of "coalitionability."
Editor's Note: For an interesting look at the impact of expeditionary operations on transforming air forces of small nations, see the article by Sabi Abev published in Information and Security, Vol. 25, 2010, 47-56.
It can be downloaded here:
Expeditionary Operations and Transforming Small Air Forces