2015-05-27 According to a communication to the journalists who traveled to the USS WASP on May 26, 2012. Major Greenberg, a PAO officer with the USMC provided a helpful update on the operational testing and their progress.
"The first phase of shipboard Marine Corps F-35B operational test (OT-1) is in progress aboard USS Wasp (LHD 1), a U.S. Navy amphibious ship, from May 18 to May 29, 2015.
Six F-35B aircraft from VMFA-121 and VMFAT-501 are participating in OT-1.
OT-1 will evaluate the full spectrum of F-35B measures of suitability and effectiveness to the maximum extent possible.
Specifically, the ship trial will assess the integration of the F-35B while operating across a wide array of flight and deck operations, maintenance operations and logistical supply chain support in an at-sea environment.
OT-I objectives also include:
Test and assessment of day and night flight operations;
Day and night extended range operations;
Block 2B software configuration;
Aircraft-to-ship network communications interoperability;
Efficacy of the F-35B landing signals officer's launch and recovery software;
The crew's ability to conduct scheduled and unscheduled maintenance activities;
The suitability of F-35B maintenance support equipment for shipboard operations;
The logistics footprint of a six-plane F-35B detachment;
Day and night weapons loading;
And all aspects of the logistics and sustainment support of the F-35B while deployed at sea.
Data and lessons learned will lay the groundwork for F-35B deployments aboard U.S. Navy amphibious carriers following the Marine Corps' F-35B initial operating capability (IOC) declaration in July 2015.
There is not a precise date in July scheduled for IOC declaration.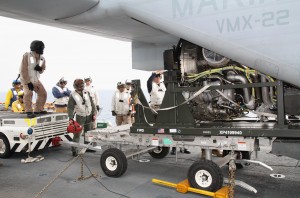 The U.S. Marine Corps Deputy Commandant for Aviation, Lt. Gen. Jon Davis, has directed that a team of experts carry out a final operational readiness inspection in July before declaring the first squadron (VMFA-121) of F-35B fighter jets ready for initial combat use at IOC.
The Marine Corps-led team will report the findings of the operational readiness inspection, and the Commandant of the Marine Corps will make a decision based on those findings.
Statistics: The F-35B has flown more than 11,800 mishap-free hours as of May 26, 2015.
OT-1 F-35B sorties as of the end of the day on May 26, 2015: 98 OT-1 F-35B flight hours as of the end of the day on May 26, 2015: 73.1 Daily sorties May 26: 17 Daily hours May 26: 11.1
Power Module: The power module arrived aboard the USS WASP via Osprey on May 21, 2015. The power module was loaded into an MV-22B Osprey at Naval Air Station Patuxent River, Maryland and flown to USS Wasp on May 21.
The power module is the core of the F-35B's engine.
A joint effort has been coordinated between the Marine Corps, the F-35 Joint Program Office, Pratt & Whitney and Naval Air Systems Command Special Operations and Cargo Team to make this happen.
The goal was to design, build and test a shipping "buck" to hold and protect the 4,500 pound power module while being transported in a MV-22B."