2015-06-27 By Murielle Delaporte
Enhancing Joint Seamanship
Interview with Commander Martin Dellin, 7th (GE) FPB squadron, Commanding Officer of the FGS Donau
The CO: A Logistics Officer As Captain of the Seas
I have been the Commanding Officer of the FGS Donau since two years.
I started with the normal training as a watch officer and became a supply officer.
So I am a logistics officer, which is an unusual background for a CO.
I spent a large part of my career in the German Navy – about eight years – at sea. A such, I have been deployed three times with the United Nations in Lebanon (UNIFIL) for six and seven months tours.
I was the second ship to be sent for this particular mission, so we had to figure out how to communicate and operate with countries, such as Brazil or Bangladesh without of course using NATO communications and standards.
That was quite a challenge at first.
As far as NATO deployments are concerned, I also sailed with the SNMCMG2 in the Mediterranean area of responsibility.
The FSG Donau: From Support To C2
We have six Type 404 Elbe class replenishment ships like the Donau in the German Navy.
They are twenty years old and should be on duty for another fifteen.
The FGS Donau is a supply and support ship, i.e. a Tender originally built to support in particular fast patrol boats units and to be embedded in squadrons.
Maintenance crews would go on each ship to conduct repair, while the upper deck was dedicated to maintenance.
There was initially little space for the staff and for Command and Control (C2).
The mission of these kinds of supply ships has recently evolved in the German navy, as they sail alone or in deployments such as the current SNMCMG1's.
As a flagship, our primary task is to host the staff, as well as communications to be able to function as a Group.
So the configuration of the ship has evolved, with less maintenance crews and containers and more communication upgrades (such as broadband internet for instance) to rebalance the supply and C2 roles.
The Group: Fine-Tuning Common Operating Procedures
The very first week at sea is a good time for everyone to get to know each other, especially for the staff,  since the situation onboard the Donau is a new one for most of us, i.e. a German flagship and completely foreign staff.
We first had to compare the ways of the Netherlands and the German navies and we found little differences.
First of all because, thanks to NATO, we have a common knowledge and we only need to enhance our common NATO experiences.
But if NATO standards are common, each Navy has its own traditions (e.g. the German navy always plays a song when leaving or entering a harbor) or set of national regulations during exercises (e.g. whether or not doing MCM – mine counter-measures – or RAS – Replenishment at sea –  manoeuvers in the fog with poor visibility).
So we basically have one or two weeks to figure out each national restrictions or specificities to plan the next operation accordingly.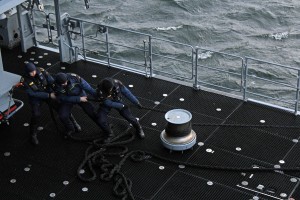 We also have to get used to speak English onboard all the time, except among the German staff of course, but units have nearly the same way of maneuvering and I was surprised that this first week ran so smoothly.
Except Monday…
The Challenges: Mother Nature As The Eternal Reminder
Last Monday and Tuesday have been a challenge for the Group, as the conditions in the North Sea were not the best.
It was not so much the sea state of 3 meter high waves than 40 knots gusty winds coming from abeam, which lead the ships to lean at an angle ranging between 25 and 35%.
At 40% I shall get nervous, as these ships are not built to sustain this kind of challenge beyond their stability point.
Technically the Donau is capable of resisting 90 knots winds from the side, but this is not something I am willing to try: maybe the ship can make it through a storm, but the crew will fall early on.
In this rough weather, each ship had its own challenge earlier this week: the HMS Pembroke is a small unit, with a minimum haul and only two meters in the water to limit its signature.
It therefore catches up winds in a stronger way.
The FGS Auerback also had trouble, because its crane makes its gravity point very high: it was leaning at a 35% degree angle, which is quite the limit for this type of minesweeper.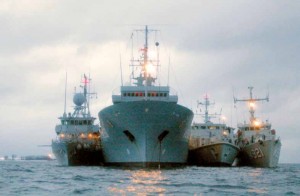 Under these conditions, all crews are ordered to stay inside and nobody is allowed on deck.
After these two days, conditions in the Baltic sea were a gusty 30 knots (Beaufort 7), a good weather to manœuver and getting used to each other…
The Goals: Rating Up The Experiences In Seamanship
The team spirit is good among the crew, and my goal, as the CO of Tender Donau, is first to be a good supply ship for the Group, currently three units – later eight – to refuel and resupply as need be.
Seamanship is not a problem, but can always be enhanced, so another goal is to rate up the experiences in seamanship.
I give you a very concrete example: this ship is built to take along its side other ships, such as the FGS Auerback or fast patrol boats, with side decks organized to do so at a certain height.
RAS (replenishment at sea) maœuvers with ships not used or built to work together can be a challenge, as it was yesterday evening when it took us a long time to figure out how to have the HMS Pembroke come along the side of our supply ship where was the right point to put the gangway.
So if we encounter only minor adjustments issues as far as NATO standards are concerned, seamanship is a bit more complex to find the best ways to work as a group.
NATO allows us to go beyond our national responsibilities and work together towards a better understanding in view of future deployments and operations.
Editor's Note: Murielle Delaporte went to sea with the NATO counter-mine task force and was onboard the German Marine Tender Donau earlier this year.
She is the co-founder of Second Line of Defense and the editor of Operationnels where a complete dossier on the NATO approach to mine warfare is discussed from the standpoint of her time in the Baltic sea operation.