2015-07-17
In a recent press release, Airbus Defence and Space highlighted a modernization of the Eurofighter.
This modernization improves the angle of attack performance characteristics of the aircraft, which is significant aerodynamically as well in terms of supporting the evolving weapons capability for the aircraft.
The modifications allow for an expanded operational envelope for the Eurofighter.
Airbus Defence and Space has successfully completed flight-testing of a package of aerodynamic upgrades to the Eurofighter Typhoon swing-role fighter that promises to enhance further the aircraft's agility and weapons-carrying ability.
The Aerodynamic Modification Kit (AMK) is part of a wider Eurofighter Enhanced Manoeuvrability (EFEM) programme with the potential to help ensure the type's continuing superiority for many years to come.
It entails primarily the addition of fuselage strakes and leading-edge root extensions, which increase the maximum lift created by the wing by 25% – resulting in an increased turn rate, tighter turning radius, and improved nose-pointing ability at low speed – all critical fighter capabilities in air-to-air combat.
The introduction of the AMK will not only enhance the Eurofighter's current  capability as a swing-role fighter-bomber, but will provide additional growth potential, enabling easier integration of future air–to-surface configurations and much more flexible applications, vastly enhancing the aircraft's mission effectiveness in the air-to-surface role.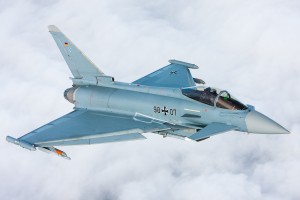 Eurofighter Project Pilot Germany Raffaele Beltrame said: "This programme has been a tremendous success with very impressive results – in some areas even better than we expected.
"We saw angle of attack values around 45% greater than on the standard aircraft, and roll rates up to 100% higher, all leading to increased agility. The handling qualities appeared to be markedly improved, providing more manoeuvrability, agility and precision while performing tasks representative of in-service operations. And it is extremely interesting to consider the potential benefits in the air-to-surface configuration thanks to the increased variety and flexibility of stores that can be carried.
"It´s right to say that the EFEM/AMK work has allowed us to discover a new aircraft with much higher performance and greater potential to meet the challenges of the years ahead."
The flight trials followed some five years of studies. Eurofighter test pilots, joined in the latter stages by operational pilots from Germany, Italy and the UK, completed 36 sorties from Manching, Germany on the IPA7 Instrumented Production Aircraft.
In a teleconference earlier this week a Eurofighter source, the importance of these changes for weapons loading and engagement was highlighted.
"We can operate more effectively with a mixed load, such as Paveway and Brimstone, and engage a variety of targets more effectively with the significant improvement in the high angle of attack capabilities."