2015-08-30 By Robbin Laird
The Plan Jericho approach which the Royal Australian Air Force (RAAF) has put in motion to shape a con-ops driven transformation process is built around the acquisition of new platforms, but then crafting ways for these platforms to operate and together in a joint manner to achieve the desired mission effects.
Plan Jericho really is about the transformation of jointness and finding ways for the integration of the new platforms into a more effective force.
It is about looking carefully at which platforms should do what in the joint battlespace and then to modernize those aspects of the platforms most appropriate for the desired combat effect.
It is about training the RAAF team, and reshaping the work force as new platforms become operational, and learning how best to adapt the maintenance culture to what new platforms bring to operations.
Prior to the Plan Jericho workshop at Williams Foundation, I had a chance to discuss some of these aspects of force transformation with Air Vice Marshal Warren McDonald in his office in Canberra on August 3, 2015.
I last had a chance to talk earlier this year with then Air Commodore McDonald, who was then in charge of the Air Mobility Group, about the impact of Operation Okra on the transformation of the force.
Deputy Chief of Air Force – Royal Australian Air Force
We started by picking up some of our earlier discussion to focus on the impact of the KC-30A on RAAF and allied operations.
McDonald underscored that because the KC-30A was a new platform, the RAAF was learning new ways to support the aircraft.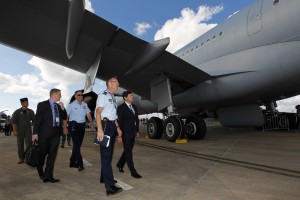 The RAAF has deployed a single KC-30A to the Middle East operation but that single aircraft has delivered close to 30 million pounds of fuel since its arrival in late Fall 2014.
The aircraft has only needed a small technical footprint, some 10 technicians to deliver a mission success rate of around 95%.
"When you introduce a new platform like the KC-30A, you need to make sure you are not doing so under a legacy mindset.
You need to test your mindset in real operations and then draw your conclusions as to the best way to maintain that aircraft.
Once tested and verified you then need to shift your older maintenance approach to a new one, and subsequently reshape your workforce.
This does not happen right away; it is a process that will take five to seven years see fully mature.
Nothing in the personnel space happens quickly, particularly when you must adapt to such a change.
The technical workforce changes we see happening in the KC-30A will be seen in the workforces of any capability we introduce, the P-8A and F-35 are other examples.
In other words, we need to reshape our workforce to optimize the new capabilities that we are introducing, so that we aren't stuck with a legacy of the past.
It's not that we don't value our maintenance personnel, they are key to our success on any operation.
However, we must acknowledge the significant advances in engineering that have occurred, and therefore reshape the balance of air maintenance personnel inside air force."
Question: You are adding to your tanker fleet as well?
Air Vice Marshal McDonald: "Yes, we are adding two additional aircraft to our current fleet of five.
The two aircraft were purchased from the Qantas 330 fleet.
One of the two is already in Spain being modified."
Question: You are part of the global sustainment approach of the C-17, do you see something akin to this for the KC-30A fleet?
Air Vice Marshal McDonald: Yes we are a part of the very successful C-17 sustainment system and I would like to see a similar model bought in for the KC-30A.
But what first needs to be worked out is how to tap into the commercial parts pool for the global commercial A330 fleet.
Right now the military certification of the KC-30A does not readily translate into the commercial certification of a A330 so that even though the parts are often the same we cannot tap into the commercial parts pool.
Obviously, this makes little sense.
It's blindingly obvious, but sometimes you have to be quite innovative to make that blinding obvious come into an executable outcome.
We can have a KC-30A parked on the tarmac next to a group of A330s and know they have the parts we need in their repair and support bays but we cannot access them.
We need to solve this one.
Question: Australia has been the lead nation on the KC-30A, how has this impacted on others who are looking to buy a tanker or are introducing the tanker?
Air Vice Marshal McDonald: It was a challenge getting the KC-30A into service, but the results are there for all to see, particularly in the Middle East.
The Singaporeans talked with us at length about the aircraft and we provided them with our experiences associated with the program and aircraft. I am aware that the success of the Australian program fed into their own decision as it did in South Korea.
The thing that's sometimes missed with being a lead customer on the KC30 means you must also forge a path for air to air refueling clearances.
Without them it is just a transport aircraft and useless to the fight.
Clearances are about enabling the tanker fleet to operate in a global context and thereby contributinge meaningfully to coalition operations.
We are well underway with clearances, which then other global users can simply draw upon.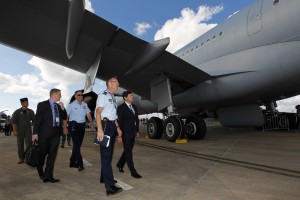 For example, Singapore is obviously watching us closely as we move into F-35 clearances the latter part of this year, because for Singapore when their tanker is delivered there will be a JSF clearance already taken care of.
We are working very hard to get as many clearances for the KC30A as possible, as such we're working towards at the C-17 in the second quarter of 2016.
And then in the third, fourth quarter we're looking at P8.
With Singapore and South Korea operating the KC-30A as well, means that we can mass capabilities in an area.
Operating in the Middle East also allows us to become more and more comfortable and flexible working with other countries using our platform.
Question: An example of your transformation approach has been what you are doing with your C-130Js. Could you describe the process and how you are addressing the future of this platform as a joint asset?
Air Vice Marshal McDonald: With the KC-30A and the C-17, we really do not need to use the C-130J as a transport aircraft.
And we are adding the C-27J to do that mission with a wider variety of austere locations in the region where we might need to operate.
What then with regard to the C-130J?
A clear path is to make it a combat asset integrated with the ground forces to inert them into areas of interest.
But to do this effectively we need to add SATCOM and ISR capabilities, which we have done, are doing.
By doing so this triggers a change in Army whereby they can look to link digitally with RAAF assets to create a more effective joint combat package.
By enabling them to have all that decision authority, and full understanding of situational awareness aboard the C-130J, you then have a very good joint blade to spearhead an operation.
And we are doing similar things with the C-17 whereby we have added broadband communication to the aircraft along with Air View 360 to the back of the aircraft to provide situational awareness and communications tools for our troops onboard.
This is Plan Jericho in action, which is a con-ops driven approach.
One looks for the appropriate technology for the appropriate platform to shape the effect which you need to create in the battlespace, rather than having simply a technological driven approach.
Editor's Note: This is the fourth of a series of interviews with senior officers in the RAAF which preceded and followed the Plan Jericho session held by The Williams Foundation and which will then be followed by an overview report on the Conference and the evolving RAAF approach to the transformation of jointness under the impact of evolving air-enabled operations.
It is about design driven concepts of operations which is at the heart of the Plan Jericho approach.
https://sldinfo.com/the-air-commander-australia-discusses-plan-jericho-and-the-way-ahead/
https://sldinfo.com/the-williams-foundation-the-raaf-and-shaping-a-way-ahead/
https://sldinfo.com/a-discussion-with-the-australian-air-chief-air-marshal-davies-discusses-iraq-plan-jericho-and-the-way-ahead/
https://sldinfo.com/the-co-directors-of-plan-jericho-group-captain-rob-chipman-and-group-captain-jake-campbell-discuss-the-way-ahead-for-the-raaf/