2015-11-09 By Robbin Laird
(Originally published 2015-10-09)
The Eurofighter is a clear player in shaping European and global air forces.
It has reached critical mass and will be modernized through its operational life to work with new air assets and to deal with the evolving threat environment.
The program currently has seven customers, 599 committed aircraft orders, 446 deliveries to date, more than 300,000 flying hours with 100,000 employees and more than 400 companies involved in the program.
This kind of critical mass provides a solid foundation for the evolution of the program.
The Eurofighter consortium has launched a series of capability enhancements as part of a Capability Roadmap, which is designed to increase the combat effectiveness of the fighter.
It has evolved from an air defense aircraft to a multi-mission aircraft, notably with the addition of new weapons to subsume Tornado functions and to incorporate a new AESA radar as well as cockpit and linkage improvements as well. And the Maintenance, Repair and Overhaul (MRO) business also ensures that Eurofighter will continue to be a solid program for the next few decades.
In a visit to Munich in September 2015, I had a chance to discuss the way ahead for Eurofighter modernization with Paul Smith, formerly of the Royal Air Force and now with Eurofighter.
Smith is an experienced pilot with more than 3,000 fast jet flight hours with 600 of those hours flying Typhoon.
He worked during his time with the RAF for four years working the Operational Test and Evaluation Program for the RAF.
And in the period prior to his retirement he worked for Air Vice Marshal Gary Waterfall when he was at the Typhoon Force Headquarters.
At Eurofighter, Paul Smith works on the modernization program, notably with regard coordinating customer input into cockpit design.
Question: Clearly, as you are looking at Eurofighter modernization, notably for the British and Italian customers, there is a clear focus on working Eurofighter with F-35.
How are you approaching that dynamic?
Paul Smith: If you look at both of their future planned force structures, then their combat mass both in terms of number of aircraft platforms and individual aircraft weapon loadout will be Typhoon.
Three-quarters of the RAF will be Typhoon going forward into the 30s and 40s and, and somewhere between, around 100 or 50 or so F-35s.
They will be complimentary, with the aircraft contributing related but different capabilities. And it's important that they are absolutely networked.
When considering modernization, one can start with the basic character of the aircraft, with a strong, light airframe with significant thrust to weight ratio.
This allows the aircraft to carry a significant weapons load out at Mach 1.5.
The kinematics, and the sensor integration in the aircraft have allowed the aircraft to evolve from its initial air defense and air dominance role to a multi-mission role.
The aircraft delivers a good integrated picture to the pilot in an effective and simple manner to guide his actions.
It is a different type of sensor integration from the F-35, but we are upgrading our sensors over time, and are clearly doing so with direct relevance to working changes in the cockpit and are also upgrading our helmet mounted display to further enhance pilot decision making.
Question: How would you describe the approach to enhanced air-to-ground attack in the aircraft, which is important to the RAF and IAF in subsuming Tornado functions?
Paul Smith: With new sensors and new weapons, we are expanding the weapons envelope to support a broader variety of missions. We are carrying flexible weapon loads to enable us to maintain our air-to-air functions while adding ground attack weapons. We have 6 dedicated AAM stations and currently can simultaneously carry up to 6 PGMs of 500, 1000 or 2000lb class.
The weapons load-out for such an integrated mission by 2018 will include 4 Paveway IVs, 6 Brimstone 2s, 6 AAMs, with a 27 mm Mauser and two 1000L fuel tanks and one Laser Designator Pod or LDP. This will be further augmented by the integration of SDB II and the introduction of the SPEAR next generation precision surface attack missile.
And with the ability to carry Storm Shadow or Taurus, the Eurofighter can provide for a deep strike capability as well with 2 standoff missiles and 8 air-to air missiles along with a 27 mm Mauser and 3000L conformal fuel tanks and one Laser Designator Pod or LDP.
With a heavy strike load, your primary focus is not air-to-air but of course you need to be prepared to fight your way out if needed.
It is not unknown that the air sweep, which precedes a ground attack, may not have removed the entire threat, so having the ability and weapons to fight your way out when needed is useful.
And the broad notion is really air-to-surface not just air to ground, for we are shaping a modernization strategy for maritime attack as well with both SPEAR and Marte-ER missiles integration work in progress.
Question: The engine for the aircraft is well known to be one of its key capabilities.
How does engine performance play into the modernization strategy?
Paul Smith: The engine-airframe combination underpins every aspect of fighter weapon system performance. In my experience of flying Tornado operationally, we struggled for aircraft performance when carrying a full weapon load; the excess thrust means this is never an issue with Typhoon and the engine is virtually indestructible!
There are no scheduled maintenance intervals for the engine; it has a sophisticated Engine Health Monitoring System (EHMS) that uses sensors to inform maintainers of when and what tasks need to be performed.
Experience across the whole in-service engine fleet is that the average engine time 'on wing' before initial maintenance is over 1100 hours – indeed, some of the RAF's aircraft have flown more than 1500 hrs. without the EHMS flagging up the need for maintenance.
As I noted before, the plane has a very good thrust to weight ratio.
For the engine only, it is over 9:1, giving an aircraft thrust:weight ratio of approximately 1.15:1. In broad terms, the Eurofighter and F-22 have a similar thrust to weight ratio unmatched by any other fighters.
This is enhanced as well by the low weight and large wings of the aircraft, with a resultant low wing loading. It is a very strong wing with about 70% carbon fiber composites as the baseline material.
Question: With regard to the sensors, a major shift is from your current radar, which is maximized for its air to air role to an AESA radar designed to give you a different range and variety of threats and targets.
How would you describe the change?
Paul Smith: The new Captor-E radar allows for greater capability to see and operate within the battlespace.
It provides for flexible task management with multifunctional performance and simultaneous modes for air to air and air to surface.
It provides an electronic attack capability, which complements our current EW capability on the aircraft as well as ESM, or electronic support measures as well.
The new radar will be able to leverage very effectively the new Meteor missile with its two-way data link to expand the capability of the aircraft to operate against adversary aircraft at a distance and in complex combat situations.
The situational awareness delivered by the fusion of Captor and other sensors in combination with the larger no escape zone of the Meteor should give Typhoon a significant combat advantage.
Question: Part of the modernization program is the enhancement of the infrared airborne tracking equipment as well.
How will this program integrate with the aircraft as a combat system?
Paul Smith: PIRATE or passive infrared airborne tracking equipment is designed to enhance our situational awareness and to provide for a passive multi-function track-while scan sensor.
It is designed to provide for longer-range detection and enhanced capability to track multiple threats, particularly those with a low RCS.
It will allow us to reshape our combat tactics as well in dealing with adversaries, notably when we add the Meteor missile to the aircraft as well.
Question: In effect, you are addressing Typhoon modernization, missile modernization and evolving sensor integration, including the pods, which you will add, to provide for evolving multi-mission capability.
Is it fair to say then that you are focused then on cross-cutting modernization efforts to enhance its role in the 21st century combat space?
Paul Smith: That is a good way to put it.
And we are modernizing the aircraft in a way that will make it a very good asset to work the F-35s going forward.
And as we go forward we are looking at various data link enhancements, which further enable the air, combat force.
It is a journey but one going in the right way for our customers. It is about gaining and maintaining information superiority and then leveraging that with the appropriate weapons and means to provide for combat superiority.
The way I would put it is that Eurofighter is an inherently living fighter. The platform has longevity in terms of its airframe, power plant, cockpit, avionics and autopilot. It is well positioned for weapons integration and leveraging externally mounted sensors. The airplane is capable of mature sensor fusion and we are focused on evolving the sensor management capability of the airplane as well.
Put in other terms, we are focused on obsolescence management and sustainment adaptation.
And looking forward we are looking to enhance data link bandwidth, ways to further reduce the pilot's workload through expanded automation of functions, where we become more of a "hybrid" air platform.
And in your interview with Air Marshal (retired) Geoff Brown, he highlighted the potential role of the Super Hornet as a UAV/UCAV wingman. We certainly are looking at this role as well.
Editor's Note: The photos in the two slideshows are credited to Eurofighter.
The first slideshow shows some of the core weapons integrated onto Eurofighter.
The second slideshow shows various shots of coalition Eurofighter aircraft.
In a press release from Eurofighter published on November 9, 2015 from the Dubai Air Show, Paul Smith expanded his comments made during the interview.
As Eurofighter Typhoon engages in significant global deployments delivering high levels of effectiveness and reliability, speaking at the Dubai Air Show, the Programme's Capability Manager, Paul Smith, a former UK RAF Pilot and Fighter Weapons School Instructor, today (November 9th) revealed that work on integrating major new capabilities onto the aircraft is now 'well advanced' and 'delivering promising results'.

Paul Smith said: "We are having one of the busiest Flight Test periods in the Programme's history and the integration of the enhanced weapons-mix is well advanced and delivering promising results."

He added: "Throughout 2015 we have been conducting a series of flight tests with our Instrumented Production Aircraft (IPA) working on the integration of major new weapon-systems capability with a particular focus on both Storm Shadow and Meteor missiles.

At the same time, the Eurofighter continues to deliver effective and proven air power in both the Middle East and the Baltic States. This is a dynamically challenging and exciting time for the Programme, with its weapon system capabilities continuing to grow."

Central to this last month's capability enhancement work on the Eurofighter Typhoon has been flight testing for the P2E Programme – the Phase 2 Enhancement Capability Update which introduces a broad range of capability enhancements to the aircraft.

As well as the Storm Shadow and Meteor missiles, there are enhancements to the radar, DASS (defensive aids sub-system) and other avionics which will enhance the aircraft's lethality and survivability across all roles.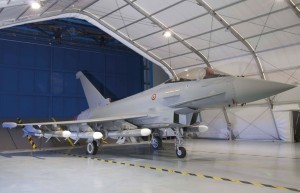 Smith said: "The testing regime over the last few months has been relentless, and IPA6, a BAE Systems-based Eurofighter Typhoon, made the first flights with the new software and completed the 5th Meteor missile firing. Flight test of multiple enhancements to the integration and functionality of the Laser Designator Pods (LDP) has primarily been carried out by flight test engineers and aircrew from Airbus Defence and Space, Germany.

IPA6 has since been joined by Finmeccanica-Alenia Aermacchi's IPA2 as work on the integration of Storm Shadow continues."

The effects deliverable by both weapons are enhanced by the high-kinetic characteristics and highly integrated sensors of the Eurofighter Typhoon.

This improves the weapons' range and gives the pilot the situational awareness to employ them most effectively.

Smith continued: "In the last week of October, in the UK, the Customer had a first opportunity to test the new P2E software for themselves through a series of typical operational Air-to-Air and Air-to-Surface scenarios.

IPA6 was joined by a number of other RAF assets (up to 8 aircraft including IPA6, tankers, co-operators and targets) to conduct Operational Assessment Testing.

The flights were conducted by pilots from the UK's 41 TES (Test and Evaluation) Squadron who gave some positive initial feedback.

This early operationally focused input enables industry to make final tweaks to ensure that the final product is tailored to customer air forces requirements."

He added: "The During November we will see further integration work with Storm Shadow, including missile releases, and preparation for the next Meteor missile firing. Airbus Defence & Space, Spain will join as the fourth Flight Test Centre as IPA4 is cleared to commence testing with a focus on Weapons System Performance and Comms. This is the entire flight test community operating together to deliver real capability enhancement."

With the P2E enhancements scheduled to be delivered to the Customer in steps between 2015 and 2017 Smith said that work is now underway on the next batch of enhancements, P3E which will enable the Eurofighter Typhoon to deploy several more capabilities including precision-guided air-to-surface weapons at fast-moving targets with low-collateral damage.

Smith told media in Dubai: "Our Phase 3 Enhancement (P3E) Programme will enable Eurofighter operators to integrate the Brimstone 2 on the aircraft and will also further enhance other existing weapons capabilities – including Storm Shadow, Meteor, Paveway IV and ASRAAM.

We aim to deliver P3E to the Customer in 2017."

He said: "Beyond P3E, our customers are currently agreeing the content and schedule of future weapon system programmes.

These will include avionic enhancements, such as MIDS JTRS, and the potential integration of other weapons such as SDB II and the Marte-ER anti-ship missile, which we know are of interest to some of our customer community. It will also see the integration of Eurofighter's new E-Scan Radar."

"Bring all these elements together," said Smith, " and it becomes clear why we talk about Eurofighter Typhoon operators having the 'Combat Edge' – the situational awareness and a suite of flexible weapons options that offer pilots a real advantage in the battlespace."
https://www.eurofighter.com/news-and-events/2015/11/eurofighter-typhoon-strengthens-capability-on-service
For a Special Report on Eurofighter, see the following:
https://sldinfo.com/a-special-report-on-eurofighter-modernization-shaping-a-way-ahead/
https://sldinfo.com/wp-content/uploads/2015/11/An-Update-on-Eurofighter-Modernization.pdf