2015-12-04 By Ed Timperlake and Robbin Laird
Recently, a Marine Corps reserve Osprey squadron participated in an exercise held in Latin America.
And in so doing, Marine Air Group 41, 4th Marine Aircraft Wing, Marine Forces Reserve conducted longest flight, 6,165 miles, in the history of the MV 22-Osprey, traveling from Miramar, Ca. to Rio de Janeiro, Brazil, and arriving on November 14, 2015.
UNITAS Amphib is held regularly, but this year's exercise was hosted for the first time by Brazil.
The nine-day multinational maritime exercise concluded Nov. 24. About 1,000 troops from Brazil, Canada, Chile, Colombia, Mexico, Paraguay and Peru participated.
The Marine reserves have a proud lineage of being part of the first to the fight in the USMC.
Historically WWI and WWII demonstrated the ability to surge the size of the Marines without losing any combat effectiveness.
A great story of WWI Marines in combat in France is told in the book The Yanks are Coming by Harry Crocker.
In developing joint tactics and fighting with French units, one of the most famous statements in Marine history was spoken. When a French officer told Marine Capt Lloyd "Josh" Williams that the situation was hopeless and he must retreat, the captain made a statement that stands as long as there will be a Marine Corps: "Retreat, hell! We just got here." 

The WW I Marines of the 5th and 6th regiments were described as being the best-trained units in the American Expeditionary Forces, "aggressive with bayonet and famously proud marksmen." According to Crocker, "Sixty percent of the entire regiment—mark this—sixty percent were college men. Two-thirds of one entire company came straight from the University of Minnesota." 

In facing the Marines at Belleau Wood, one German soldier wrote, "The Americans are savages. They kill everything that moves." 

In WW I—just like for today's Marines—fighting like they trained was a key element. The author describes the brutality of war while making a very insightful point about training. For WW I trench warfare, the Marines prepared at Quantico, Va. 

"At the newly built base at Quantico, they had drilled in muddy trenches to get them ready for the Western Front. But even Quantico's famous mud could not match the miserable lice-ridden, dank dark, waterlogged trenches of France, infested with monstrous rats that feasted on the dead and that Marines bayoneted or shot, treating them like mini-Boche.
World War two brought total U.S. Mobilization and the results of that focus changed the world for the better and when threatened, money is not the issue the linking of American willingness to fight with ever improving defense industrial combat technology will come to the fore: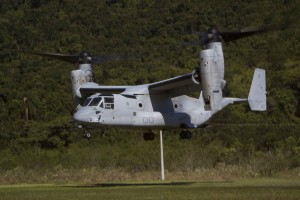 The U.S. government was willing to spend as much money as needed to win the war. The federal budget increased from $8.9 billion in 1939 to over $95 billion in 1945. The gross national product, which is the total value of all goods and services produced by the nation's economy, increased from just over $90 billion to almost $212 billion.
The total amount of war materials produced by 1945 was staggering.
U.S. factories had made 296,000 warplanes, 86,000 tanks, 64,000 landing ships, six thousand navy vessels, millions of guns, billions of bullets, and hundreds of thousands of trucks and jeeps. U.S. production alone had exceeded the combined production of the Axis powers. The Axis was comprised of Germany, Italy, and Japan.
The fielded warrior results for the Marine WWII surge is evident when the Corps went for 19,432 serving in 1938 to 474,680 active and reserve Marines by 1945, including 132 Aviation Squadrons.
Just as America can mobilize, getting out of uniform in peacetime is also a treasured goal of certain individuals.
Some totally leave; others stay in the reserves.
The surprise outbreak of the Korean War highlighted this factor in American military preparedness.
One of the greatest and most profound books on the American way of war captured this dynamic:
"A nation that does not prepare for all the forms of war should then renounce the use of war in national policy. A people that does not prepare to fight should then be morally prepared to surrender. To fail to prepare soldiers and citizens for limited, bloody ground action, and then to engage in it, is folly verging on the criminal."

It was the harsh reality of the "ready set go" unexpected War in Korea that made the Marines focus on insisting on combat readiness by their reserve. The lesson never to be forgotten was written in blood at the Frozen Chosen:

"The ranks of the Marines were now diluted with reservists, at least 50 percent. Few of them were mentally prepared to fight, or physically hardened to war. Inch'on, luckily, had been easy. But now, on the frozen hills above Yudam-ni, the Marines, regular and reservist alike, faced reality. Because their officers were tough-minded, because their discipline was tight, and because their esprit—that indefinable emotion of a fighting man for his standard, his regiment, and the men around him, was unbroken—weak and strong alike, they would face it well."
The Vietnam War provided another example of the role of reserves. USMC reserves were not mobilized as units. Rather President Johnson established a very ineffective, and less politically upsetting way FOR HIM, in sending reinforcements into established units engaged in combat. Essentially for most Vietnam Veterans after the initial surge and ultimate unit withdrawal was simple; you went alone and comeback alone and it was awful.
However, for the Marine Reserve units, especially those with the need to keep flying skills current, the returning Vietnam Combat Pilots found a real home. They could pursue their civilian education and career goals while still doing what they truly loved — flying with fellow Marines.
For almost two decades the Marine reserve squadrons had many combat veterans.
Two units come to mind in 1973 both stationed at NAS South Weymouth, outside of Boston. HML-771 flying UH-1Es and VMA-322 flying the A-4E.
Reserve pilots especially enjoy living in Flight Suits on Drill Weekend, but when the two Squadrons formed up in their Service Dress Greens wearing their combat ribbons, there were many, many Air Medals, Distinguished Flying Crosses, Bronze and Silver Stars and a significant number of Purple Hearts especially in HML-771.
They were a combat force in being that had significant combat skill.
However, another factor was the reserves had older T/M/S equipment than full-time active duty Squadrons.
VMA-322 had A-4E vice the A-4M, HMl-771 had UH-1E vice two engine UH-1N. The logistics supporting various T/M/S upgrades was a consideration. But when there was a generational shift, brand new aircraft, it created some interesting ready/reserve "total force" contingency planning requirements.
For example, because the USN/USMC Middle East Sea Services had F-4 parts on station the Andrews Reserve Squadron VMFA-321 Hells Angels were assigned the mobilization requirement to immediately fly to the Middle East in the event of hostilities.
The WWII CO of VMFA-321 was a former Flying Tiger so that the linage of being capable of flying and killing was the hallmark of all the Hells Angels aircrews, anytime, anyplace.
Because, the active duty squadrons were transitioning to the F/A-18 for a period of time, only F-4 parts were prepositioned. For example, if Saddam Hussain had invaded Kuwait in 1987-1988, the reserve Squadron VMFA-321 would have been sent into battle.
As time went on for Marine reserve aviation, from the ending of the Cold War, reserve units kept combat ready.
Flying requirement minimums made no distinction between reserves and regular, and as the current Osprey Operation proves, they are a highly skilled flying force in readiness.
VMM-764 (Moonlighters) is a reserve squadron (part of Marine Air Wing 4) and is based in Miramar.
What made their participation unusual was that in the absence of a ship to assist in transiting to the exercise, they took off from Miramar and flew 6,165 miles to Rio de Janeiro.
The Osprey squadron made a five-leg flight that included stops in Trinidad and Tobago, and Brazil.
Originally they started with four Ospreys but arrived with three along with their KC-130J tanker and logistical support aircraft.
Pairings of KC-130Js with Ospreys is the normal operational approach to longer range Osprey flights.
This flight follows the pioneering efforts of the SP-MAGTF efforts, which were first evident in the operation from Moran, Spain to Juba, South Sudan in January 2014 to evacuate US embassy personnel out of the country on an emergency basis.
During her visit to Morón de la Frontera Air Force Base in Spain to SP-MAGTF just prior to the Juba mission, Murielle Delaporte discussed the pairing of Ospreys with KC-130Js with the ACE Commander, Lt. Col. Freeland.
"Both the MV-22 and KC-130J have worked together before in the past, but the way we are teaming them here is a little different: I think one of the best analogies is the tank-infantry team concept," said Freeland. 

We now share the whole mission together: It is shared mission management, shared functional responsibilities within the same flight. 

Such a change is not overly difficult, but it is different, and we are expanding tactics, techniques and procedures to leverage the unique capabilities of each airframe. 

You have, on the one hand, one V-22 aircraft going a distance, a good one but nothing incredible—let's say 350 miles—and land vertically anywhere, and you have, on the other hand, one KC-130J which can fly thousands of miles, but [has] to land on a runway. 

Now you put the two of them together, and you can take this team thousands of miles away and land anywhere. 

This is a very significant paradigm change.

We bring agility and task-organized the Ground Combat Element to go anywhere we need to quickly.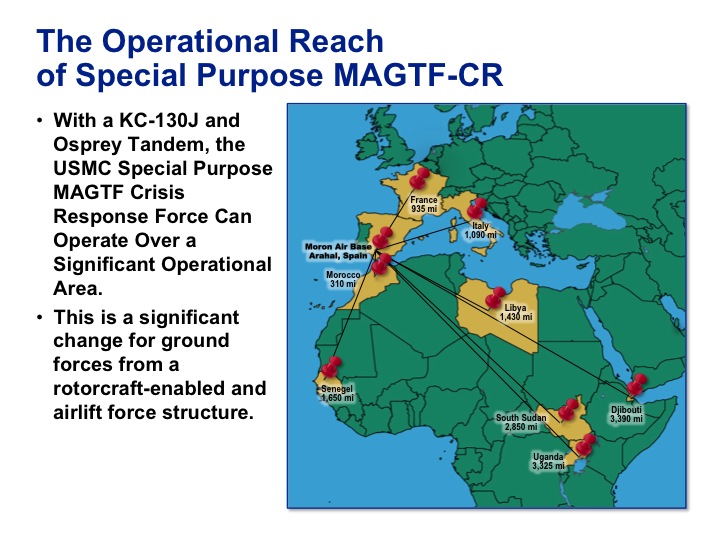 And the pairing has demonstrated in practice its significant impact on humanitarian assistance and disaster relief missions.
For example, in the wake of the recent Philippine disaster relief effort, the Marines were able to be first on station to start the effort and support putting in place the infrastructure to ramp up relief efforts.
Having integrated capability for the point of the spear is crucial and the Osprey clearly functions as the tip of the tip of the spear for rapid insertion. 

As one senior Marine put it: 

1st MAW had Ospreys and Hercs in Tacloban about 72 hrs after the storm passed. And I am not talking just about people on the ground but real, self-sustaining capability to move the mountains of relief supplies to where it was needed and where nothing else could get the job done so effectively. 

There is no question it is a just a small effort against an immense catastrophe but the combination of rapid deployment and true capability is a crucial part of getting the response in play. 
And going a long distance with speed and reach provides a rapid insertion capability, but the flexibility of the Osprey means that upon arrival the force can operate throughout the Area of Interest rather than waiting for the infrastructure to show up in order to operate.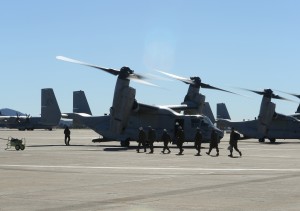 We had a chance to talk with the squadron CO, Lt. Col. Greg Gehman, by satellite phone from Brazil on November 20, 2015 about the experience and the challenges of executing such a long-range operation as well.
Lt. Col. Gehman is an F-18 pilot who has become the CO of the first reserve Osprey squadron.
Question: What is the core focus of the exercise?
Lt. Col. Gehman:
Lt. Col. Gehman: We are working together with partner nations to hone our skills to bring together our capabilities to work together rapidly when the demand is there to do so.
The Mexicans brought an amphibious ship and we have flown in to demonstrate a unique capability to join efforts in a Humanitarian Assistance/Disaster Relief exercise.
Question: We know that the Brazilians are looking to expand their at sea operational capabilities.
What has been their reaction to the Osprey?
Lt. Col. Gehman: It has been very positive.
The speed and range of the Osprey is attractive to Brazil given the immensity of the country and the diversity of conditions in which their forces need to operate.
It is an unusual platform and still gets its share of stares when it takes off and lands.
Question: Could you describe the effort by the Reserve squadron to get ready for the mission?
Lt. Col. Gehman: It took a lot of planning and as you know as a former reserve officer, there is the challenge of being able to coordinate the planning and preparation with personnel who are available part-time.
Unlike the regular forces, not everyone you need is always there.
So there is a lot of work to coordinate schedules for the planning cycle to get ready for the mission.
We flew with a mixed active and reserve crew for the mission.
We started with 4 Ospreys, 3 KC-130Js and one KC-130T where the latter provided tanking as well as logistics support.
We had about 20 maintainers and some pilots onboard the KC-130T to support the mission.
Overall, we had about 60 people involved with the transit operation.
Question: Obviously, the KC-130Js are a key part of the effort. How would you describe their role?
Lt. Col. Gehman: Obviously, they provided the necessary air-air-refueling, but they also provided needed logistical support, as well as carrying backup personnel for the Ospreys in case they were needed.
The KC-130 crews have extensive international flying experience which was very helpful to our squadron.
Question: The Osprey is just now reaching its 10th year in service.
What does this mission show?
Lt. Col. Gehman: We are a reserve squadron.
And we have demonstrated that a reserve squadron can operate the aircraft at great distances to execute our mission.
This is an important benchmark for the future.
We also have contributed to the lessons learned with operational realities:
What are we capable of doing and what makes the most sense to do?
How can we best operate the aircraft in real world conditions?
We flew the aircraft to Brazil because no ship was available at the time to transport us down to Brazil for the exercise.
Being Marines, we found a way to get there.
We are capable of transiting long distances in a short period of time given the right kind of maintenance and logistical support.
An MV-22B Osprey from Marine Medium Tiltrotor Squadron 764, 4th Marine Air Wing, Marine Forces Reserve, lands to disembark partner nations onboard during UNITAS Amphibious 2015 at Ilha do Governador, Brazil, Nov. 17, 2015. . (Photo taken by U.S. Marine Lance Cpl. Ricardo Davila/ Released)
Question: Every platform has its strengths and weaknesses.
What are the Marines and partners and allies seeing as the sweet spot for this platform?
Lt. Col. Gehman: What is being widely realized is that the speed at which the aircraft can transit from the pickup zone to the landing zone is very unique.
We can insert and extract Marines much more rapidly and at greater distances than ever before.
It is a shock and awe capability.
With the Osprey we can reach out and smack the enemy quickly, yet at the same time we can reach out and help people in need rapidly.
We usually focus on hitting the enemy hard and fast.
In the current exercise, we're showing people we can reach out to help them real fast in a Humanitarian Assistance/Disaster Relief scenario.
The KC-130 and Osprey combination bring another key capability.
If we can get the KC-130 to a remote air strip, but not to a more difficult remote location, we can transfer personnel/cargo to to the Osprey for that final leg, ultimately expanding our reach to a much greater range and environment.
Editor's Note: The Osprey has reached its 10th year in the USMC.
The Ospreys first came to the reserves in 2013.
The reserves are known for their approach to innovation as well and now their contribution, as seen in the current Brazil exercise, will take forward the learning within the Osprey nation. 
The ten-year roll out of the Osprey in numbers has been as follows:
Osprey Deliveries to USMC
2005
16
2006
12
2007
13
2008
14
2009
17
2010
23
2011
28
2012
31
2013
33
2014
30
2015
18
 Totals
235
In terms of squadrons, 2nd MAW was stood up first with Ospryes, and then 3rd MAW and then 1st MAW with 4th MAW having received its first Ospreys in 2013.
Squadron Standups Based on Full Mission Capable:
VMM-263: 2006 (New River)
VMM-162: 2007 (New River)
VMM-266: 2007 (New River)
VMM-261: 2009 (New River)
VMM-365: 2009 (New River)
VMM-264: 2010 (New River)
VMM-161: 2011 (Miramar)
VMM-166: 2011 (Miramar)
VMM-165: 2012 (Miramar)
VMM-561: 2012 – Disbanded – 2012
VMM-265: 2012 (Okinawa)
VMM-163: 2013 (Miramar)
VMM-262: 2013 (Okinawa)
HMX-1: 2014 (Quantico)
VMM-363: 2014 (Miramar)
VMM-268: 2015 (Miramar)
Future Squadrons:
VMM-764: 2016
VMM-364: 2016
VMM-164: 2017
VMM-774: 2018
VMM-362: 2019
VMM-212: 2020