2016-01-26  The Indians have developed and are building their own fighter aircraft in the form of the Tejas aircraft.
According to the Indian Aeronautical Development Agency:
India's Light Combat Aircraft (LCA) together with its variants, is the smallest and lightest Multi-Role Supersonic Fighter Aircraft of its class.
This single engine, Compound-Delta-Wing, Tailless Aircraft is designed and developed by ADA with HAL as the principal partner along with DRDO, CSIR, BEL, DGAQA, IAF & IN to meet diverse needs of the Indian Air Force (IAF) and Indian Navy (IN).
The Indians have brought their aircraft to the Bahrain Air Show where it has flown outside of Indian air space for the first time.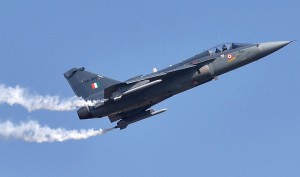 According to an article in The Indian Express updated on January 22, 2016:
In a first, the government has decided to field indigenously developed combat aircraft Tejas for the fourth edition of Bahrain International Air Show (BIAS).

To be held from January 21-23, BIAS will also see participation of Pakistan's JF-17 fighter produced with Chinese help. India will also send IAF Sarang helicopter display team that flies indigenous Dhruv helicopters and DRDO's airborne early warning and control platform.

Defence ministry sources said the decision to send two Tejas aircraft to BIAS was "taken at the political level".

"We were told to work on sending the Tejas," an official said.

The team is to leave Bangalore on January 5 and halt at Jamnagar, followed by a stopover at Muscat for refuelling before arriving at Bahrain's Sakhir Airbase. 

The decision to field Tejas is being seen as a bold move as its performance would be analysed by aerospace professionals from across the world. Pakistan's move to send JF-17 is likely to lead to a comparison between the two.

"We don't want a scenario where Tejas is pitched against the JF-17. They are two different aircraft at different stages of development and cannot be compared," a Tejas test pilot said. JF-17 Thunder was co-produced by Pakistan Aeronautical Complex, Kamra and China's Chengdu Aircraft Industry Corporation.

It has been flown by Pakistan Air Force since 2010. Tejas has not been inducted into IAF so far. It has been developed by Aeronautical Development Agency (ADA) with HAL and DRDO. After receiving Initial Operational Clearance in December 2013, Defence Minister Manohar Parrikar handed over the aircraft to IAF last year.

ADA is hoping for a Final Operational Clearance (FOC) this year, which will lead to Tejas being operationalised in IAF. ADA sources said LSP-3 and LSP-4 of Tejas have been prepared for BIAS, one for flying duties and the other for static display. But test pilots flying Tejas are apprehensive.

"We have problems with the undercarriage. A short-term solution has been found for this trip but it's not a permanent answer," a test pilot said…..
The Economic Times set the stage for the air show appearance in an article published on January 1, 2016.
Besides the fighter and naval version of Tejas, India will also showcase state-of-the-art airborne platforms and associated sensors and communication systems designed and developed by DRDO.

During the Bahrain International Airshow, being held at Sakhir Airbase, Bahrain from January 21-23, DRDO along with some of its production partners is displaying India's strength in advanced defence technology areas, with the aim of exploring the potential of exporting these advanced systems to friendly countries in the region, an official statement said.

The show will witness flying demonstration of the 'Tejas', the 'Four plus' generation and highly cost effective fighter aircraft, it added.

The Indian Air Force plans to acquire 120 Tejas aircraft, with 100 of them having major modifications to its strike, radar, and mid air refuelling capabilities.

Though the DRDO has developed a naval version of the Tejas, the Navy is seeking a much stronger engine beside ..
And finally, in an article by Craig Hoyle of Flight Global published on January 25, 2016, the way ahead for the aircraft is discussed.
"The LCA has been [made ready for production], and this year we will see an additional number of aircraft entering into [Indian air force] service," says HAL chief executive R Kaveri Renganathan. "We are currently ramping up production – any export order, we would be ready to dovetail," he adds.
Production of the Tejas will rise to seven units this year and eight in 2017, before doubling to 16 the following year.
The latter advance will be made by building the Mk1A version of the fighter, which introduces numerous production and system enhancements over an initial batch of 20 jets. India plans to acquire 100 examples in the improved standard.
Also speaking at the show, Aeronautical Development Agency programme director C D Balaji notes more than 3,000 flights have been made by Tejas aircraft, and the air force has received its first production example.
"It is a parallel process between test and evaluation and production," he says, while adding: "there is a significant amount of maturity."
The engines for the Indian aircraft are being built by General Electric.
The latest engines for these aircraft will be the F-414 engine.
In an article published last year, Jane's Defence Weekly discussed the new engines for the aircraft.
India's Aeronautical Development Agency (ADA) will receive the first of eight General Electric F414-GE-INS6 engines for the Mk 2 version of its Tejas Light Combat Aircraft (LCA) by the end of 2015, officials said.

The F414 engine, which generates 90-98 kN thrust, will replace the LCA Mk 1's General Electric F404-GE-IN20 powerpack, which generates 80-85kN thrust.

The Indian Air Force (IAF), which has 40 single-engine LCA Mk 1s on order from Hindustan Aeronautics Limited (HAL), maintains that the F404 engine constricts the fighter's manoeuvrability, angle of attack, and weapons load.

The F414 engine was designed for the Boeing F/A-18E/F Super Hornet, but has become the engine of choice for growth versions of the Swedish JAS 39 Gripen, and the Tejas.

Selected over the Eurojet EJ200 engine in 2010-11, it will eventually also power the navy's LCA when it enters service in several years, programme director Commodore C D Balaji (retd) told IHS Jane's on 8 July.

Until then the F404 engine will power LCA (N) prototypes and limited series production (LSP) platforms, he said.
In the video below, after the F-22 flight concludes, the Tejas takes to the air at the Bahrain Air Show, 2016.