2016-02-12 by Senior Airman Alex Fox Echols III
It is a given that no aircraft leaves the ground unless it is working properly.  But that challenge is multiplied here during the three-week Red Flag 16-1 exercise. Hundreds of aircraft maintainers assigned to flying squadrons from around the world work long hours to ensure all training sorties are executed safely and efficiently.
Maintainers are the lifeblood of the flightline, and with almost 80 planes taking off twice daily during Red Flag, they have their work cut out for them. It is their primary duty to keep everything running safely and ensure every mission essential aircraft leaves the ground and returns safely.
"Anytime we take aircraft on the road we face challenges because we're away from our facilities and our normal lanes for parts and supplies," said Capt. Matthew Goldey, 95th Aircraft Maintenance Unit officer in charge, Tyndall AFB, Florida. "This exercise is pretty accurate to what you would see downrange. This is about as real as it gets and this is how we fight."
Red Flag 16-1's training is centered on readiness through completing combat-realistic missions in a contested, degraded, operationally-limited environment. Despite these challenges, the participating maintainers are managing to come together as a team to take care of daily maintenance operations and each other.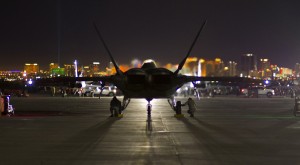 "There is no one out here saying, 'that's not my job.' Instead it's, 'What do you need? Okay, let's get it done. This is broke? Okay, let's fix it.'" said Master Sgt. Marc Neubert, 325th Aircraft Maintenance Squadron first sergeant from Tyndall. "That is one of the coolest things that I have seen so far."
Red Flag brings diverse units and countries together from all over the world and across the services. One thing they all have in common is the need for experienced maintainers to take care of their fleets.
"It's a satisfying feeling to know that I'm part of a bigger picture and that I am making a difference," said U.S. Navy Petty Officer 3rd Class Christian Gonzalez, VAQ-138 plane captain, Naval Air Station Whidbey Island, Washington. "I'm really enjoying learning the way the different branches do their maintenance and it's very interesting to see the different aircraft."
Total Force Integration is a key component of training during Red Flag 16-1. Capt. Goldey is a U.S. Air Force reserve officer from the 44th Fighter Group, Tyndall AFB, but during the exercise, he is imbedded in the 95th AMU as the officer in charge.
"We are one unit, and we are totally integrated," Goldey said. "There is no us and them anymore. We're all one team. We all wear the same uniform and we're all out here to accomplish the same mission."
There is a loss of knowledge and continuity when active duty Airmen rotate from a base and new ones come in. The U.S. Air Force alleviates that problem through Total Force Integration with the Air Force Reserve and Air National Guard.
"A TFI unit brings continuity to the active duty force," Goldey said. "Being in the reserve you have the opportunity to hang around in a particular location longer than most active duty members so we bring some continuity and experience to the fight."
While most maintainers are not working directly with the other units outside their organization, the augmentee Airmen fueling the aircraft for the exercise are the exception. They work with most of the units on the flightline.
"We have really good comradery with everyone," said Airman 1st Class Alexis Aragon, 7th Logistics Readiness Squadron fuels specialist, Dyess AFB, Texas. "Fuels is the lifeline of every aircraft, and without fuel these aircraft can't go anywhere. I love it because I know we're helping get the mission done, and I'm glad we augmentees could come out here from different bases to help do that."
During exercises like Red Flag, the maintainers are able to shed any weight they may carry during normal operations at their home base, like special duties and office work, and just concentrate on their main objectives.
"Our Airmen are 'killing it' right now," Goldey said. "Out here on the flightline it's total mission focus. Out here it's just about putting planes in the air. Anytime you get an opportunity to do that, it is great."
With the collaboration between military branches and multiple units from around the world along with the Total Force Integration, the maintainers of Red Flag 16-1 know they have an entire flightline backing them up.
"I have learned here that you have to support one another," said Staff Sgt. Matthew Brown, 44th Fighter Group weapons loader form Tyndall. "You have to consistently do what you can to make sure everyone gets what they need to accomplish the mission."