2016-05-21 The F-35 has already worked with the Aussie A330MRTT known as the KC-30A at Edwards.
Now the RAF has flown its Voyager to Pax River to work with the F-35B as well.
Both the F-35 and the KC-30A are being bought and operated by multiple allied air forces, and will bring a fleet perspective to managing and modernizing these twenty-first century air systems.
In an interview with Air Vice-Marshal Gavin Turnbull, Air Commander Australia, the impact of doing so was discussed from the RAAF perspective.
Question: With regard to Australia in your region, you have acquired or are acquiring a number of pieces of equipment, which your neighbors are buying as well, such as KC-30A tankers, F-35s and P-8s.

How does common acquisition affect your partnerships in the region as well?

Answer: This is a work in progress but flying similar platforms does open the opportunities for more joint work as well, and we have seen this already with regard to KC-30A and P-8.

Once we start operating all of the new capabilities in the region, we will start to see a lot more collaboration.

This falls into what I call the 80/20 split; you buy a good asset that can give you 80% of what you want; what you can do working with allies and partners is share the experience and the cost to get that additional 20% of capability in collaborative framework.
According to a press release provided by the Joint Program Office on May 20, 2016 concerning the testing going on at Pax with regard to the Voyager and the F-35:
The U.K. Royal Air Force recently deployed a Voyager tanker to U.S. Naval Air Station Patuxent River in support of Lightning II (F-35B) Air-to-Air Refueling trials. The RAF Voyager is a modified Airbus A330-200 that conducts aerial refueling.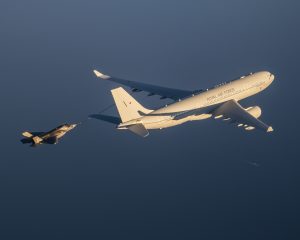 The Voyager is scheduled to perform 20 test flights and has successfully completed five to date, with the final flight scheduled by mid-June.
The test trials will include a number of aerial flights to assess both the Voyager's wing pods and the fuselage refueling unit, which serves as the aircraft's main refueling point. The test flights will collect data which will result in F-35B refueling certification later this year. 
This flight clearance will support U.K. Lightning II Initial Operating Capability (IOC), and the re-location of 617 Squadron to Royal Air Force (RAF) Marham during 2018.
The U.K. has 19 personnel embedded within the F-35 Development Test Program at Patuxent River, many of whom are set to embark on a U.S. Marine Corps amphibious vessel later this year for the third and final set of Development Test Sea Trials for the F-35B, ahead of the U.K.'s own F-35B Ship Integration trials, which are scheduled to take place on board HMS Queen Elizabeth in 2018.
The F-35 will make its U.K. debut this summer at the Royal International Air Tattoo and the Farnborough International Air Show.
For more information on the A330 Voyager tanker/transport, visit the following site: http://www.raf.mod.uk/rafbrizenorton/equipment/voyagerk2k3.cfm
For more information on the RAF Marham, visit the following site: http://www.raf.mod.uk/rafmarham/
For more information on the Royal International Air Tattoo, visit the following site: http://www.airtattoo.com/
For more information on the Farnborough International Air Show, visit the following site: http://www.farnborough.com/public/?&utm_source=google&utm_medium=cpc&utm_term=farnborough%20international%20airshow&utm_campaign=Brand
According to Airbus Defence and Space:
The A330 MRTT is the only new-generation Multi Role Tanker Transport aircraft fully certified, in operational service and combat proven now.
The A330 MRTT uniquely offers military strategic air transport as well as superior air-to-air refuelling capabilities that have already been extensively proven in numerous real operations by current operators.
With 49 aircraft sold to 7 Major Air Forces (Australia, Saudi Arabia, United Arab Emirates, United Kingdom, Singapore, France and Korea), the A330 MRTT is the preferred tanker/transport solution for current and future needs.
For the perspective of the RAAF KC-30A test team when at Edwards earlier this year on their experience with the new tanker, see the following:
https://www.sldinfo.com/an-update-on-the-kc-30a-from-edwards-afb-clearing-the-way-for-expanded-operations/