2016-05-01  The last of the Tornado squadrons is found at RAF Lossiemouth.
During a visit to Lossie in April 2016, the Squadron Commander of XV(R) Squadron as well as members of the squadron were interviewed about the transition role and the legacy of Tornado.
The operational experience of Tornado as well as the weapons which it pioneered – notably Brimstone and its variants as well as Storm Shadow – and the con-ops associated with those weapons can clearly be found in the next evolution of the RAF.
Namely, it is the blending of weapons with air crews and support crews in the Tornado legacy can be found in the new capabilities being shaped with Typhoon and the missiles pioneered by Tornado in operations and reflected in the new what MBDA calls "fifth generation" weapons.
Tornado "thunder" is being passed on to the Typhoon and to those who use the weapons which it pioneered in combat.
But there is another heritage which can be found when you enter the hanger and see the Squadron's famous 'MacRobert's Reply' aircraft.
The photo below was shot last year at the time of the 100th anniversary of the squadron.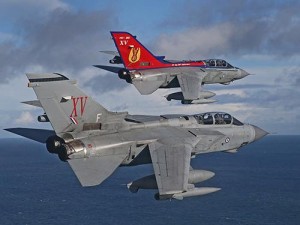 The Squadron had a Tornado GR4 especially painted for their centenary in the Squadron's famous blue and red colors.
In a special training sortie, this unique jet flew alongside the Squadron's famous 'MacRobert's Reply' aircraft.
The MacRobert's Reply story has its roots with the MacRobert family and World War II.
The three sons of Lady Rachel MacRobert and her husband Sir Alexander MacRobert were all killed within 3 years of each other in separate flying incidents; the eldest of the three was killed in action whilst on missions during World War II.
Lady MacRobert's response to her sons' deaths was to donate £25,000 to purchase a bomber for the RAF and asked that it be named "MacRobert's Reply".
This was the start of a tradition that the RAF has kept alive. A succession of RAF aircraft has since carried the name. The current "MacRobert's Reply" is a Tornado GR4 from XV (Reserve) Squadron, still identified by the cherished tail letter 'F'.
http://www.raf.mod.uk/news/archive/xv-reserve-sqn-100th-anniversary-tail-takes-off-from-raf-lossiemouth-04032015
The story is especially interesting for Americans as well because Lady Rachel born in the United States in 1884.
A fuller explanation of her life and the gift to the RAF is provided by this source found on the Free Library.
If the MacRobert story wasn't true, someone in Hollywood would have to invent it. 
The saga begins in 1854 when Alexander MacRobert was born in Aberdeen. 
Fascinated by education, he was determined to improve his intellect but, coming from a humble family, university was out of the question. Instead, when his family emigrated to Canada, Alexander chose to stay in Scotland and take night classes at Robert Gordon's College and the Aberdeen Mechanics Institute while still working full-time at a paper mill. 
Incredibly, despite his job and his studies, he still had time to meet and fall in love with Georgina Porter, who worked in another office at the mill. 
When he was offered the job of managing a woollen mill, he jumped at the chance. All he had to do was tell Georgina that the mill was in … Cawnpore, India. 
Alexander and Georgina married on Hogmanay 1883 and moved to Cawnpore. By 1888, MacRobert was wealthy enough to buy a small estate at Burnside, now Douneside in Aberdeenshire and, before long, turned it into a splendid country house. 
But MacRobert's visit to the house in 1905 was to be like no other. The heavy-hearted Scot had brought his wife home to die of cancer. 
MacRobert honoured her memory with a pounds 25,000 donation to Aberdeen University for cancer research to be named "The Georgina MacRobert Fellowship". And after his lonely return to India, he established the "Georgina MacRobert Hospital" in Cawnpore.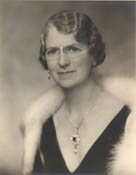 It was in 1909, four years after Georgina's death, that MacRobert met Rachel Workman while sailing home to Scotland. 
The fiesty young 25 year old was charming and intelligent – she had a BSc in Geology from London University – and her free thinking spurred her to join the suffragette movement. 
MacRobert was smitten by her and their courtship was, according one historian, "discreet and almost secretive". 
Alexander eventually proposed, but agnostic Rachel refused to get married in a church, so they were wed in a Quaker Meeting House in York on July 7, 1911. 
At the stroke of a fountain pen, American heiress Rachel Workman became Lady MacRobert. 
During their courtship, the former paper mill manual worker had been knighted for his public services both at home and in India. 
Lady Rachel brought colour and energy into the marriage. But she also brought something Sir Alexander must have thought had passed him by – children. The couple doted on sons Alasdair, Roderic and Iain. And blessed with joy at home, Sir Alexander saw his businesses enjoy equal good fortune. 
A director of six companies, he merged them to form the British India Corporation, the highlight of his career in commerce. Back in Scotland, he bought the 9000-acre Cromar estate, which bordered on Douneside, from Lord Aberdeen. 
In 1922, when he was created a Baronet, he was proud to take the title of Sir Alexander MacRobert of Cawnpore and Cromar. 
Sadly, just when he was enjoying the fruits – and accolades – of years of hard work, Sir Alexander fell ill and died … fittingly, at Douneside. 
It says much about Lady MacRobert that she agreed he should be buried in Aberdeen beside Georgina, his first love and wife for more than two decades. 
Overnight, the Scottish estates, vast investments all over the world and not least, three sons aged 10, seven and five became Lady MacRobert's responsibility. 
The boys were educated in English public schools and went on to study at Cambridge. 
In 1933, 500 guests arrived at Douneside for the coming of age of Alasdair – now Sir Alasdair as the eldest son. 
As if to give her growing sons "space" Rachel decided they could have the House of Cromar to entertain the friends they brought to Scotland. 
Aviation pioneers including Charles Lindbergh and Amy Johnson were the stars of the day and Sir Alasdair was greatly interested in their field. He had taken flying lessons in India and founded his own aviation business. 
Then tragedy struck. His promising young life was wiped out when an aircraft he was piloting crashed near Luton. 
Lady MacRobert mourned her husband's heir but didn't argue when Sir Roderic joined the RAF in 1938. 
On May 22, 1941, he led an attack on a petrol convoy in Iraq, but perished during the raid. He was buried in a Commonwealth grave in Mosul. 
The baronetcy fell to Sir Iain, just 24, who had joined the RAF straight from Cambridge as a pilot officer. 
A few weeks after taking leave to mourn his brother, Sir Iain returned to duty. His aircraft disappeared while searching for a bomber crew at sea. His body was never recovered. 
In 1953, his name appeared on the Runnymede War Memorial, unveiled by The Queen, in memory of the 20,000 airmen who have no known grave.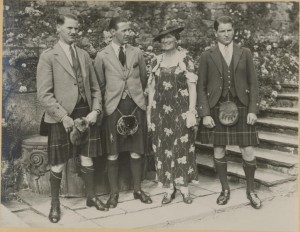 The death of Iain was a final, devastating blow for Lady MacRobert who, as well as losing all three of her sons, would now see her husband's title extinguished without an heir. 
But instead of crumbling under the strain of the tragedy, she decided it only fitting that someone else should fight on in her sons' names in an aircraft donated by her. 
In one of the most powerful and poignant letters ever penned by a grieving mother, Lady MacRobert wrote to Secretary of State for Air, Sir Archibald Sinclair: "It is my wish to make a mother's immediate reply in a way that I know would also be my boys' reply – attacking, striking sharply, straight to the mark. 
"The gift of pounds 25,000, to buy a bomber to carry on their work, expresses my reaction on receiving the news about my sons. They would be glad that their mother replied for them and helped to strike a blow at the enemy. 
"So I feel that a suitable name for the bomber would be "MACROBERT'S REPLY". Might it carry the MacRobert Crest, or simply our badge – a frond of bracken and an Indian Rose crossed? 
"I have no more sons to wear the badge, or carry it into the fight. If I had 10 sons, I know they would all have followed that line of duty." 
The chosen bomber was a Stirling of XV Squadron and in command was Flying Officer Peter Boggis who flew it bravely through many missions, including an attack on the German Navy at Brest for which he received the Distinguished Flying Cross. 
And when it crashed in 1942 at Peterhead, its replacement also bore the "MacRobert's Reply" name. And so, a great tradition was born. 
Fifteen Squadron may have changed, but its "Foxtrot" aircraft has always been a "MacRobert's Reply" – a Lincoln in 1947, a Washington in 1949, a Canberra in 1953, a Victor in 1958, a Buccanneer in 1970, and a Tornado from 1983 onwards. 
In 1993, when XV(R) Squadron moved to Lossiemouth, "MacRobert's Reply" was back home in Scotland. 
But Lady MacRobert wasn't finished after one bomber. She donated four Hurricane fighters, three named after her sons and one called "MacRobert's Salute to Russia – The Lady". Lady MacRobert also established the MacRobert Foundation and several trusts. And the House at Cromar, where her sons entertained their friends, became a leave centre for airmen. 
In 1954, Lady MacRobert passed away of heart failure, at Douneside, aged 70. 
The photos of the MacRoberts are credited to the MacRobert Trust.
http://www.themacroberttrust.org.uk/about-the-trust/gallery/
And the photos in the slideshow of Tornados at Lossie were provided by RAF Lossiemouth and are credited to them.
According to the RAF website, XV(R) Squadron is described as follows:
XV Squadron has over 280 permanent personnel, and up to 40 aircrew students at any one time, making it the largest and busiest fast jet squadron in the Royal Air Force. As the Tornado GR4 Operational Conversion Unit its main commitment is to the training of Pilots and Weapon Systems Operators before sending them onto front-line squadrons.
The Tornado GR4 is a multi role ground attack and reconnaissance platform. It is capable of performing a variety of day and night, all-weather operations. These include: Airborne Interdiction using precision ground attack munitions; Suppression and Destruction of Enemy Air Defences; Close Air Support for coalition troops; Air-to-Air refuelling and Intelligence, Surveillance and Reconnaissance. The Tornado GR4 is currently deployed on operations over Iraq in support of Operation TELIC and it is due to replace the Harrier GR9 in Afghanistan on Operation HERRICK in the summer of 2009.
XV Squadron teaches ab-initio aircrew straight from their advanced flying training at RAF Valley and RAF Leeming, as well as conducting Refresher Courses for experienced operators returning back to the Tornado GR4 following other tours of duty; additionally, XV Squadron undertakes Fast Jet Cross Over training for pilots and weapons systems operators converting across to the Tornado GR4 from other fast jet aircraft and the Squadron also trains aircrew officers from other nations Air Forces who are posted to the UK on an overseas 2-3 year 'exchange tour' flying the Tornado GR4 with the Royal Air Force.
XV Squadron also conducts post-graduate courses. The Squadron is the home to the Qualified Weapons Instructor Course, the Electronic Warfare Instructor Course and the Instrument Rating Examiner Course; each of these courses provides advanced qualifications to front line aircrew. Additionally, XV Squadron provides both aircrew and ground crew support to RAF operations around the globe when required.