2016-06-03 By Robbin Laird and Ed Timperlake
The U.S. and its core allies are transforming systems, which tend to operate separately but then networked to gain greater synergy to ones which are "" from the ground up into a seamless offensive-defensive enterprise.
In our book on the rebuilding of American military power in the context of shaping a new Pacific strategy, we highlighted the significance of shaping a new template for the synergy between defense and offense. 
With the new multi-mission systems – 5th generation aircraft and Aegis for example – the key is presence and integration able to support strike or defense in a single operational presence capability.  Now the adversary cannot be certain that you are simply putting down a marker. 
This is what former Air Force Secretary Michael Wynne calls the attack and defense enterprise. 
The strategic thrust of integrating modern systems is to create an a grid that can operate in an area as a seamless whole, able to strike or defend simultaneously.  This is enabled by the evolution of C5ISR (Command, Control, Communications, Computers, Combat Systems, Intelligence, Surveillance, and Reconnaissance), and it is why Wynne has underscored for more than a decade that fifth generation aircraft are not merely replacements for existing tactical systems but a whole new approach to integrating defense and offense….. 
By shaping a C5ISR system inextricably intertwined with platforms and assets, which can honeycomb an area of operation, an attack and defense enterprise can operate to deter aggressors and adversaries or to conduct successful military operations. 
https://sldinfo.com/crafting-an-attack-and-defense-enterprise-for-the-pacific/
(For Wynne's application of the approach to the transformation of the USAF, see the following:
https://sldinfo.com/airpower-in-the-next-two-decades-of-the-21st-century-secretary-wynne-looks-ahead/).
It is clear when you visit P-8/Triton Patrol and Reconnaissance Wing ELEVEN that the Navy is building their new maritime domain awareness capabilities from the ground up as a seamless module in a broader strike and defense enterprise.
When we visited Jax Navy recently, we started our two-day visit with a discussion with Captain Anthony Corapi, the Wing Commander (his bio is found at the end of the article).
He has six squadrons all of which have transitioned to P-8 and are in the process of integrating a Triton Squadron into the Wing. He is merging P-8 with Triton into a new approach to providing strike enabled Maritime Domain Awareness (MDA) or MDA enabled strike, whichever way the flow needs to go.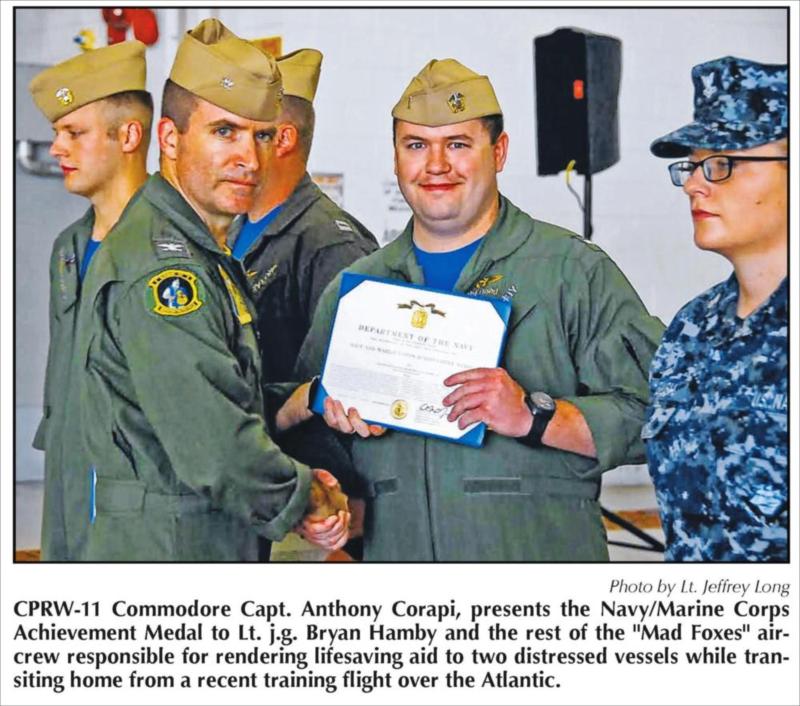 In our discussion with Captain Corapi, he discovered how the evolution of the P-8/Triton dyad was subsuming within it several of the earlier capabilities flown by the US Navy to do ASW but was doing so from the standpoint of creating a whole new digital capability, one which could be seamlessly integrated with the air and maritime forces.
It is not just a Navy asset; it is a joint and combined warfighting capability, both informed by and informing the entire force operating in the extended battlespace.
It is also clear that the US Navy by deploying the P-8/Triton prior to the F-35 is coming at the redesign of airpower for the fleet from the perspective generated by the P-8/Triton "internationally" oriented approach as well.
The P-3 community is one of the most internationally oriented of any in the US Navy; it is clear that this tradition is crucial to the P-8/Triton rollout and operation as well.
We started by simply discussing the point that the P-8 really is not a P-3 replacement.
"As I transitioned and learned how to fly the P8, I was still using like a P3.
It's hard to break 3000 plus hours of flying in a P3 and looking at it as something radically different.
I've had to even teach myself that this is not a P3 replacement.
What struck me the most when I got on board the aircraft for the first couple of flights is how it is so integrated into a network. For years the P3 was alone and unafraid.
It was really good at doing it. It had some good sensors at the time, but it's ability to be networked was very, very minimal."
And change is coming rapidly as many of the crews of the P-8 have never operated on a P-3.
"This airplane is completely different. It is much more automated, so much more. Everything is just set up so much different in the cockpit, just in particular.
We're finding that the aircrews are making that leap with really no issue.
Because there's so many young aviators now that have never seen a P3 and they're innovating from the ground up, they're learning how to fight the airplane in a completely different way."
Much like the discussion of Lt. General Davis about the F-35 as a plane for the I-Pad generation, Captain Carapi talked about how innovation was operating in the Wing.
"In my opinion, if you want innovation to really happen you got to just let it go.
You can't hold onto it.
If you hold onto it and you try to mandate innovation, you will not innovate.
These young crews, do not know what they don't know.
They are not unlearning P-3 behavior; they are shaping new behavior appropriate to the digital age."
The combat learning cycle undergone by the P-8 Wing and by the coming Triton squadrons is convergent with the software upgradeable nature of the new air systems.
All of the squadrons in the Wing are the baseline P-8.
Soon these baseline aircraft will be upgraded to Increment 3.
Increment 3 will enhance the networking and communications capability of the aircraft.
But the core point is that even the baseline aircraft is better than and different from the P-3 from the ground up and the crews are learning the skill sets for a P-8, rather than staying within the boundaries of what a P-3 can do and how it operates.
"From the beginning, the newbies are learning P-8. Now you have a generation of aviators that have never been inside of a P-3.
Actually, I try to make them go onboard every once I a while to give them some appreciation and say, 'This is where you came from. This is your heritage."
But they're learning to take this airplane in directions that wasn't even really intended to go.
I think you guys understand the acquisition strategy of the P8.
In 2005 we snapped a chalk line and we said, 'Technology, as it exists today, is what goes in this airplane.'
We'll do the spiral upgrades later.
It was a brilliant move."
He provided an example of how they operate differently.
When an operator on the P-8 sees anomalies but is not certain of what they are, the photo can be sent back at the speed of light for input.
"For example, on an ASW mission an acoustic operator looking at his displays as he's tracking a submarine, and he sees a line and he's not really sure what it is.
He wasn't briefed on that frequency. He takes a snap picture of it on his screen,
He sends it back to operators tactical operations center. He says, "Hey, I need you to take a look at this line. I wasn't briefed on it. I'm not sure if it's contact or was it something else? What is it?"
Then they're able to go do some more in-depth research because they're on the beach, he's flying. They figure out it's non-contact. And they go back to the operator and say, "It's non-contact. Disregard."
We asked him to provide more detail with regard to the Increment 3 Upgrades.
"We will have access to wideband sat communications which will give us a bigger data pipe and over the horizon reach. We will have the ability to push or communications over the horizon."
Even though the networking is getting better, they are training to operate in the electronic magnetic warfare maneuver space.
The crews are being trained to execute commanders or mission intent and not have to rely on networks to execute their missions.
In other words, they are training from the ground up to operate in denied communications space.
The dark side of being so networked is you get very used to it. You get very comfortable with the fact that I can talk to anybody, on any network, whenever I want.
 You may not be able to.
 Not just because it's denied, but also, too, for protection. In electronic maneuver warfare, you want to keep the enemy guessing as to exactly where you are.
 We're starting to go back to the future and teach these kids what it's like to take commander's intent and go out and execute with very little guidance.
 I'm getting my crews used to the fact where I'll give them commander's intent, I'll give them a pretty good brief, and then I'll turn everything off.
 I'll say, "Go. Go and operate.
 You have commander's intent."
 I want to see them think.
What is also at stake is the ability to operate in a passive sensing environment which can operate as a key force multiplier as well.
https://sldinfo.com/wp-content/uploads/2014/11/21st-Century-Approach-to-Tron-Warfare.pdf
Clearly, the ability to network with space assets is a force multiplier, but what can be missed is that the P-8/Triton, F-35, Advanced Hawkeye airborne network can provide a powerful alternative in the case of disruption of space networks.
http://spacenews.com/shaping-redundant-response-us-military-space-capabilities/
The P-8s as a multinational aircraft also brings significant expanded MDA capabilities to the allied or coalition force.
"If we are truly in a networked environment with the same type model series, built on the same backbone, with these airplanes are all talking to each other, we can have incredible situational awareness.
It's better than it was back in the height of the Cold War where it was sector ASW. Then a submarine would come out over the North Atlantic, from the Kola Peninsula, and it was handed off from one sector to another to monitor.
Now we can integrate the common operational picture over extended range. It is the reach of the COP; Not simply the range of the individual P-3, flying alone and unafraid.
We can have a layered picture across from the North to the Central Atlantic."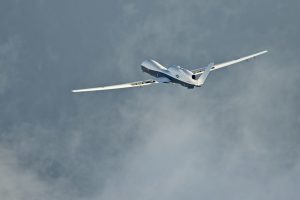 The Wing is working with the surface fleet to expand the fleet's knowledge of what P-8/Triton can bring to the surface fleet.
Indeed, a key question is emerging as fifth generation capabilities come to the fleet along with the other key software enabled and networked assets: how does the air power transformation reshape what the surface fleet can do and can contribute to operations in the expanded battlespace?
And this is not just about ORGANIC carrier airpower; it is about airpower both joint and coalition as well.
A key development will be to reshape the shooter-sensor relationship.
Rather than focusing on what weapons are carried on the P-8, the focus can be upon sensing the target and distributing the strike function.
"We will see this earliest in the ASW community as we task ASW helicopters to lay ordinance on targets.
It will take time to get used to doing that with fast jets or surface assets. But we will get there."
No platform fights alone.
With the P-8/Triton becoming a high value asset, fighter protection will be an important part of the operational experience of the evolving offensive-defensive enterprise as well.
"The P-8 is becoming an organic asset of the strike group. It is part of its combat reach and integrated into their networks as well."
Because Captain Corapi is in the process of integrating the first Triton Squadron into a P-8 Air Wing, we discussed how he saw the process of integrating P-8 with Triton as well.
He highlighted two key points.
First, the Triton will be operated by crews with P-8 experience and would represent their shore duty. Even though they will be in Jax they will operate the aircraft in the battlespace.
He saw this as important to shaping the career paths of young crewmen and officers who would not like to be stovepiped into an "unmanned career."
"It's the Starbucks generation; right. They all like choices. Truly, you have to embrace that mentality. If you look them into one career path, they'll fight it. They don't want that. They want to know they have choice. So far, that's the feedback we've been given is, hey, just let us choose."
Second, with the two systems, the various aspects of electronic warfare deployed earlier via various aircraft can be subsumed and evolved from the two platforms, notably working with the Advanced Hawkeyes and the F-35s.
The first two operational birds will be baseline aircraft, largely radar birds. They will go operational rather than going through IOT&E. After the baseline, the following birds will have ELINT capabilities built in.
And he reminded us that the Triton was an Remotely Piloted Vehicle, not an unmanned one.
When VUP 19 is full up and running, the program of record for VUP 19 is three orbits, and an orbit is 24/7 365 in an orbit; when it's up and running it will have fifth fleet, sixth fleet, and then the homeland defense East Coast orbit,
That's three orbits. The command will approach over 500 people. That's a pretty big manned command. It just means that there's no one flying it in the actual cockpit. It's just flown from a box, but it is very much a manned platform.
Captain Anthony Corapi
CAPT Anthony Corapi was born in Brooklyn, New York and graduated from The Citadel in 1992 with a Bachelor of Science degree in Civil Engineering. He received a Master of Science in Operations Management from the University of Arkansas in 2012.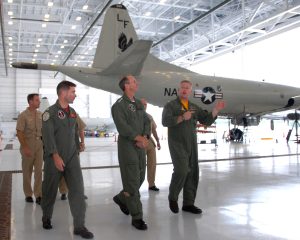 He was designated a Naval Flight officer after earning his Wings of Gold in 1993. After initial training in the P-3C "Orion" he reported to his first operational flying tour with the VP-10 "Red Lancers."
His follow-on operational flying tours include a Fleet Replacement Squadron Instructor tour with the "Pro's Nest" of VP-30, a Department Head tour with the "Screaming Eagles" of VP-1 and Command of the "War Eagles" of VP-16 and Command of Patrol and Reconnaissance Wing ELEVEN.
He also served aboard the USS CARL VINSON, CVN-70, as the Assistant Navigator.
His staff tours include J-3 Operations Directorate, Joint Chiefs of Staff; PERS-43 VP/VQ Assignments and CAPT Detailer, Navy Personnel Command; U.S. Navy Military Assistant to the DoD Executive Secretary, Office of the Secretary of Defense.
CAPT Corapi has been awarded the Defense Superior Service Medal, Defense Meritorious Service Medal, Meritorious Service Medal (2 awards) and numerous campaign and unit awards.
The first slideshow above shows the P-8 operating in Canada with the Canadians.
According to an article published on October 28, 2015 by the VP-5 PAO in the Jacksonville Air News:
The "Mad Foxes" of Patrol Squadron (VP) 5 spent the past week on the road, completing allied maritime training with Canadian military forces.

The Mad Foxes participated in Frontier Sentinel 2015, a bilateral exercise with the Royal Canadian Navy, the Royal Canadian Air Force, the United States Coast Guard, and the Canada Border Services Agency.

During the exercise, VP-5 was tasked with identifying all targets within the operational area.  The crew was able to employ the advanced sensors aboard their P-8A Poseidon to track and monitor these targets throughout the exercise.

The communications suite on the P-8A allowed the aircrew to provide the Canadian Operational Commander with near real-time information, vital intelligence needed to make tactical decisions. The coordination between the allied forces was an overwhelming success.

The Mad Foxes and their Canadian counterparts also had the opportunity to tour each country's respective aircraft: the P-8A Poseidon and CP-140 Aurora. The CP-140 is a Canadian coastal patrol aircraft based on the P-3 Orion airframe. 

AWO2 Tyler Johnson stated, "It was really interesting to see how other countries have taken their P-3s and retrofitted them to their needs, bringing enhanced capabilities to the table."

The mission commander and detachment officer in charge, Lt. Cmdr. Adam Pace, stated, "As allies, we need to continue conducting bilateral exercises that involve any and every mission set.  Whether it's national defense or humanitarian assistance and disaster relief, when our nations call each other for help – we will be able to answer that call effectively and efficiently. With events like Frontier Sentinel, we are able to continue those personal and professional relationships that lead to success while conducting our respective nations' tasking."
The second slideshow shows a visit of the CNO earlier this year to Pax River to look at some of his cutting edge airpower assets.
PATUXENT RIVER, Md. (Jan. 13, 2016) Chief of Naval Operations (CNO) Adm. John Richardson held an all-hands call, toured facilities and viewed aircraft and systems including the MQ-4C Triton unmanned aircraft system and F-35C Lightning II carrier variant joint strike fighter and the E-2D Advanced Hawkeye.

(U.S. Navy photo by Mass Communication Specialist 1st Class Nathan Laird/Released).
For a look at a similar process of establishing a software baseline and then doing spiral updates, followed by the Aussies with regard to Wedgetail, see the following:
From "Troubled" to Trailblazing Program: The Wedgetail and 21st Century Combat Innovation