2016-08-31 According to a Press Release from the F-35 Joint Program Office dated August 22, 2016, the F-35 is ramping up its weapons testing.
The F-35 Integrated Test Force (ITF) at Edwards Air Force Base, California, recently completed 25 missions comprising of 12 Weapons Delivery Accuracy (WDA) and 13 Weapon Separation Tests as part of a month-long weapon's firing test surge.
Historically, WDAs take place once a month given the myriad of coordination required.  The highest number previously accomplished in a month, was three in November of 2014 during 2B software testing.
These successful test events — performed using the F-35's newest block 3F software — demonstrated the accuracy of the F-35's.  Five of the test events featured dropping multiple weapons. 
The F-35 weapons test team was given exclusive use of the Sea Test Range, an instrumented Pacific Ocean test area off the central coast near Point Mugu Naval Air Station, California.  Tests were also conducted at the U.S. Navy's China Lake Weapons Range, California and the White Sands Missile Range, New Mexico.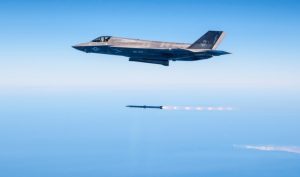 During this unprecedented surge period, a total of 30 weapons were dropped or fired, including the Joint Direct Attack Munition, AIM-120 Advanced Medium Range Air-to-Air Missile, GPS-guided 250-pound Small Diameter Bomb, AIM-9X Sidewinder air-to-air heat-seeking missile and GPS/laser-guided munition. 
"The WDAs rely on the full capability of the F-35 — multiple sensors, navigation, weapons envelope, mission planning, data links and inter-agency range scheduling — all working in sequence to put steel on target," said Lt. Gen. Chris Bogdan, F-35 Program Executive Officer. 
"This was a tremendous effort by the F-35 test team.  They surged and worked seven days a week for more than a month to expend 30 ordnance and advance weapons testing.  This testing has moved us that much closer to delivering the full F-35 capability to warfighters within the next two years."
And a USMC press release added the following:
Three F-35B aircraft and 75 U.S. Marines from Marine Operational Test & Evaluation Squadron 1 (VMX-1) F-35B Detachment at Edwards Air Force Base , CA, along with 21 test personnel from the JSF Operational Test Team at Edwards deployed to Eglin AFB, FL., from August 9 to September 1, 2016 to complete Operational Test missile shots of the AIM-120 Advanced Medium-Range Air-to-Air Missile (AMRAAM).
These employment scenarios differed from those conducted in Developmental Test in that they were specifically designed around operational employment scenarios with the aim of further validating and developing tactics, techniques, and procedures for all three variants of the F-35.
"Due to the commonality of the F-35 mission systems and weapons, everything we learned during this detachment directly translates to combat capabilities for the Marine Corps, our sister services, and partner countries," Lt. Col. Richard Rusnok, VMX-1 F-35B Detachment Officer-in-Charge, said of the test missile shoot.
The detachment completed multiple engineering runs in preparation for the expenditure of five AIM-120 missiles and one Guided Bomb Unit-12 (GBU-12) LASER guided bomb. The operational test team developed complex air-to-air and air-to-ground scenarios and the F-35 weapons system performed as expected to deliver weapons on target. On day one of live fire testing, the team was able to shoot two missiles on two separate test set-ups within 12 minutes – an exceptional level of efficiency in a test environment. Another test mission involved an F-35B dropping a GBU-12 and supporting it with LASER guidance while simultaneously engaging a QF-16 drone. Both weapons successfully guided to their targets.
"This was a phenomenally successful deployment that was made possible by the close coordination between the JSF Operational Test Team, U.S. Air Force, Navy, Marine Corps and industry," Rusnok said.
During the past year, VMX-1's F-35B Detachment has been involved in multiple high profile events including:
– Block 2B, 3i, and 3F Developmental Test support
– Block 2B Air-to-Surface Weapon Delivery Evaluation
– Global Position System (GPS) testing
– A deployment to the United Kingdom in support of the Royal International Air Tattoo and Farnborough International Airshow
Upcoming events for VMX-1's F-35B Detachment include:
– Naval Integrated Fire Control – Counter Air (NIFC-CA) testing
– Developmental Test Period 3 aboard USS AMERICA
"I want to congratulate the VMX-1 / JOTT team that did a magnificent job planning and executing this OT missile shoot," Col. George Rowell, VMX-1 commanding officer said. " It is a huge achievement for the squadron and the F-35B program. We look forward to many more opportunities to provide positive impact."
Marine Operational Test & Evaluation Squadron 1 is charged with testing the full range of Marine Aviation Combat Element (ACE) Operational Test and Evaluation including MV-22, CH-53E/K, F-35B, UH-1Y, AH-1W/Z, Command and Control Systems, and Unmanned Aerial Systems. VMX-1 is headquartered at MCAS Yuma, AZ, with detachments at Marine Corps Air Station New River, NC; West Palm Beach, FL; and Edwards AFB, CA VMX-1 was formerly called VMX-22. The squadron's name changed on May 13, 2016.