2016-08-11 By Robbin Laird
Exercise Pitch Black 2016 is a three-week multi-national large force employment exercise, which is being conducted from RAAF Base Darwin and RAAF Base Tindal from 29 July to 19 August 2016.
Pitch Black 2016 is a high end combat exercise in which the RAAF air crews learn to work together and with partner nations in shaping a successful outcome.
This will be especially demanding in the years ahead as the new aircraft are either multi-mission or multi-tasking aircraft designed to support multi-dimension operations, rather than classic air-to-air or air-to-ground operations.
This means that there is a significant expansion of the aperture with which pilots will have to operate in contributing to joint operations in the extended battlespace. 
Pitch Black 2016 is, according to the Australian Department of Defence, the Royal Australian Air Force's largest and most complex exercise in 2016.
"This year's exercise features up to 2500 personnel and 115 aircraft from participating nations including Australia, Canada, France (New Caledonia), Germany, Indonesia, Netherlands, New Zealand, Singapore, Thailand and the United States.
"Exercise Pitch Black aims to further develop offensive counter air; air-land integration; and intelligence, reconnaissance and surveillance, as well as foster international co-operation with partner forces."
I had a chance to discuss Pitch Black 2016 with Air Marshal Leo Davies at the tail end of the Williams Seminar on Air-Sea integration.
Davies had just returned from engagement in the exercise and argued that in his view there were four key takeaways.
The first was that sophistication matters.
"If you shape a complex exercise, with realistic challenges, allies want to come and contribute appropriate capabilities.
This allows the entire exercise to take on a more realistic tone and enhances the training function."
The second was that the Republic of Singapore Air Force brought their I-Hawk to enhance the threat presentation for the training of blue force.
This meant that the flexible and mobile air defense system could play the role of presenting a varied threat to the ground attack missions of blue.
"The I-Hawk is providing an important contribution to complicating the threat scenario for the blue forces which enhances the realism of the exercise and the value of the training."
The third was the opportunity to insert air mobility and ground forces into the exercise, in terms of SOF as well as airlift dropping maneuver equipment to support SOF and then to use SOF to achieve objectives important to the blue force effort to degrade red air capabilities.
The fourth was that airspace matters.
It is a growing need with a shrinking availability around the world for airspace big enough to permit a modern air exercise.
"We are working on shaping interactive air packages to operate in the extended battlespace.
The sizes of our ranges which may only be matched by Alaska, allow us to work with our allies to conduct more realistic and effective tactics and strategies going forward."
Clearly, the Aussie ranges are part of the training infrastructure for an RAAF and allied defense in depth strategy or if one would like to call it that a blue side Anti-Access and Area Denial strategy.
Indeed, Major General McLachlan, head of Australian Army Modernization, actually put that concept in play at the Williams Foundation seminar on air-sea integration, where he discussed and analyzed the evolving role of the Aussie Army in the defense of Australia through what the US Army would call Air Defense Artillery (ADA) or shaping the lower tier to a missile defense system engaged with the power projection forces.
Exercise regimes are crucial lifeblood for forging real national and allied capabilities and effective and innovative approaches to move forward.
Exercises provide the opportunity to test out and enhance logistical and support approaches as well as to shape convergent con-ops where appropriate.
As Admiral Nimitz confronted the last century's challenges he concluded a core lesson for this century's Pacific warriors:
"Having confronted the Imperial Japanese Navy's skill, energy, persistence, and courage, Nimitz identified the key to victory: 'training, TRAINING and M-O-R-E  T-R-A-I-N-I-N-G.' as quoted in Neptunes's Inferno, The U.S. Navy at Guadalcanal (James D. Hornfischer)."
The US and its core allies are shaping new capabilities to deal with the various threats and challenges in the Pacific in the time of the Asian century.
Flexibility in operations and agility in inserting force with a proper calibration of effect will be enhanced as new systems come on line in the years ahead.
But these systems will have the proper effect only in the hands of skilled warriors.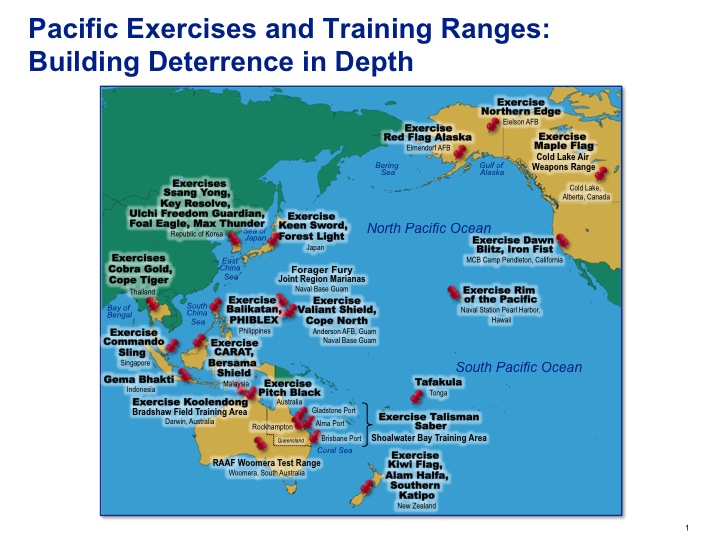 https://sldinfo.com/allied-pacific-exercises-and-training-shaping-a-deterrence-in-depth-strategy/
And clearly over time these ranges will be more effectively connected together to train for operations in the extended battlespace and the physical ranges will be augmented for virtual capabilities inserted into the training to provide the reach of the forces training together to prevail in an extended battlespace.
As Rear Admiral Manazir, then head of N-98 and now of N-9, put it in our interview last year:
According to Rear Admiral Manazir: "LVCT will enable us to train in a more robust environment than we are on our current ranges that are geographically constrained, and currently do not have the full high end threat replicated.
"LVCT will allow us to train to the full capabilities of our platforms across a variety of security environments and do so without exposing our training process to an interested adversary."
Or as the then head of Fallon, Admiral Conn put it:
I think it important to emphasize that adversary A2AD capabilities pose a serious threat not only to Navy, but to our entire Joint ability to fight and win.

Again, I think of A2AD as the proliferation of precision for potential adversaries and how this proliferation of precision effects joint forces ability to maneuver where we need to be and when we need to be there.

For me, it is about expanding the battlespace and training with regard to how to do this.
Training for an expanded battlespace means that the extensive ranges at Fallon are not enough to train to prevail in the evolving battlespace.
This is why the Navy is spearheading a broad effort to expand the envelope of training to combine live training with what is called Live Virtual Constructive training.
What is entailed is folding in red and blue assets to shaping an evolving strike integration training process.
As Captain McLaughlin, then STRIKE CO at Fallon  explained:
The current Fallon ranges – although large – are too small to train against an advanced threat, which can shoot longer than the ranges. 

We need to train to a 21st Century Plus type of threat with very long-range missiles in the mix. 

It is not about succeeding; it is about how are we going to do this with highest probability of success.

We are rolling in Live Virtual Constructive Training to provide the extenders for our operators to work in that threat environment and to reach out to other assets – Navy and joint – which can allow us to fight in an expanded battlespace.
But it is clear that the physical ranges are the key foundation to build out such capabilities.
And the Aussie range and Pitch Black are clearly foundational elements in moving forward.
For more information on Singapore's I-Hawk missiles, see the following:
https://www.mindef.gov.sg/imindef/mindef_websites/atozlistings/air_force/assets/weapon_systems/I-Hawk.html
For an earlier pieces on Pitch Black 2016, see the following:
https://sldinfo.com/raaf-exercise-pitch-black-2016-preparing-for-the-high-end-fight
https://sldinfo.com/kc-30a-working-in-pitch-black-2016/
https://sldinfo.com/kc-30a-refuels-usaf-f-16s-during-pitch-black-2016/
The Pitch Black photos in the both slide shows are credited to the Australian Ministry of Defence.
The second slideshow shows Canadians participating in Pitch Black as well as an RAAF C-17 also pictured. A Canadian C-130 is involved in the refueling of allied aircraft as seen in the slideshow.