2016-08-13 By Scott C. Truver
In early August, the USS Wasp (LHD 1) Amphibious Ready Group (ARG)––also comprising USS San Antonio (LPD 17) and USS Whidbey Island (LSD 41)––conducted AV-8B Harrier II and unmanned aircraft strikes against ISIL targets in Libya, to drive the terrorists from the coastal stronghold of Sirte.
The ready posture of the Wasp ARG in the Mediterranean compensated for delay in getting host-nation approval to fly strike operations from Italy.
The Italian government said it would consider allowing U.S. forces to launch strikes from Naval Air Station Sigonella. "The government is ready to positively evaluate any request for use of bases and air space if that would be functional to a more rapid and effective conclusion to the operation underway," Roberta Pinotti said on [2 August], according to Fox News. A day later, Italy had not yet agreed to allow U.S. offensive strikes against Libyan targets from the air base on Sicily. [ref] Sam LaGrone, "Marine Harriers Strike ISIS Targets in Libya from USS Wasp," USNI NEWS, 3 August 2016https://news.usni.org/2016/08/03/marine-harriers-strike-libyan-targets-uss-wasp?utm_source=USNI+News&utm_campaign=93dca2cfbz[/ref]
The Obama Administration has a plan to increase Navy force structure to 308 ships, up from today's 272-ship fleet. But if business as usual is the coin of the realm in the aftermath of the 2016 presidential campaign, the prospects for a 240-ship fleet in 2025 or so looks to be far more realistic. Three-hundred-and-fifty ships––as some have called out––look to be sheer fantasy.
The Nation's amphibious warships are increasingly the focus of interest. The ARG carries with it the Nation's "9-1-1 force." More often than not, it's the Navy-Marine Corps team embarked in amphibious warships that are the America's first responders, covering the spectrum of the Sea Services' engagement in the word––from humanitarian assistance/disaster relief missions to high-intensity forcible-entry ops.
How Many Are Enough?
Based on post-Cold War strategic and operational concepts, beginning with …From the Sea in 1992, the Navy identified the need for as many as 59 amphibious warships, with a core of 15 large-deck/air-capable amphibious assault ships (LHA/LHDs). This force structure would provide amphibious lift for a Marine Expeditionary Force (MEF, some 40,000 Marines and sailors) plus a Marine Expeditionary Brigade (MEB, about 16,000 Marines and sailors) in the assault echelon of an overseas amphibious assault. That "1 MEF + 1 MEB" goal soon went by the boards. Fifty-nine 'Gators simply could not be attained or sustained, in America's "Fall-of-the-Berlin-Wall/Peace-Dividend" environment.
More than 20 years on, much remains the same.
"There is a requirement for over 50 ships on a day-to-day basis, that's what…the COCOMs [combatant commanders] are asking for," General Joseph F. Dunford, Jr., then-USMC Commandant, noted at the AFCEA/USNI WEST conference/symposium in 2015. "We've got an objective of 38—that's the requirement within the Department of the Navy. We've got a fiscally constrained objective of about 33. We've got an inventory right now of 31 . . . which equates to significant readiness challenges."
"The availability of amphibious shipping remains paramount to readiness and Responsiveness," General John Paxton, Assistant Commandant of the Marine Corps, told the Senate Armed Services Subcommittee on Readiness on 15 March this year. "The nation's amphibious warship requirement remains at a minimum of 38 ships to support a two Marine Expeditionary Brigade (MEB) assault echelon (AE).
As the Commandant and Chief of Naval Operations have testified in past years, the number of vessels required to meet the steady-state demands of our combatant commanders exceeds 50 vessels.
The current inventory of 30 vessels falls short of the requirement by both measures," he continued, "and that shortfall is aggravated by recurrent maintenance challenges in the aging amphibious fleet. The current and enduring gap of amphibious warships to requirements inhibits ours and the Navy's ability to train to our full capabilities, inhibits our shared ability to respond to an emergent crisis, and increases the strain on our current readiness."
Still others have called for upwards of 54 'gators, bringing to mind 16th-Century philosopher Desiderius Erasmus who exclaimed, "Fortune favors the audacious!"
Indeed, as Dr. Daniel Goure of the Lexington Institute concluded in October 2015, "The unraveling of the post-World War II international order fairly cries out for a larger and modern U.S. amphibious warfare capability." [ref] http://lexingtoninstitute.org/dangerous-international-environment-cries-out-for-larger-u-s-amphibious-fleet [/ref]
One way to do that would be to continue with the San Antonio class––building a 13th LPD––while accelerating the next-gen LX(R) program: Audacious to be sure!
Today's Gators
The Navy's amphibious fleet in 2016 (see table) doesn't even approach the "close to 54" ships in unofficial plans: 31 ships of which the 12 dock landing ships (LSDs) are getting long in the tooth, needing replacement during the next ten years or so.
The amphibious inventory consists of the following types: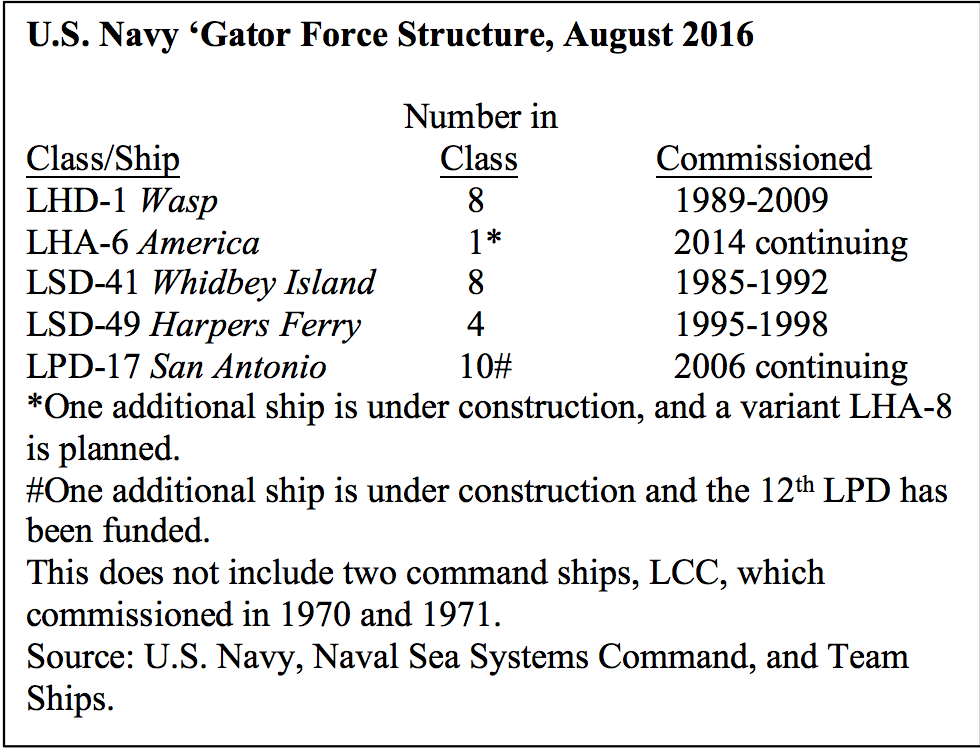 Built by Litton/Ingalls Shipbuilding (precursor to Huntington Ingalls Industries, HII), the LHD 1 Wasp class comprises eight 40,650-ton multi-mission amphibious-assault warships. The ship's primary role is to embark, land and support elements of a Marine Air Ground Task Force, providing embarked commanders with command and control capabilities for sea-based operations employing elements of a landing force.
Wasp-class characteristics include a flight deck and hangar for combinations of some 40 helicopters and short takeoff and landing aircraft––including the MV-22 Osprey, AV-8B Harrier and F-35B Joint Strike Fighter––and a well deck for air-cushioned and conventional landing craft. Each ship can embark 1,900 Marines and has 125,000 cubic feet of cargo space for stores and ammunition and 20,900 square feet for vehicles. The final ship in the class, the USS Makin Island (LHD 8), has gas turbine propulsion, hybrid-electric drive, diesel generators, and all-electric auxiliaries.
HII is building the America (LHA 6) amphibious assault ships, and the first of class commissioned in October 2015. Tripoli (LHA 7) is under construction, with delivery planned for 2019. The LHA 6 design includes the LHD 8 gas turbine and hybrid-electric propulsion plant, diesel generators, and all-electric auxiliaries, but no well deck for amphibious craft operations.
Instead, the first two America LHAs provide a significant in­crease in aviation lift, sustainment, and maintenance capabilities compared to the ships they replace and, for that matter, the LHA 8. They em­bark helicopters, MV-22 tilt-rotors, UAVs, and the future F-35B aircraft. LHA 6 and 7 have significantly increased JP-5 fuel capacity (1.3 million gallons, compared to 600,000 gallons for the LHA 8); more space to support elements of a Marine Expeditionary Unit or small-scale joint task force staff; and substantial passive-survivability upgrades.
The LHA 8, a recent Ingalls win, will modify the LHA 6 design to incorporate a well deck capable of supporting two LCAC vehicles and a reduced-island flight deck for an additional seven F-35B "spots" and a topside MV-22 maintenance spot. This will increase flight deck space, thus retaining aviation capability on par with LHA 6/7, which were optimized for aviation capability in place of a well deck.
According to Major General Christopher Owens, USMC, Director Expeditionary Warfare (OPNAV N95), Wasp is the only warship fully upgraded to support the F-35B, and USS America is receiving some modifications to enable JSF operations. USS Essex (LHD 2) will be the first big-deck amphib to undergo all the JSF modifications at once in a massive 420-day maintenance period. [ref] https://news.usni.org/2015/12/15/n95-f-35b-integration-larger-fleet-size-create-opportunities-to-rethink-how-fleet-operates.[/ref]
Commissioned between 1985 and 1998, the eight Whidbey Island (LSD 41) dock landing ships, built by Lockheed Shipbuilding and Avondale Industries, and four Harpers Ferry (LSD 49) ships, built by Avondale, operate amphibious assault vehicles, landing craft, helicopters and MV-22 aircraft. 609 feet in length, 84 feet in breadth and displacing 16,100 tons, the key difference between the LSD 41 class and the LSD 49s is that the latter are cargo variants that have significantly expanded cargo and ammunition stowage space, including 6,000 square feet of vehicle space and more than 40,000 cubic feet of cargo space, at the cost of two LCAC spots (from four to two).
The Whidbey Island class is the primary support and operating platform for LCACs and utility landing craft, and can also provide docking and repair services for other small craft. Both classes have two primary helicopter landing spots and can sup­port helicopters as well as MV-22 tilt-rotor aircraft. Neither class has a helicopter hangar, requiring aircraft maintenance and refueling on the flight deck.
The San Antonio (LPD 17)-class landing platform dock ships are 684 feet long, with a beam of 105 feet, a maximum displacement of 25,000 long tons, and a crew of ap­proximately 380. Four turbocharged diesels with two shafts and two outboard-rotating controllable-pitch propellers generate a sustained speed of 22+ knots.
Other key characteristics include 20,000 square feet of space for vehicles, 34,000 cubic feet for cargo, and accommodations for approximately 700 troops (800 surge). The LPD well deck can launch and recov­er traditional surface-assault craft as well as two LCACs. The LPD 17 aviation facilities include a hangar and flight deck to operate and maintain a variety of aircraft, including tilt-rotor and rotary-wing aircraft and UAVs.
The original mid-1990s requirement was for 27 LPDs, about half of the 'Gator requirements, but fiscal constraints reduced that to 12 ships. The class had significant and tumultuous "birthing pains," but later LPDs have enjoyed significantly better performance. Indeed, John P. Murtha (LPD 26) delivered on time, with a significant reduction in cost compared to other LPDs in the program, while enjoying smooth sailing through INSURV Acceptance Trial events: no major deficiencies. [ref] See the author's chapter, "The U.S. Navy's LPD-17 Class: 'Snake Bit' No More," World Naval Review 2016 (UK: Seaforth, 2015), pp. 104-123.[/ref]
What's Next?
The Navy and Marine Corps recognized the need to move out quickly on an 11-ship LX(R) follow-on class to the LPD 17 program as an affordable means to replace the 12 Whidbey Island and Harpers Ferry dock landing ships.
The design of the next amphibious warship––whether to start from a clean sheet of paper or use an existing ship for modification to an LX(R) configuration––was resolved on 14 October 2014, when Navy Secretary Ray Mabus decided to use the LPD 17 hull form as the preferred alternative of several that were assessed.
By selectively reducing LPD 17 requirements and de-scoping specific spaces and equipment, the service will deliver sufficient capability and capacity to meet the LX(R) mission sets using an LPD 17 derivative design with costs that are well understood.
In the meantime, to ensure future expeditionary-amphibious requirements will be met, affordably, there are advantages from keeping the "hot" LPD 17 line open by building a 13th San Antonio-class warship. Such audacity would begin the renaissance of the 'Gator navy along the lines that senior Marine Corps leaders have outlined: "over 50 ships!" And, the 13th LPD would be a critical element of the future fleet while delivering LX(R) smarter, cheaper and faster.
LPD 29 would serve as a bridge to LX(R) and reduce risk from starting a new program design. Accelerating the LX(R) ahead of the current program of record will continue the in-place production at Ingalls, retaining critical labor-learning curves and stabilizing a delicate supplier base. In addition to programmatic savings, operational benefits would accrue from delivering five ships in the same time it would take to deliver one under the program-of-record acquisition profile.
"Was I to die this moment," the audacious Lord Admiral Horatio Nelson lamented in a letter of 9 August 1798, "'Want of Frigates' would be found stamped on my heart." Two hundred and eighteen years later, one wonders whether "Want of 'Gators" would be found stamped on General Dunford's heart. Time will tell.
Dr. Truver is Director, TeamBlue National Security Programs, Gryphon Technologies. Information about ship class characteristics and capabilities gleaned from: U.S. Navy Program Guide 2015; Ships and Aircraft of the U.S. Fleet, 19th ed.; and Naval Sea Systems Command fact sheets and news releases.
We have provided comprehensive coverage on the amphibious fleet from the beginning on Second Line of Defense and the impact of the new aviation assets, namely the Osprey, the F-35B and the CH-53K.
Here are some of the many earlier pieces:
https://sldinfo.com/the-uss-america-redefining-amphibious-assault/
https://sldinfo.com/evolving-the-amphibious-fleet-the-coming-of-lxr/
https://sldinfo.com/shaping-an-amphibious-coalition-an-interview-with-brigadier-general-mahoney-deputy-marforpac/
https://sldinfo.com/the-uss-america-cvn-78-and-hms-queen-elizabeth-crafting-capabilities-for-21st-century-operations/
https://sldinfo.com/an-update-on-the-uss-america-a-discussion-with-captain-robert-hall-february-2015/
https://sldinfo.com/the-coming-of-the-ch-53k-to-the-amphibious-force-how-to-describe-a-new-21st-century-air-platform-and-its-impact/
https://sldinfo.com/combat-transformation-and-the-amphibious-force-a-pacfleet-marine-corps-perspective/
https://sldinfo.com/the-osprey-as-an-enabler-and-connector-first-landing-on-republic-of-korea-amphibious-assault-ship/
https://sldinfo.com/the-christening-of-the-america-class-amphibious-ship-the-opening-of-a-new-era/
https://sldinfo.com/the-amphibious-ready-group-arg-and-libya/
https://sldinfo.com/working-the-evolution-of-the-aussie-amphibious-task-force-mv-22-lands-on-hmas-canberra/
For a US Navy look at how the evolving amphibious fleet is having a broader impact see the following:
https://sldinfo.com/the-transformation-of-jointness-the-navy-and-marines-rework-operations-from-the-sea/
https://sldinfo.com/the-sea-services-prepare-to-prevail-in-the-extended-battlespace-an-interview-with-rear-admiral-manazir/
https://sldinfo.com/admiral-kevin-scott-reflects-on-bold-alligator-2012-shaping-a-culture-of-operating-off-of-the-seabase/
The photos in the first slideshow are credited to Second Line of Defense and show the USS Arlington at its berth in Norfolk.
The second slideshow highlights the ships in Bold Alligator 2014 which included the USS Arlington and the photos are credited to Second Line of Defense.