2016-10-14 Next week is the opening of Euronaval 2016.
Euronaval is a 5 day event being held from 17th October to the 21st October 2016 at the Paris Le Bourget in Paris, France.
Euronaval is jointly managed by the French Ministry of Defence and Secretariat of State for the Sea. It is one of the most important naval exhibitions in Europe and a very useful showcase for naval forces as well as industry.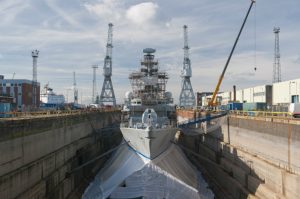 Our partner, OPERATIONNELS SOUTIEN LOGISTIQUE DEENSE SECURITE, has produced a special issue of their magazine to be distributed at the Euronaval show.
In that issue is a special section in English which highlights Australian, UK and US naval modernization.
That special section can be downloaded here for our readers:
https://sldinfo.com/wp-content/uploads/2016/10/Ops-Air-Sea-Dossier-Oct-2016.pdf