2016-10-08 By Robbin Laird
The US Navy has clearly articulated a way ahead for US and allied forces, namely to shape integrated capabilities for the distribute force able to deliver effects throughout a kill web.
The CNO has shaped a concept of the kill webs to describe the approach towards shaping a distributed joint and coalition force, which can deliver effects throughout the extended battlespace.
One of the key aspects of changes involves weapons in the kill web.
Target identification and weapons delivery will not be necessarily located on the same platform; indeed, the ability to deliver lethal effect in the electro-magnetic battlespace will be distributed throughout the kill web.
Weapons are distributed throughout the kill web and can be fired by platforms also operating throughout the kill web capable of firing weapons not carried by that platform.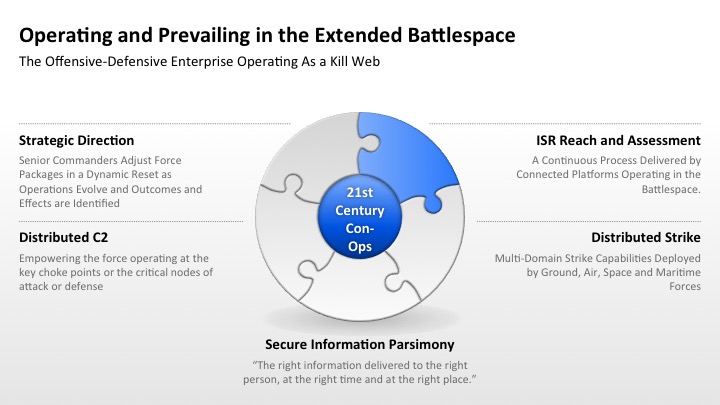 Distributed strike will become increasingly significant as well as weapons modernization accelerates and the problem of providing new capabilities to the force, a force that is distributed in operations.
What might be called fifth generation weapons can be identified as their ability to be networked and provide selectable, proportionate effects ideally at extended ranges.
On the networking aspect, it is their capability to interact with the launch platform or with the controller in the battlespace, which can be another platform in the battlespace.
It is interactivity with the strike command elements deployed in the battlespace and an ability to operate with strike agility, which characterizes the fifth generation platform.
The challenge is integrate weapons within the kill web, to ensure that weapons are not simply fired from a close proximity source but can be used by the decision authority most capable of identifying and killing a threat.
As Rear Admiral Manazir has put it:
"C2 is ubiquitous across the kill web. Where is information being processed?
Where is knowledge being gained?
Where is the human in the loop?
Where can core C2 decisions best be made and what will they look like in the fluid battlespace?
The key task is to create decision superiority.
But what is the best way to achieve that in the fluid battlespace we will continue to operate in? What equipment and what systems allow me to ensure decision superiority?"
With regard to weapons, this means ensuring that the weapons capability is in keeping with the evolution of the sensors and command elements in the kill web.
MBDA is currently making significant progress with two such weapons, the Meteor air-to-air weapon and the SPEAR 3 air-to-ground weapon. Both of these weapons have interactive data links and the capability to shift from a particular weapons platform, which launched it to another platform able to direct the target path.
Another core characteristic of what can be considered fifth generation weapons is that they are software upgradeable weapons, which are redesigned as both technology and combat performance evolve.
SPEAR 3 and Meteor are software driven, each can be enhanced further as lessons are learned or the threat evolves alongside their host platforms
These weapons can be carried by fifth generation aircraft which solves a problem identified by former Chief Air Force Scientist Mark Lewis: "Why are we putting 3rd and 4th generation weapons on 5th generation aircraft?"
Indeed, at the recent AFA annual conference, the ACC Commander, Hawk Carlisle, was asked that question and underscored that indeed this was a significant problem and one on which the USAF is working on.
MBDA's approach has been to build its latest weapons to be useable by a variety of air platforms, including fifth generation ones, so that the flexibility of the kill web being shaped can be enhanced.
With regard to SPEAR this means that it can be carried by an F-35 which allows it to engage significantly more targets than if it used a legacy glide weapon or that Typhoon which will also most likely carry SPEAR 3 can contribute significant load out capability of this weapon for the platforms operating in the extended battlespace.
It is about what the weapon can do as an interactive data linked strike asset ON a platform; and yet be able to operate by OTHER platforms identified by the C2 authority to take over those strike assets and direct them to their final product.
This is about interactive capabilities; and a new approach to weaponization, which will transform how US or allied forces operate in the extended battlespace.
Spear 3 is a key example of how the UK is focusing upon the enhanced capabilities of the F-35 and Typhoon as strike platforms, but also shaping a way ahead for the kill web approach to weaponization.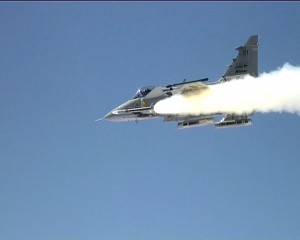 And the Meteor air superiority missile operating off of the Typhoon, or Rafale l or Gripen can contribute not only to its own defense but through the kill web enabled strike complex contribute to the coalition force as well in terms of providing support functions. It is about re-framing what being a wing man is really all about in a fifth generation context
As then ACC Commander General Mike Hostage put the approach: "The 5th Generation aircraft will enable the air combat cloud and allow me to use my legacy assets differently. Many of my 4th Gen fighters can be used to extend the network of linked systems providing reinforcing fires, and I can focus on the 5th Gen assets as the core nodes shaping distributed joint capabilities."
At the heart of interactive change as well is the evolution of the platforms carrying the new weapons as the new weapons themselves become integrated into the platform.
For example, the Swedish Air Force's Gripen has integrated the Meteor onboard the aircraft which the Swedish Air Force believes substantially increases the lethality and survivability of the Gripen. According to a press release from SAAB dated July 11, 2016, this synergy was highlighted between weapon and platform.
Speaking today at a the Farnborough International Airshow, at a ceremony to mark the Meteor's entry into service, Major General mats Helgesson, Chief-of-Staff of the Swedish Air Force said, "After extensive testing by FMV and the Gripen Operational Test and Evaluation unit, all of the new MS20 functions including the Meteor missile are now fully integrated with Gripen.
The Swedish Air Force is now in its Initial Operational Capability phase with the Meteor.
The Meteor missile is currently the most lethal radar-guided missile in operational service, and the Swedish Air Force is the only operational user so far. I am very proud and satisfied to have the Meteor in the inventory of my air force."
The complete MS20 upgrade is now flying with Swedish Air Force Gripens and MS20 enhancements will soon be implemented in the Gripens of the Czech Air Force. The upgrade delivers a host of new capability options for air-to-air, air-to-surface and ISTAR missions plus many improved mission systems and other changes. As ever with Gripen, operators are free to choose how, when and to what extent they implement the new capabilities that the upgrade enables.
A key element of Gripen's MS20 capability expansion is full integration of the MBDA Meteor BVRAAM (Beyond Visual Range Air-to-Air Missile). Swedish Air Force Gripens are thus the world's first and only fighters to be operational with this revolutionary European weapon system.
The ramjet-powered Meteor, developed by MBDA with Saab as a key partner, is an advanced, long-range and agile air-to-air weapon that is uniquely designed to counter the most sophisticated airborne threats of the 21st century.
Meteor is a tactical missile with strategic effect. Its extremely long range (beyond 100 km) and unrivalled no escape zone (three times greater than any current BVR missile) will dominate the future air-to-air battlespace, giving a decisive capability to Gripen and its pilots.
http://saabgroup.com/media/news-press/news/2016-07/gripen-leads-the-world-with-new-operational-capabilities/
The Swedish Air Force Chief, Maj. Gen Mats Helgesson underscored that "From our perspective, (the Meteor) is a game changer. This is something we have invested lots of money in and makes the C/D a really potent air defender again….We are not completely ready with all the tactics, but it is fielded."
https://www.flightglobal.com/news/articles/meteor-introduction-transforms-swedish-air-defence-425537/
The Typhoon is a more complex case as the multi-nation aircraft is being comprehensively transformed through changes in the cockpit, radar, helmet and targeting systems to handle a complex weapons load out.
The Typhoon will provide significant weapons mass for the new weapons being built by MBDA as well as some core legacy ones as well.
And this year, Typhoon has been progressing with its transition to a core air-to-ground role and as it does so integrating the key weapons which perform the strike element within that mission, Brimstone, Storm Shadow and the new SPEAR 3 missile.
For example, Eurofighter in a news story published on July 12, 2016, announced that the Typhoon successful fired a SPEAR weapon for the first time.
The SPEAR missile is being developed to meet the UK's Selective Precision Effects At
Range Capability 3 (SPEAR Cap 3) requirement for the UK's F-35 Lightning II aircraft, with the potential to equip Typhoon. SPEAR will precisely engage long range, mobile, fleeting and re-locatable targets in all weathers, day or night, in the presence of countermeasures, obscurants and camouflage, whilst ensuring a safe stand-off range between the aircrew and threat air defences.
https://www.eurofighter.com/news-and-events/2016/07/spear-missile-fired-from-eurofighter-typhoon-as-future-capability-development-continues
But it is the interactive modernization of the Typhoon with innovations in the weapons enterprise, which shape a new capability, one which is integratable into a kill web.
The interactive innovations in Typhoon were highlighted at a UK Eurofighter Typhoon display at the Royal International Air Tattoo earlier this summer.
According to a press release from Eurofighter dated August 10, 2016:
"A UK Eurofighter Typhoon, featuring the latest weapons fit, performed a spectacular display for crowds at the Royal International Air Tattoo (RIAT) and Farnborough
International Air Show, with BAE Systems' Typhoon Test Pilot Nat Makepeace at the controls.
The display demonstrated the Eurofighter Typhoon carrying four Meteor Beyond
Visual Range Air to Air missiles, two ASRAAM infra-red missiles, six Brimstone 2 low collateral, precision strike missiles, and two Paveway IV GPS/laser guided bombs."
https://www.eurofighter.com/news-and-events/2016/08/inside-the-cockpit-of-award-winning-eurofighter-typhoon-display
The point here is the significant load out on the jet which can be used by itself, by its traditional wingman or to operate as a wingman in a kill web, which means by assets not operating within the fighter formation itself.
The UK MoD has focused as well on ensuring that its own fifth generation aircraft has advanced air-to-air missiles for its own defense,.
The aircraft are different and will operate differently as well in terms of effect, but by having a missile that can operate cross platform in 21st century combat environments, weapons innovation is not narrowly scoped to a platform or single platform dependent.
This is why the MoD signed a major contract this Summer with MBDA for its advanced air-to-air missile, ASRAAM. In discussions with Australian pilots who fly aircraft with ASRAAMs on board they particularly like the capability to fire the weapon and have it destroy targets behind it, which is clearly anticipating the data link enabled weapons world.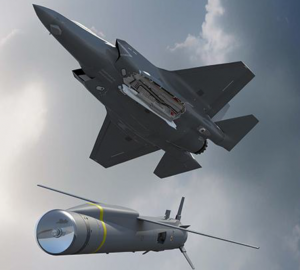 According to an article published on the UK MoD website on August 16, 2016:
The Ministry of Defence (MOD) has awarded a contract worth around £184 million to ensure the UK's new supersonic stealth combat aircraft will continue to be equipped with the latest air-to-air missile. Designed and manufactured in the UK,
ASRAAM is an advanced heatseeking weapon which will give Royal Air Force (RAF) and Royal Navy F- 35B Lightning II pilots, operating from land and the UK's two new aircraft carriers, the ability to defeat current and future air adversaries….. ASRAAM, which uses a sophisticated infra-red seeker, is designed to enable UK pilots to engage and defend themselves against other aircraft.
It is capable of engaging hostile air targets ranging in size from large multi-engined aircraft to small drones…..
ASRAAM is currently in service with RAF Typhoon and Tornado aircraft and is being carried daily on missions over Iraq and Syria as part of the coalition fight against Daesh.
The updated missile variant being secured under this new contract is expected to enter service on RAF Typhoon aircraft from 2018 and on RAF and Royal Navy F-35 aircraft from 2022, when the current variant will be taken out of service.
http://www.raf.mod.uk/news/archive/411-million-investment-in-new-missile-for-uks-new-jets-sustains-700-uk-jobs-19052016
The entire kill web approach affects the modernization and acquisition of platforms and weapons as well as the high-end training necessary to shape an integrated force.
According to Rear Admiral Manazir: "The key is continually evolving combinations of capabilities that enhance the defensive and offensive power of the platforms that you put into the kill web.
We are very focused on the evolving man-machine relationship, and the ability of manned and unmanned systems, as well as kinetic and non-kinetic systems, to deliver a broader spectrum of capability to the force.
We are aiming to use the machine for the OO (Observe-Orient) part of the OODA (Observe-Orient-Decide-Act) Loop and optimize our human capabilities to do the DA (decide-act).
Fighter pilots have always been "thinking aviators" but we are adjusting what we expect from them as they become key nodes and crucial enablers in the kill web. Becoming a Top Gun pilot in this world will be quite different than in the legacy one."
It is clear that MBDA is building weapons for this new age Top Gun pilot.