2016-11-20 Earlier this month, the UK and France announced a new agreement involving MBDA, the missile company, which provided a venue to expand their cross-channel collaboration.
According to Defence Secretary Sir Michael Fallon:
Sir Michael made the announcement, which further deepens the UK-France defence relationship, at the Franco-British Council meeting today in Paris.
The revolutionary Cross-Channel Centres of Excellence Strategy will allow Franco-British defence company MBDA to develop cutting-edge technology in the UK and France while increasing efficiency.
The creation of specialised Centres of Excellence for missile technology will support 400 skilled jobs at MBDA's UK sites in Stevenage and Bolton.
Defence Secretary Sir Michael Fallon said:
To keep Britain strong, it's vital we develop mutual security through innovation and co-operation. By securing a rising defence budget, working with allies and investing in Centres of Excellence, we can keep Britain at the cutting-edge of technology.
This Franco-British defence co-operation ensures high-skilled jobs through innovation and will help keep Britain safer and more secure.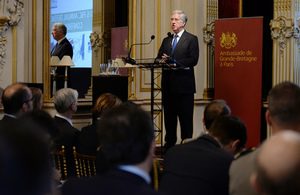 Building on recent Franco-British commitments to work more closely, the strategy seeks to extend the boundaries of traditional interstate co-operation, to the advantage of both countries, including by increasing UK and French military capability and promoting competitiveness in exports.
Minister for Defence Procurement Harriett Baldwin added:
The UK and France are the biggest European investors in equipment, and defence projects such as these Centres of Excellence will ensure we work effectively and innovatively with industry to secure the very best deal for the tax payer.
The UK is investing £178 billion so that our Armed Forces have the equipment they need to keep Britain safe.
During his visit the Defence Secretary also praised the UK and France's deep and enduring partnership on operations against Daesh. The British and French militaries work closely together on a daily basis. RAF Voyager tankers often refuel French Rafales, as well as RAF jets.
The RAF and French air force also team up to jointly strike more difficult targets, most recently in western Iraq, where RAF Tornados carrying Stormshadow missiles, and French aircraft successfully destroyed a large group of Saddam Hussein era bunkers used by Daesh for weapons manufacture.
And only last week, near Mosul, an RAF Reaper crew was able to guide French Rafale jets onto a Daesh mortar team, striking the terrorists and eliminating the threat they were posing to Iraqi troops.
In a further boost to innovation the visit comes shortly after the launch of the next phase of a £117 million joint Franco-British Maritime Mine Counter Measures (MMCM) programme.
The MMCM programme will develop cutting edge maritime mine warfare capability, which will keep the UK and France at the forefront of autonomous systems technology. The development and deployment of unmanned mine clearance vehicle will help keep our personnel safe in challenging maritime environments.
The announcement on Centres of Excellence came at the annual meeting of the Franco-British Council, an organisation set up in the 1970s to foster closer UK-French ties. 2016's conference underlined the continuing strength and progress of the Lancaster House agreement, which is a fundament part of Britain and France's defence relationship.
https://www.gov.uk/government/news/defence-secretary-announces-uk-french-missile-cooperation
And last month, Germany and France took a step forward with regard to joint operational cooperation with regard to their lift fleet, namely that France and Germany agreed to share military facilities as well as aircraft.
Paris (AFP) – Germany and France announced plans Tuesday to share an air base and transport planes as part of a military shake-up in the wake of Britain's vote to quit the European Union.
The two countries signed an agreement with a view to sharing C-130J Super Hercules military transport planes, French Defence Minister Jean-Yves Le Drian said in Paris.
His German counterpart Ursula von der Leyen, in Paris to sign the deal, told reporters both countries wanted to have the new arrangement in place by 2021.
France ordered four C-130Js from US company Lockheed in January.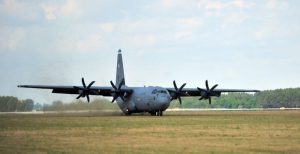 Germany was looking to acquire between four and six of the same aircraft and to base them in France, said Von der Leyen. The two countries were looking at using an air base in Orleans, central France, she added.
A member of Le Drian's team said the idea was to make the planes operational for both French and German crew in a first for the two air forces.
In July, just weeks after Britain's referendum vote to quit the European Union, Von der Leyen said London had "paralysed" European efforts for a more closely integrated policy.
The EU should seize the opportunity to change that, she argued.
French officials told AFP last month that Paris and Berlin were drawing up plans for a more "active and useful" defence policy.
In short, the first agreement highlights the French focus on deepening cooperation with Britain inspite of the impeding Brexit;
and the second shows the very practical approach which France wishes to take with Germany to provide for force enhancements outside of the joint procurement of European built systems.