2017-01-17 The C-295 is an evolving lift and support aircraft. The W version has several enhancements to the legacy aircraft.
In a Trade Media Briefing held on May 29 and 30 2013, Airbus highlighted the changes associated with the C-295W.
According to Airbus Military:
Featuring winglets and uprated engines as standard, the new model will provide operators with enhanced performance in all flight phases but is particularly aimed at those operating at "hot and high" airfields where payload increases in excess of 1,000kg are promised. 
In intelligence, surveillance and reconnaissance (ISR) roles such as airborne early warning (AEW) the enhancements will increase endurance by 30-60min and permit an operating altitude up to 2,000ft higher than now. 
The new features will also provide an overall reduction in fuel consumption of around 4% depending on configuration and conditions. 
The C295W, assembled in Seville, Spain, is being offered to the market from now on and will be the standard version of the aircraft in all versions from the fourth quarter of 2014. Certification is expected in 2Q14. 
Airbus Military is committing to the C295W following flight-trials with winglets fitted to its company development aircraft which showed positive results for a weight penalty of only around 90kg. 
The engines are the Pratt & Whitney Canada PW127 turboprops which power all versions of the C295. New procedures recently certified by Canada and Spain permit operation in the climb and cruise phases at higher power settings at the discretion of the operator.
As well as improved hot and high performance, the procedure improves operation over very high terrain such as the Andes or Himalaya mountains with only a minor influence on maintenance cost.
Now the W variant has been demonstrated to be a reliable refueler for inflight helicopters as well.
According to a press release issued on January 17, 2017 by Airbus Defence and Space:
Getafe, 17 January 2017
Airbus Defence and Space has followed its recent successful demonstration of air-to-air refueling between two C295W medium transports with a demonstration of refueling contacts with a H225M Caracal helicopter.
In the trial, performed jointly with Airbus Helicopters from Marignane, France in December, contacts were executed at speeds of 105-115kt and both crews reported smooth and simple operation.
The system is now being offered to existing and prospective C295 operators. Possible applications include special operations and extending the range of search and rescue aircraft.
C-295W as Inflight Helo Refueler from SldInfo.com on Vimeo.
For an overview on the C-295, see the following:
https://airbusdefenceandspace.com/our-portfolio/military-aircraft/c295/
Late last year, the latest client for the C-295 became Canada.
Canada has recently (1 December 2016) signed a contract for 16 C295Ws for its Fixed-wing Search and Rescue requirement. 
The federal government says Canada will spend $2.3 billion to replace the military's ancient search-and-rescue planes with 16 new aircraft from European aerospace giant Airbus.
The Airbus C-295 will replace the air force's existing planes, Public Procurement Minister Judy Foote announced today at Canadian Forces Base Trenton, one of the four bases where the new aircraft will be located.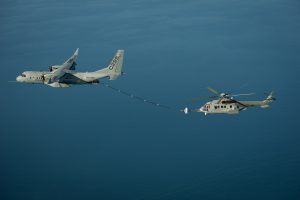 "This is a significant investment to replace our fleets of Buffalo and Hercules aircraft, strengthen Canada's capability to conduct search-and-rescue operations and keep Canadians safe," she said as Defence Minister Harjit Sajjan and Royal Canadian Air Force commander Lt.-Gen. Mike Hood stood nearby.
Airbus beat out Italian firm Leonardo and Brazil's Embraer to win the contract.
The announcement, which includes an option for a 20-year maintenance contract that would increase the price-tag to $4.7 billion, has been a long time coming.
The effort to replace the Buffalo and older-model Hercules planes, some of which have been flying since the 1960s, was mired in controversy and delays for more than a decade.
https://www.thestar.com/news/canada/2016/12/08/canada-to-buy-16-new-airbus-search-and-rescue-planes-for-23-billion.html