2017-01-23  NORFOLK, Va. (NNS) — Nearly 6,000 Sailors attached to the George H.W. Bush Carrier Strike Group (GHWBCSG) will depart Norfolk and Mayport, Florida, Jan. 21, for a regularly-scheduled deployment.
Led by Commander, Carrier Strike Group 2, Rear Adm. Kenneth R. Whitesell, the GHWBCSG is comprised of the staff of CSG-2; USS George H.W. Bush (CVN 77); the nine squadrons and staff of Carrier Air Wing (CVW) 8; Destroyer Squadron (DESRON) 22 staff and guided-missile destroyers USS Laboon (DDG 58) and USS Truxtun (DDG 103); and Mayport-based guided missile cruisers USS Philippine Sea (CG 58) and USS Hue City (CG 66).
USS H.W. Bush CVN 77 Prepares for Deployment from SldInfo.com on Vimeo.
The squadrons of CVW-8 will depart bases including Naval Air Station (NAS) Oceana, NAS Whidbey Island, NAS Jacksonville, NAS Lemoore and Naval Station Norfolk. CVW-8 includes Strike Fighter Squadron (VFA) 213 "Fighting Black Lions"; VFA-31 "Tomcatters"; VFA-87 "Golden Warriors"; VFA-37 "Ragin Bulls"; Electronic Attack Squadron (VAQ) 131 "Lancers"; Early Warning Squadron (VAW) 124 "Bear Aces"; Helicopter Mine Countermeasure Squadron (HSM) 70 "Spartans"; Helicopter Sea Combat Squadron (HSC) 9 "Tridents"; and a detachment from Fleet Logistics Support Squadron (VRC) 40 "Rawhides".
The deployment is part of a regular rotation of forces to support maritime security operations, provide crisis response capability, increase theater security cooperation and forward naval presence in the 5th and 6th Fleet areas of operation.
Video by Robert Gensic 
01/21/2017
As the Trump Administration comes to power, here is a snapshot of the US fleet disposition as of mid-January 2017 based on unclassified and open source information.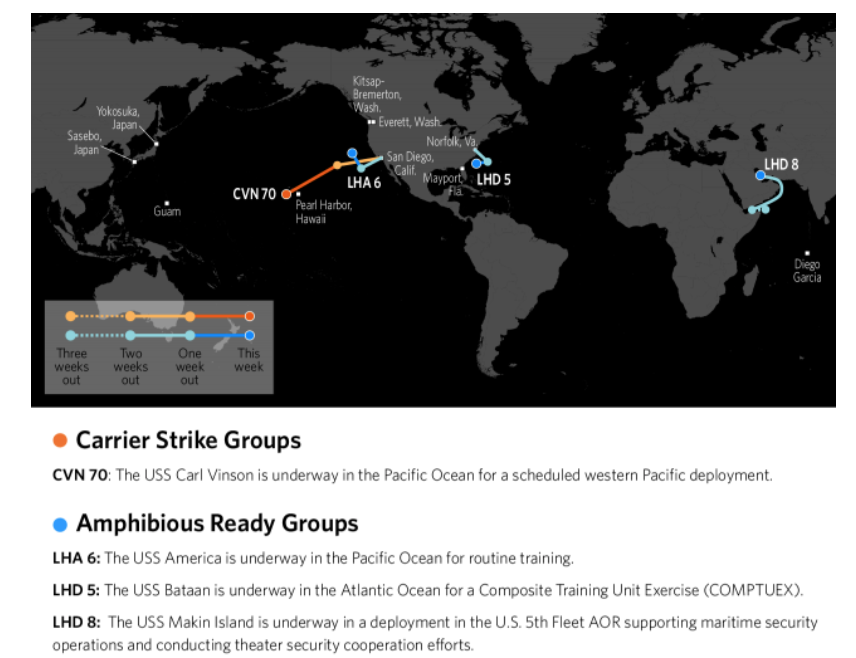 https://www.stratfor.com/analysis/us-naval-update-map-jan-19-2017?utm_source=paidlist-a&utm_medium=email&utm_campaign=01/19/2017&utm_content=Daily+Brief%3A+Jan.+19%2C+2017&id=be1ddd5371&uuid=5228ff92-e3f6-4a21-9ab0-ee52b9c4eadc